Android Market getting a stealth face lift
7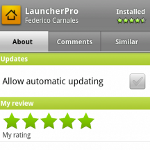 It seems that the Android Market is getting a stealth face lift. Some handsets running Froyo are finding an extra tab on the app listings, offering users the chance to search for related or similar applications to the one that you are checking out. Interestingly, the language between devices is a little different. For example, on the Motorola DROID X. the third tab reads "similar" while the HTC EVO 4G says "related".
This update to the Android Market could be related to the upcoming Android
2.3
software release. A video of the Gingerbread O.S. shows this change in the Market looking very similar to what can be seen on the video. If your Froyo device was the recipient of the changes and update in the Android Market, let us know by writing a few words in the comments box below, and let us know what changes you can detect.
source:
AndroidCentral