Analyst sees delays for Apple iPhone 5S, low cost iPhone and Apple iPad mini 2; stock plunges
99+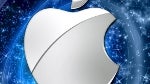 Jefferies analyst Peter Misek says that Apple could be facing a couple of disappointing earnings reports ahead. Misek says that Apple is being forced to delay the launch of the
Apple iPhone 5S
, the low cost version of the Apple iPhone and the Apple iPad mini 2. Misek has a different reason for the delay of each device which comes after his recent visit to the Far East.
According to the analyst, the Apple iPhone 5S is having
pre-production issues
. Mass-production of the phone is at least a month away, Misek stated.
Along with the delay in iOS 7
, he says a July launch of the next iteration of the iPhone is out of the question. He also says that there is no chance that we will see the Apple iPhone 6 in calendar year 2013. That last point is a bit odd since no one had expected the iPhone 6 until 2014.
The low cost version of the Apple iPhone, expected to be produced for emerging markets like China and India, is
now delayed
and Misek sees a Q4 launch a possibility. Lastly, problems that Apple's partners are having producing Retina display screens for the next Apple iPad mini could lead to a launch later in the second quarter than originally thought. Raising the resolution on the iPad mini was an important target for Apple since the 1024 x 768 resolution screen on the current 7.9 inch device has a rather poor pixel density of 162ppi.
The combination of the possible product delays and a weak market disturbed by domestic events, pushed Apple
briefly under $400
earlier on Wednesday. The stock, which hit a 52 week high last September 21st at $705 on the launch of the
Apple iPhone 5
, is now trading at $401, down more than 5% on the day, or $25. Wednesday's low was $398.11 which is a new 52 week low.
source:
BGR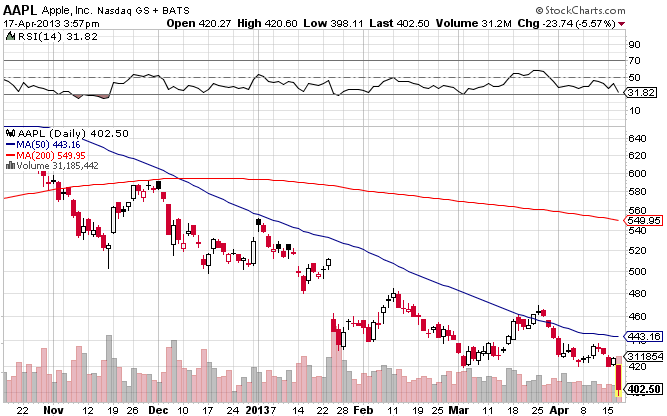 Apple made a new 52 week low on Wednesday