Analyst says that the OnePlus 3 Plus is coming
29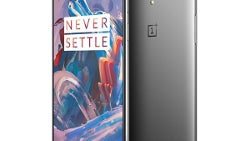 Analyst Pan Jiutang, whose name has graced our pages often over the last couple of years, has some information to get your heart pumping on this lazy Sunday morn. According to Jiutang, the OnePlus 3 Plus is not far away from being introduced. Before you get excited, it was back in August when
a phone appeared on GFXBench that appeared to be a OnePlus 3 mini
. Very quickly,
that rumor was shot down by OnePlus co-founder Carl Pei
.
While Jiutang didn't mention any rumored specs in his post, we wondered what a premium version of the OnePlus 3 might look like. First thing that occurred to us is that the resolution of the screen should get bumped to 1440 x 2560. A OnePlus 3 Plus would also have to feature a larger screen, perhaps in the vicinity of 6-inches. Because enhancing the display would have a negative affect on battery life, we'd hike the capacity of the cell by 30% to 3900mAh. A Snapdragon 821 SoC might be employed, and a dual camera setup found on the back.
To be honest, this seems like one of those rumors that should definitely be consumed with the addition of a grain of NACL (salt). After giving this some thought, you can reach the conclusion that the OnePlus 3 is pretty much highly-spec'd as is.

Translated, Jiutang's post says that the OnePlus 3 Plus is coming soon
source: PanJuitang (translated)