Analyst says that Amazon sold 6 million copies of the Amazon Kindle Fire in Q4
3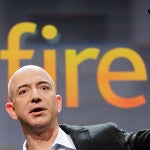 Amazon might have struck gold as its low priced Android tablet debuted in the fourth quarter and according to Stifel Nicolas analyst Jordan Rohan, the
Amazon Kindle Fire
sold 6 million copies in the three month period. That estimate is up from an earlier call for 5 million units that were sold. Priced at $199.99, Amazon picked the perfect time to launch the tablet as it became an extremely popular holiday gift. While earlier reports suggested that the online retailer will
lose $10 on each unit sold
, it is believed that after selling apps, contents and cloud based services to users, Amazon actually
pockets a $10 profit
on each Kindle Fire purchased. Amazon's earnings come out on Tuesday.
third major mobile ecosystem
after iOS and Android (the Android OS does power the Kindle Fire although many Google apps are not included), Rohan raised his Q4 estimate for Amazon's earnings. He raised his 2012 revenue estimate by $2.34 billion to $67.2 billion, above the Wall Street consensus of $65.3 billion. He expects Amazon to earn $2.27 a share in the period, well ahead of the $1.88 expected by Wall Street.
The analyst says that the Street is looking too much at the money that Amazon is losing for each tablet sold instead of viewing the whole picture such as the money Amazon will make from selling books and videos to view on the device. Rohan says there is a inverse relationship between the price of a device and the "
software attach rates
". Amazon's earnings come out on Tuesday.
If Amazon sold 6 million units of the Amazon Kindle Fire, it will have been well behind
the 15.43 million Apple iPads sold in the same period
. During the holiday season, there were reports that the
Kindle Fire was outselling Apple's tablet
.
source:
Forbes