Apple earnings handily beat the Street again thanks to massive iPhone 4S sales
60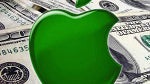 Apple just outed its earnings report for the last quarter of 2011, and the results are earnings of $13.87 per share versus the analysts' average estimates of $10.08 per share.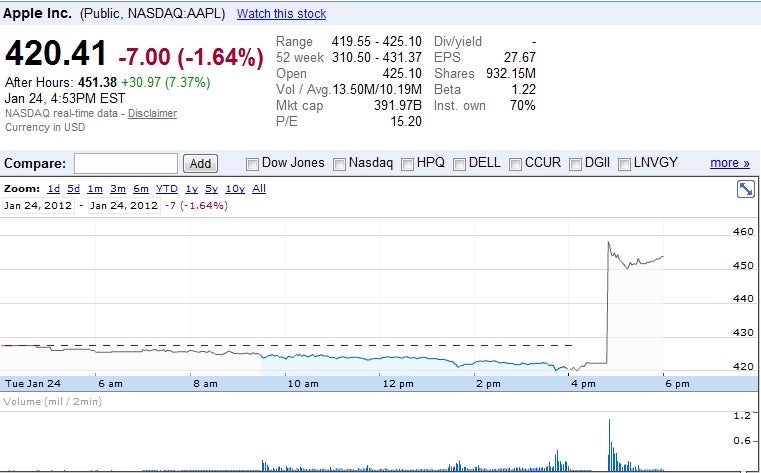 AAPL was up more than 8% at one time after the earnings
That's a huge beat after
Apple missing the last time it reported
, for the first time in many quarters. Now, thanks to massive iPhone 4S sales, we seem to be back to Cupertino beating analysts' expectations based on its own modest guidances, stock surging... wash, rinse, repeat.
Apple reported revenue of $46.3 billion and net profit out of it the astonishing $13.1 billion. In comparison, the same October-December quarter in 2010 it made "just" $6 billion, so it effectively more than doubled net profit just in a year's time.
The fruit company sold
37.04 million iPhones
in the quarter, beating even the most outrageous estimates there were,
which spanned 25-36 million max
. Apple also sold
15.43 million iPads
, a 111 percent unit increase over the same quarter in 2010. At 15.4 million iPods sold, the company saw a 21 percent unit decline from the Q4 of 2010, and that could be easily predicted.
Apple achieved the record 44.7% profit margin, which was positively affected half by falling components prices, like RAM and NAND Flash, and half by the revenue being heavily skewed towards the most profitable item for Apple - the new iPhone 4S. $24.4 billion of the revenue came from sales of iPhones and accessories, which our quick calculations show to translate into roughly the cool
$659 per iPhone sold
.
The iPhone 4S was the most popular iPhone during the quarter, said the CFO, which brought in this incredibly high ASP number. The only thing that held Apple from even higher margins were the higher hard drive prices due to the floods in Thailand.
We're thrilled with our outstanding results and record-breaking sales of iPhones, iPads and Macs. Apple's momentum is incredibly strong, and we have some amazing new products in the pipeline.
Peter Oppenheimer, Apple's Chief Financial Officer, added:
"We are very happy to have generated over $17.5 billion in cash flow from operations during the December quarter. Looking ahead to the second fiscal quarter of 2012, which will span 13 weeks, we expect revenue of about $32.5 billion and we expect diluted earnings per share of about $8.50
". These forward guidance numbers are also beating the analysts' expectations on which the whole earnings game is based.
The demand in China has been "off the charts" said the CFO, despite
the iPhone 4S halted in retail stores
due to the kerfuffle it caused. Apple's CFO said that the company now has
$97.6 billion in the bank
(mostly offshore
), which is a 16 billion increase compared to the last numbers. "
We are actively discussing uses of our cash balance and don't have anything specific to announce today,
" Oppenheimer said.
When asked if Apple is worried about the cheaper tablet competition, and the
Amazon Kindle Fire
in particular, Tim Cook chimed in:
We were happy with the 15.4 million iPads we were able to sell. There will come a day when the tablet market in units is larger than the PC market. In fact, it's interesting to note that in the U.S. - it's clear from IDC's recent data - that tablet sales exceeded PC sales in the U.S. You can see different indicators that there's significant momentum.
As for competition, the iPad is in a class by itself. People really want to do multiple things with their tablets, so we don't see these limited-function tablets being in the same category. There are clearly people who will buy them in a fair number of units, but I don't think people who want to buy an iPad would go for a limited-function device. We're going to continue to compete with anyone currently shipping tablets.
Asked about its personal experience in the first four months on the job as Apple's CEO, Tim Cook added: "
I love Apple and it's a reminder every day at how much of a privilege it is to work with a team of people who are so incredible.
"
Still, Apple cautioned that it won't repeat these record numbers, especially the huge profit margin. Its forward guidance is now lower than the usual seasonal adjustment, due to the quarter it just reported being longer than normal, and also the strengthened US dollar versus the Euro, which is likely to affect sales in the current quarter.
Asked about if Apple intends to implement features that come standard in flagship Android handsets now, like larger screens with HD resolution, and LTE connectivity, Tim Cook simply said: "
I wouldn't comment on the future roadmap. I would point out that we just sold a record 37M iPhones. We could have sold more if we had more in supply. There's a lot of people who really love what we're doing.
"
And finally, when asked if the game is becoming a two-horse race now, between Android and iOS, Tim Cook concluded that there is also a horse in Redmond that always runs and will keep running. "
We focus on making the world's best products. We ignore how many horses there are.
" Spoken like a true Apple CEO.