Amazon Kindle Fire hack allows installing Google apps, Nook Tablet can get the Amazon Appstore
1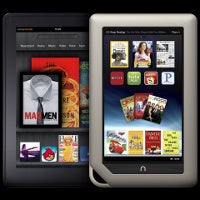 The
Amazon Kindle Fire
shocked us with its $199 price tag – after all, that's more than twice cheaper than the iPad, but with the lower price you'd have to compromise. The Kindle Fire features a dual-core processor, but still can't match in the spec race, but what could be more troubling for some – it
doesn't have core apps
like the Android
Market
with its hundreds of thousands of apps, and
Google's suite
of applications including Gmail, Maps, YouTube, Talk and Books among others.
But after all, the Kindle Fire does run on Android 2.3 Gingerbread, albeit a heavily skinned version, so it should be able of running those applications. And it does – you'll just need to spend some time rooting the device and following the findings of the very awesome tutorial posted on XDA Developers and linked below.
However, it should be noted that
Amazon Video
streaming becomes won't work for rooted users. For that, you can just unroot the device with an app like SuperOneClick.
Another device that will likely score millions of sales is the $249
Barnes & Noble Nook Tablet
which looks almost identical to the Kindle Fire, but keeps the signature design introduced with the Nook Color. The tablet could definitely use a boost in the app department as well and the first thing you can do is add
Amazon's Appstore
to it. This can be achieved by simply enabling unknown sources in settings and then downloading the Amazon Appstore .apk file and running it.
This will definitely change the way those tablets are perceived as mostly a front window to a catalog like Amazon's or the books at Barnes & Noble. And at that low price point, this could well tip the scales in favor of one of the two. Are you getting one of the two very affordable slates?