Amazon Kindle Fire adds Hulu Plus, ESPN to its app roster
2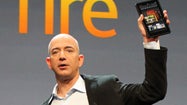 The
Amazon Kindle Fire
is gearing up for
launch on November 15th
, which falls on next Tuesday, and it will ship with
Hulu Plus and ESPN apps
pre-installed, Amazon said. Hulu Plus in particular seemed like a big omission on Amazon's part as it wasn't mentioned during the official unveiling. That gave the edge to the Fire's biggest competitor - the Barnes & Noble Nook Tablet, but not for long.
Hulu Plus with its huge selection of media and ESPN join the already impressive list of content suppliers for the Kindle Fire. Among those are Netflix for movies and EA and Zynga for games. Bezos himself demonstrated his Fruit Ninja skills on the upcoming 7-inch tablet.
Amazon has another advantage over most other tablet makers with its huge book database, as well as music and video catalogs. Of course, Amazon's app offerings are tightly controlled ones and that's why we're glad to see more apps join that roster.