Amazon Appstore for Android reaches 50,000 apps
9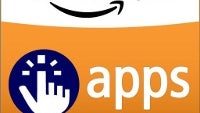 The Amazon Appstore started with a bang but not necessarily in a good sense - Apple threatened to sue, but finally everything settled quietly and it became the go-to place for seekers of the best deals on apps with its daily price cuts and exclusive selection.
And now, it has grown to 50,000 applications. This might not seem like a huge number and it is not indeed, but thinking of the Amazon Appstore as a complement to the existing Google Play and its over 600,000 apps it definitely doesn't look bad.
The Amazon Appstore went over 30,000 titles in its catalog half a year ago, and this is definitely not bad growth in the year and a half that's passed since it launched in March 2011.
Of those 50,000 releases, there are more than 31,000 titles compatible with the current Kindle Fire. We guess all of those will be also working with the upcoming second-gen Fire, and it's getting unveiled in minutes - stay tuned to our live blog for the latest.
source:
Amazon Appstore