Alleged Meizu MX5 pictures leak, fingerprint sensor may be in tow
7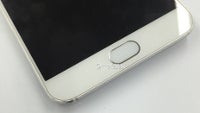 Meizu's current flagship duo – the
MX4
and
MX4 Pro
– are doing quite well, selling in heaps and bundles in their homeland, while gaining worldwide popularity. Unique for their 5:3 display aspect ratio and super-thin bezels (~75% screen-to-body), which make the handsets comfy to hold, despite the fact that they still have 5.4" and 5.5" displays equipped at the front.
Now, seeing as both the aforementioned handsets were released around the end of 2014, we don't expect Meizu to launch any successors to their flagship line well until September, yet Chinese tech site cnBeta has managed to get its hands on pictures, which should depict the Meizu MX5 (non-Pro).
What we can see from the two photos is that the alleged MX5 will sport a physical home button, akin to the one found on the MX4 Pro, albeit a bit rounder, and we'd say it's safe to assume that it'll have a biometric sensor embedded in there – much like the Pro before it had it, while the regular MX4 and
MX3
all had capacitive touch buttons.
Otherwise, we see no sway from the design language that we've come to know from Meizu – thin, thin bezels and chamfered metal frame can be seen around the device, rounded off at the corners in ways much similar to what we see on the MX4 and MX4 Pro. This is not necessarily a bad thing, as we quite like Meizu's design for its current flagships, though, the company may wish to shake it up a bit in order to stay fresh in the consumers' eyes.