All Best Buy locations to sell Google Nexus S at 8am on Thursday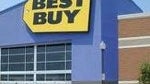 This Thursday at 8am, all Best Buy and Best Buy Mobile locations will be offering the Google Nexus S. Manufactured by Samsung, the device will feature Android 2.3 right out of the box. The handset will be running over T-Mobile's pipelines and will even be available at Best Buy stores that do not normally offer the carrier's handsets. But there is an important difference.
The only way to take home a unit from a store that does not normally carry T-Mobile phones is to pay the $529 off contract price. Otherwise, you can order it online for the $199 subsidized price with a new 2 year contract if you qualify for an upgrade, or find a Best Buy store that does carry the T-Mobile line-up. There are 210 Best Buy stores that carry T-Mobile phones, and at those locations the phone will also cost $199 with a signed 2 year pact.
T-Mobile, for its part, has set up a hotline specifically for Nexus S questions. The number is 1-866-813-2021. And if you are curious about whether or not you qualify for an upgrade, you can head over to the
Best Buy mobile upgrade checker
. An employee at one of the biggest Best Buy locations said his store is getting 75 units, so plan accordingly and set your alarm clock. Oh yes, no more than 2 phones will be sold to each customer.
source:
BestBuy