Age of Zombies for iOS gets demoed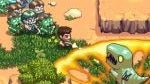 Are you a
zombie
fanatic? Of course you are. Age of Zombies, the popular twin-stick shooter for PSP, is now available for the iPad and iPhone 4. The game revolves around Barry Steakfries, who must travel across time to defeat the zombie hoardes unleashed by Professor Brains to destroy the world.
In Age of Zombies, you travel through five iconic eras, including ancient Egypt, the prehistoric age, and the 1930's. Some of your zombie attackers include cavemen, mummies, gangsters, and even a zombified Tyrannosaurus Rex. You'll wield an array of weapons like shotguns, sub-machine guns, flamethrowers, rocket launchers, and grenades.
The gameplay is pretty standard, but in no way disappointing. You progress through each of the levels, entering a new area with a new set of zombie villains. Each level then features a boss to defeat. There is also a Survival mode, where you see how long you can last against exhausting waves of zombies. Your scores will also be posted to Apple's
Game Center
leaderboard.
Age of Zombies supports the iPhone 4's
Retina Display
, so you can enjoy a particularly vivid zombie-killing experience. The game is still pretty low-resolution, so maybe you don't really care if it's in 960x640 resolution.
If you're a fan of Halfbrick's Fruit Ninja, or any other fast-paced shooter, then you should check Age of Zombies out as well. It is available now as a universal app for US$2.99.
source:
Halfbrick
via
IntoMobile