Plants vs. Zombies for the iPhone test
0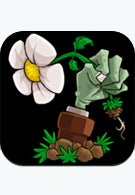 First off, it´s the perfect conversion for the iPhone platform that provides gameplay controls that are as handy and easy to get used to as possible. We have to point out that Plants vs. Zombies was initially released for PC and Mac, but frankly, we believe that controlling the gameplay via bare fingers feels more comfortable as compared to using a mouse. It just seems the iPhone is more suitable a platform for the game. Moreover, the mobile version is equally rich and conclusive and lacks nothing – even the in-game sounds are identical to what you can hear coming out of your desktop loudspeakers. The third and perhaps, decisive factor is... the great sense of humour. Although you are on the side of good (flowers, however dangerous they might be) and sworn fighter against evil (zombies that are actually your former neighbours), at some point you may find yourself irresistibly attracted to your attackers, especially in case you have read their deeply touching stories. Similar elements, combined with the variety offered by the gameplay via mini games make Plants vs. Zombies incredibly addictive.
We do recommend that you to try the game and in case you don´t have an iPhone, well, you better get yourself one so you can get down to playing... This is a joke, of course! If all we said and our video (embedded below) have failed to convince you, you can get a better idea of what Plants vs. Zombies is all about by trying the Flash-based demo version available
here
. The price of the iPhone edition is $2.99 and we really doubt it you can come across something more funny and amusing for that amount of money. We just hope we get to see more titles like this in the future.