Acer ICONIA TAB A100 Hands-on at MWC 2011
3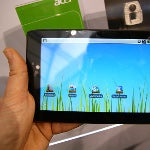 Acer was quiet on the tablet front upuntil now only to erupt with a number of devices for pretty mucheveryone out there. You might have heard about the Acer ICONIA TAB A500, expected to land on Verizon, and now the Acer ICONIA TAB A100 joins the family with a smaller 7-inch screen, butotherwise similar specs.
You are looking at a cute little slatewith a single physical button on the front, very much like Apple'siPad in appearance. However don't be fooled by the small dimensions –underneath it sports NVIDIA's dual-core Tegra 2 chipset with theprocessor clocked at 1GHz. In addition, it has 512MB of DDR2 RAM, 8GBof internal storage and support for microSD cards.
That would all mean nothing without asuitable opearting system and that's why Acer's choice of AndroidHoneycomb seems right. Actually, you probably notice that the units displayed at MWC ran Froyo, but Acer promises the slate to be released with Honeycomb. The portable tablet will also be offered withan optional 3G module for more connectivity. The Acer ICONIA TAB A100 packs the standardWi-Fi 802.1 b/g/n, Bluetooth 2.1 and the very welcome HDMI-out port.The battery promises 5 hours of continuous video entertainment at720p HD quality. You can also record video with the 5-megapixel auto-focus camera equipped with flash, as well as with the 2-megapixel front-facing snapper, which is more suitable for video calls. That pretty much wraps everything about the ICONIATAB A100 – expect to see it this summer for around $480. Not too bad fora Honeycomb tablet, right?