AT&T's LG G3 receives Android 5.0.1
12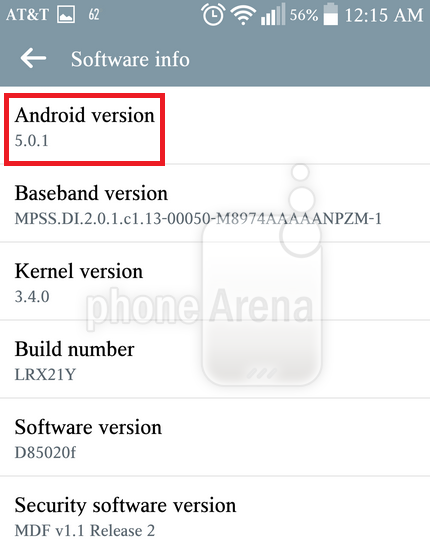 AT&T's LG G3 is updated to Android 5.0.1
Once again, a loyal PhoneArena reader comes through in the clutch; this time, it's with a screenshot showing that his
LG G3
has received Android 5.0.1. On Wednesday evening, we showed you a screenshot
from an HTC One (M8) getting 'Lollipopped' by Sprint
. The update features the Material Design used on the Lollipop UI, pull-down Quick Settings, the new "Recent Apps" menu, the 64-bit ART compiler, and the battery saver mode to mention a few. With the latter enabled, your phone will turn off vibrations, reduce performance, stop apps from running in the background and more, all in the name of longer battery life. You can set your phone to turn this feature on automatically when you have 15% or 5% of your battery life remaining.
With such a hefty update, we recommend that you use a Wi-Fi signal when downloading and installing it. And make sure that your battery life is up to 50% or higher before starting the process.
We expect to see our readers continue to alert us when their handset receives this update. There is plenty of excitement among Android users for what is certainly one of the most eagerly anticipated Android updates to date.
Thanks for the tip, James!