AT&T will offer the HTC One (M8) for Windows too - eventually
18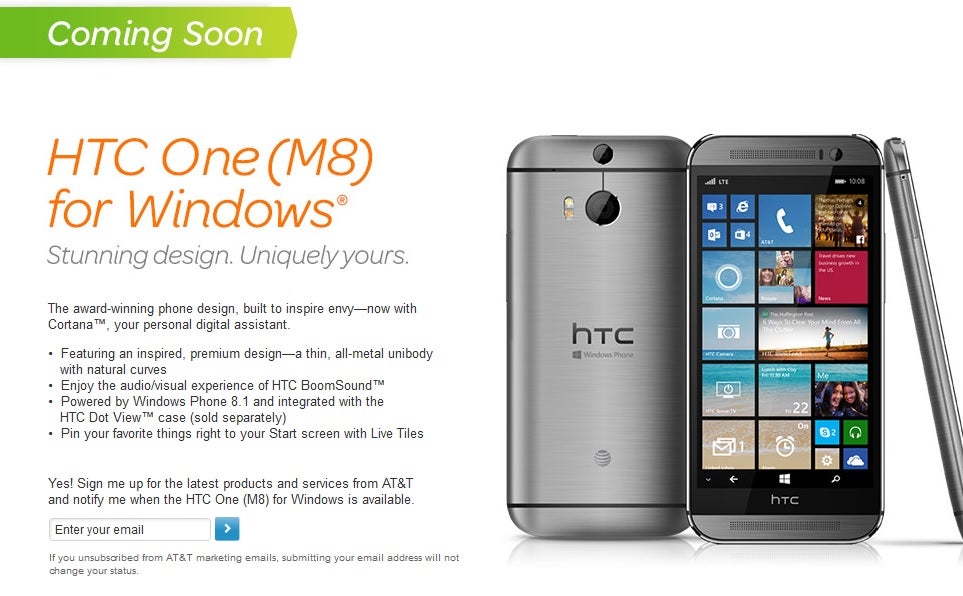 The new
HTC One (M8) for Windows
may be a Verizon exclusive, but that exclusivity is clearly for a limited time only. AT&T has already set up a landing page announcing that it too will carry the device. There is no pricing or date with the announcement, but if you are a fan of Windows Phone, and a fan of the M8's build quality, and you happen to be an AT&T customer, this news is good news indeed.
This news also bodes well for those that hope to see a wider availability of the device in other markets. Quite often, devices that are Verizon exclusives see wide distribution anywhere else.
With AT&T augmenting its healthy portfolio of Windows Phone devices with the new HTC One (M8) for Windows, it also is a good thing for HTC, who needs to ensure its products are widely available in order to compete with much larger, and much more healthy rivals.
Again, there is no pricing or availability noted yet from AT&T, but we do not think pricing will be much of a departure from Verizon's $99 on-contract price, and retail price will remain in the $600-range. Further on the plus column is that AT&T sticks to its subtle branding, with a simple AT&T globe on the back, a nice departure from the overt etching that Big Red likes to adorn its devices with.
source: AT&T (
1
,
2
)