HTC One (M8) for Windows is here - WP 8.1 in a premium, metal package
17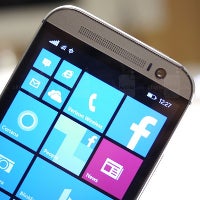 It's finally official - the HTC One (M8) for Windows has been announced, and it's what we've been expecting - a Windows Phone 8.1 version of the popular One (M8) phone. However, this live tile-ish variant of the smartphone will, at least initially, be exclusively available through Verizon Wireless.
HTC has done some pretty nice hardware design with the One (M8), so we aren't all that surprised that the company has decided to simply reuse the same exact device one more time. This time, however, the OS powering the smartphone will be Windows Phone 8.1 - ladies and gents, please meet the not-so-imaginatively-named
HTC One (M8) for Windows
!
It's actually a good thing that HTC has gone for pretty much the same exterior as that of the well-known One (M8) with Android - it's a good-looking metal phone with a curved back side and a serious, mature look. Sadly, there's quite a bit of bezel surrounding the display, which makes the phone rather bulky, especially in terms of height. Still, what a looker this is!
Besides the OS, everything else in the One (M8) for Windows seems to be the same - the screen is still 5 inches big and has a resolution of 1080 x 1920 pixels, while the chipset powering the whole shebang is the Qualcomm Snapdragon 801 - a perfectly sufficient chip that will no doubt enable a very smooth and fluid user experience with Windows Phone 8.1.
One thing that has also remained intact from the Android version, and this time we're not so excited to say this, is the so-called UltraPixel camera. Yes, it still has just 4 megapixels, so we expect image quality that's very close, if not identical to that of the One M8 with Android.
As far as Windows Phone goes, there isn't that much to talk about, as we can expect a user experience that's more or less identical to that of any other Windows Phone device, complete with new Live Tile sizes and Cortana. However, HTC has made sure to add some unique touches in order to differentiate its product. Some of those touches include HTC's own Camera app, which brings those funny Duo Effects, as well as BlinkFeed, and Sense TV. However, while such services tend to be a bit more deeply integrated on the company's Android phones, they are actually more like apps here on the M8 for Windows. Meanwhile, Verizon throws its NFL Mobile application into the deal, with customers who add the phone to their More Everything plan getting free access to the app's features, including the livestreaming of games. Additionally, it looks like this will be the first Windows Phone device that will come with Verizon's own IM service, Messages, allowing you to chat with your buddies for free over Wi-Fi.
The HTC One (M8) for Windows will be available in Verizon's online store as soon as today, starting around noon, at the promotional price of $99.99 with two-year contract, or at $29.99 per month with Verizon Edge. Retail stores are expected to have stock tomorrow, August 20.