HTC One M8 for Windows hands-on
63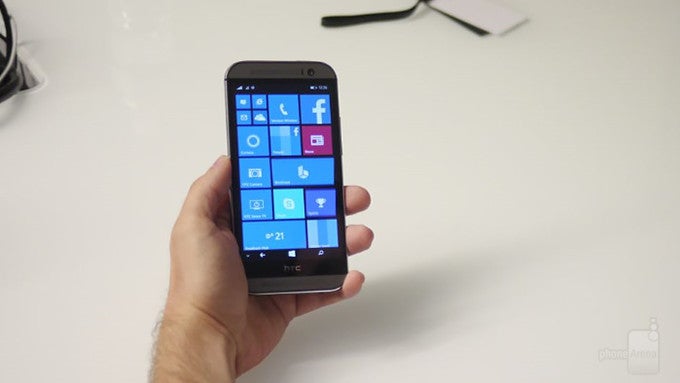 Uniformity is a good rule to abide by when you're trying to maintain an established brand in the smartphone industry. From the iPhones, to the Galaxies, consumers recognize these names and have high regard for them, which in turn helps these phones to be engrained into the hearts and minds of consumers. HTC has been on the hunt of late, aggressively promoting and advertising its current flagship smartphone of 2014 – the metal cladded
HTC One M8
.
Needless to say, it's been a long time since we've been acquainted with a premier Windows Phone from the company, so we're naturally thrilled that the time has once again come to fruition. In keeping with that tone of uniformity, the company has taken the recipe it has with its existing Android-powered HTC One M8, and merely applied Windows Phone 8.1 into the mix. The end result, which might surprise people, is the HTC One M8 for Windows. You're reading that correct folks, it's the
HTC One M8 for Windows
!
Design
Like we said people, HTC has taken the recipe it has established with its existing Android-powered HTC One M8, and brought it over to the HTC One M8 for Windows – so there's nothing that should be too shocking with the design. Considering that today's set of Windows Phone flaunt the characteristic design elements from Nokia's Lumia line, it's refreshing to see something different in the Windows Phone landscape for a change.
Donning the same high-quality brushing aluminum chassis, the HTC One M8 for Windows is undoubtedly premium in every respect. From its premium construction, to its stunning design, there's plenty to like about this new Windows Phone – though technically, it's nothing new in the space. Additionally, we're told that it'll be offered in gunmetal grey, with the possibility of more to come in the future. However, purists will be pleased to know that signature HTC One M8 goodies are in tow with this – like its dual frontal stereo speakers with HTC BoomSound, infrared sensor, and duo camera.
Display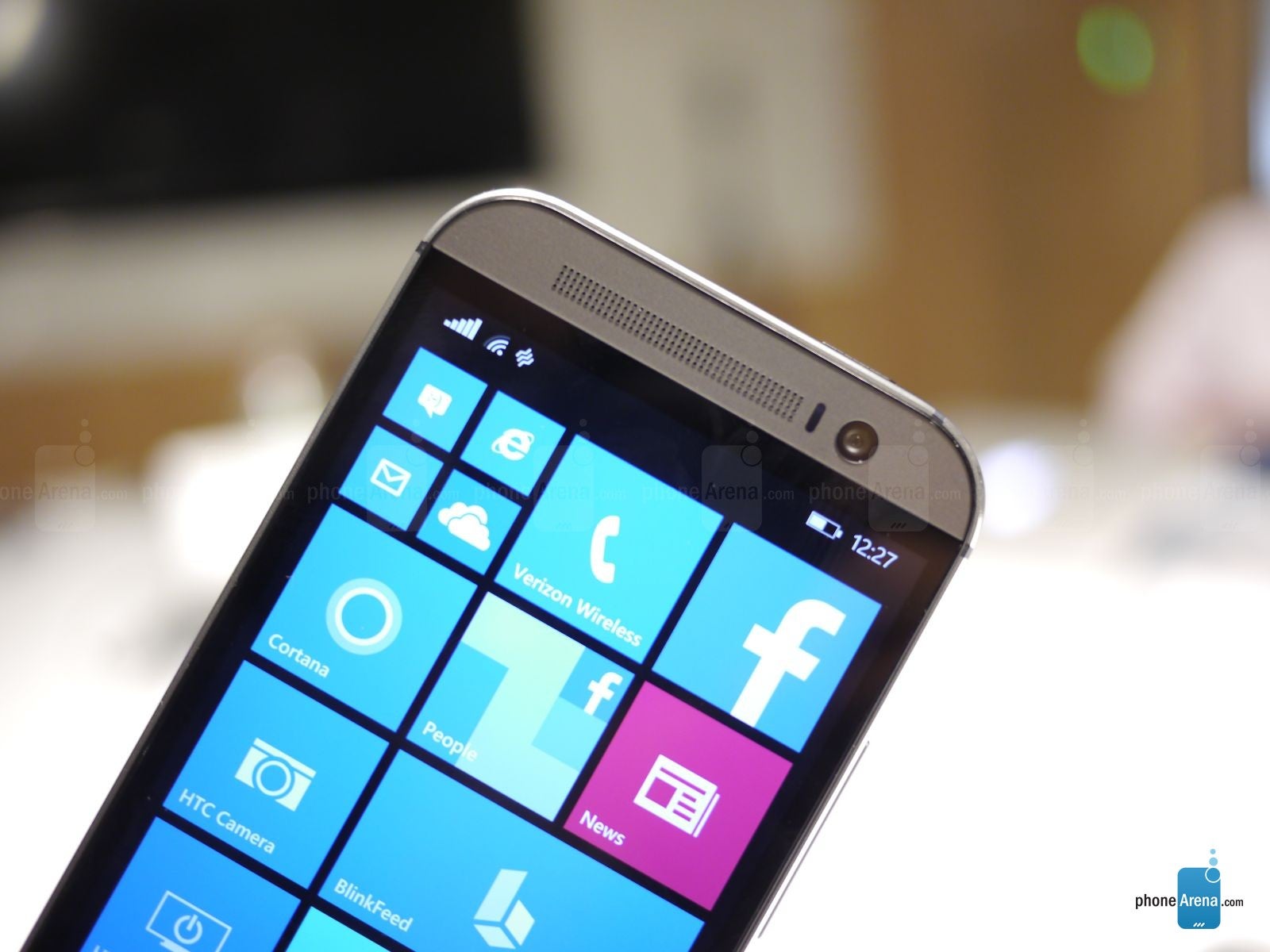 We've seen this before, so there's nothing we're going to get too excited here with the HTC One M8 for Windows. Like its sibling, this features a flagship-esque 5-inch 1080 x 1920 Super LCD-3 display with Gorilla Glass 3. Grazing over it briefly, all of the quality elements are present here – like its rich detail, good visibility, and vibrant color reproduction. As much as we would've been thrilled to potentially see a higher-resolution display, to make it formidable in light of other devices, it's at least within the same scope as its other esteemed rivals to make us feel confident about it.
Interface
Low and behold! The main difference here is blatantly the Windows Phone 8.1.1 experience it's running, so it's something we're thrilled to see from HTC. Taking into account that Microsoft is adamant on having a uniform experience, we naturally find the HTC One M8 for Windows abiding to those rules – so it's not a shocker to see that the majority of the experience is similar to Nokia's line of Windows Phones. Interestingly enough, however, HTC is able to once again sprinkle a few unique experiences to differentiate its offering.
Gone is the HTC Sense Hub, which was one of the common things that differentiated HTC's line of Windows Phones in the past from others. Well, that's something you're not going to find here with the HTC One M8 for Windows. Instead, it manages to pack along some of the unique core experiences we've seen with the HTC One M8 for Android – though, they're more like apps, as opposed to being integrated with the core Windows Phone 8.1.1 experience.
Looking at the Start screen, we have the familiar dynamic live tiles once again – with the additional personalized element of having a custom background. For the social networking conscious folks, we have HTC BlinkFeed, which acts like its Android counterpart in aggregating our social networking accounts. Switching the channel on your television set is done via the HTC Sense TV app, which not surprisingly, sports the Modern UI of Windows Phone with its presentation. And finally, it'll feature a few of the Motion Launch gestures we've seen before, like double tapping the screen to turn it on. However, in our quick hands-on look, we didn't find any of the other swiping based gestures supported – albeit, we're told that it's an early software build we're checking out.
Processor and Memory
Honestly, it's a rare occasion for us to come across a sluggish running Windows Phone of sort to – it just doesn't happen all that much, which is goes to show Windows Phone's stringent attention to detail with its operation. The internals here aren't new, as it's powered by the same current-generation chipset from Qualcomm, a quad-core 2.3GHz Qualcomm Snapdragon 801 SoC with 2GB of RAM. Yeah, it's fast and snappy, a quality of the chipset we're accustomed to seeing, but somewhere in the back of our head, we would've been thrilled slightly to see something newer.
Sporting 32GB of internal storage, it's a nice tally that suffice for many things – even better when there's a microSD card slot ready to supplement things.
Camera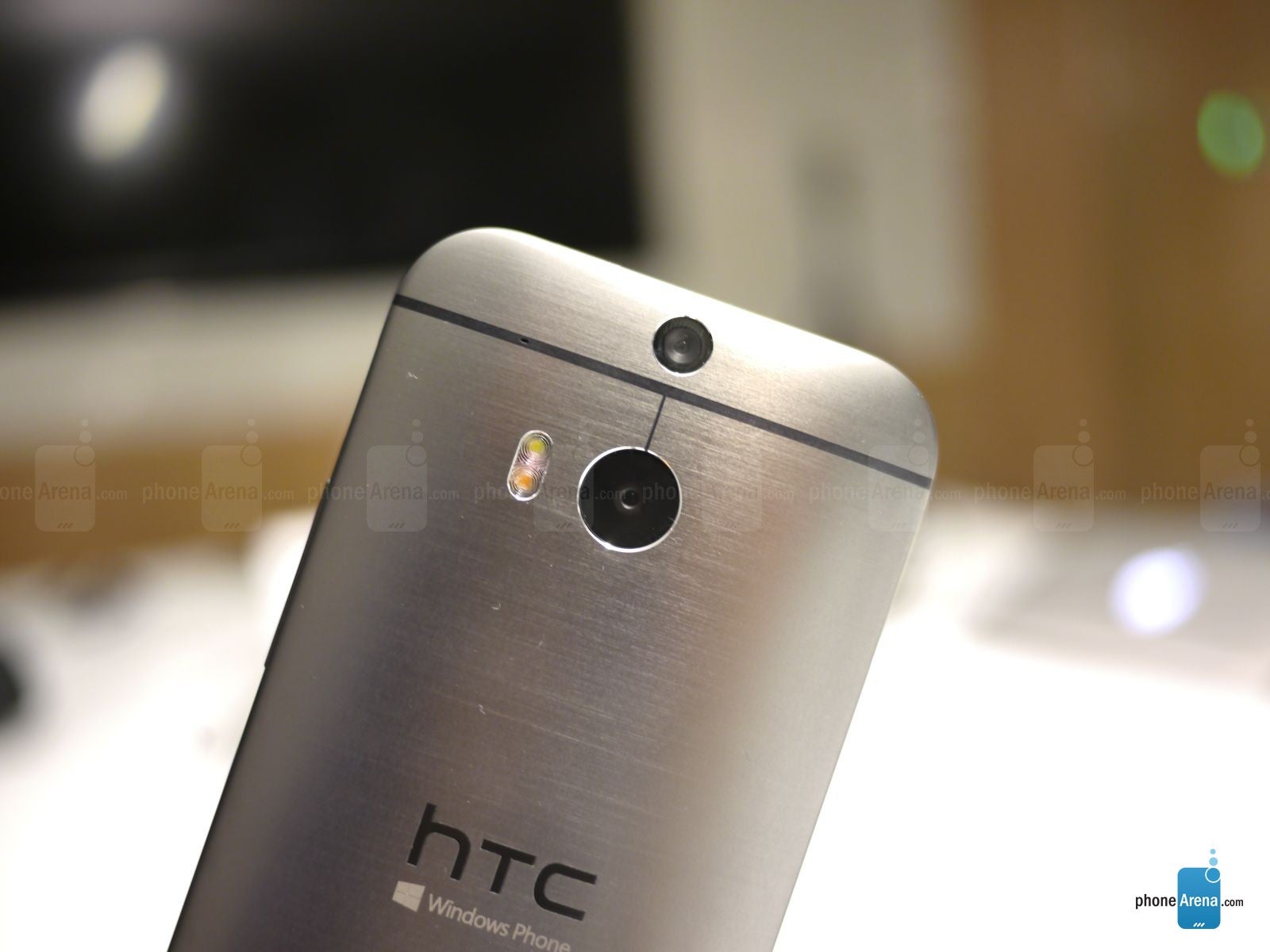 Low and behold folks! This wouldn't be a true HTC One M8 if it doesn't have a duo camera. Much like everything else we've covered thus far, this made for Windows Phone device packs the same two cameras as its Android-made sibling – a primary 4-megapixel "Ultrapixel" camera, and a secondary one used to measure depth information. The camera gear, of course, is similar to its sibling, as it features 1/3" sensor, BSI, f/2.0 aperture lens, and a dual-LED flash. Meanwhile, the front-facing one is the same wide-angle 5-megapixel snapper that'll surely please selfie-making shutterbugs.
From the looks of it, HTC didn't tinker all that much with the camera interface, seeing that its layout is identical. Even though it packs along staple camera features such as uFocus, which allows us to apply that neat bokeh effect post shot, it doesn't offer the entire breath of photo options and settings as its Android counterpart. Hopefully, though, we'll see more introduced down the road.
Expectations
We have fond memories of all the high caliber smartphones we've seen put out thanks to the relationship between HTC and Microsoft. Placing the emphasis on this reestablished relationship, we're eager to see how Windows Phone fanatics will take a liking to the
HTC One M8 for Windows
. On one hand, we're humbled to once again have a top-notch Windows Phones from HTC, but at the same time, we can argue that this phone could've gotten just a little bit more love.
Still, we can totally comprehend HTC's choice, seeing that the HTC One M8 brand already has a cult following – so it makes sense for them to go with this route of just adding the Windows Phone 8.1 experience. Launching with a promotional price of $99.99 with a 2-year contract, it should no doubt be an attractive option, but as we head into this upcoming holiday season, it might be left behind as we see newer and mightier smartphones on the horizon.