AT&T outlines pricing plans for BlackBerry Priv ahead of Nov. 6 release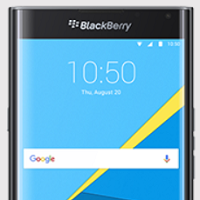 If you're looking to grab the upcoming
BlackBerry Priv
on AT&T, your wait is almost over. The carrier has confirmed that the handset, which touts Google's Android software among its integral assets, will be available to customers from November 6th. The cost of the handset will be $699 off-contract or $249.99 subsidized by a two-year plan, with further options on the table for those looking to spread the cost.
There seems to be no shortage of willing carriers for BlackBerry's delve into the world of Android. The Priv smartphone has been a long time coming, with the once market-leading firm having finally succumbed to the cries to jump on the Android bandwagon. With the Canadian outfit having made the point that its device is all about security and privacy -- the cornerstone of the BB battle cry since its heyday -- the Priv also retains some other treats that users of its devices will be accustomed to. The sliding physical keyboard will allow die-hard fans to revel in familiarity, and while the company is playing down the Priv as a comeback handset, the wider smartphone audience has not been as excited about a BlackBerry release for quite some time
Along with the aforementioned prices, the Priv will also be available through AT&T at $24.67 per month on the Next 24 plan, $30.84 with the Next 18 plan, or $37 on the Next 12 plan. As well as being among the early adopters of BB's first Android smartphone, buyers will be met with a 5.4-inch curved display, an 18-megapixel main camera and a sizable 3410 mAh battery, among numerous other highlights.
A
Verizon edition
of the Priv has appeared on social media in recent times, while Canadian firm Telus will
also sell
the BlackBerry Priv from November 6th onward. Whatever your poison in terms of network operator, the Priv will be widely available, which leaves only one question -- is it worthy of your hard-earned dollars?