AT&T begins taking pre-orders for LG G5; BOGO plan gets you a free LG G5 with the purchase of one
3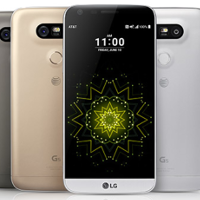 AT&T has announced today that it will start accepting pre-orders for the
LG G5
today on-line and from physical AT&T stores. The standalone price for the device is $22.97 a month over 30 months for well qualified buyers purchasing the phone using AT&T Next 24. The latter is the carrier's 30-month installment plan.
AT&T does have a BOGO offer for those who buy the LG G5. The way this works, you'll be laying out the money for the free phone, and get reimbursed for it. Both phones must be bought using AT&T Next. The first unit is purchased with a new line or an update. The free phone must be bought with a new line, using AT&T Next 24. Add both phones to a qualified data plan like Mobile Share Value. After three bill cycles or less, AT&T will start adding bill credits that amount to $689 spread out over 30 months. With those payments, you are essentially getting the second LG G5 for free. All you have to pay at the time of sale is the tax on both phones.
When you purchase an LG G5 on an AT&T Next plan, you can buy the LG Watch Urbane 2nd Edition LTE for $99.99 with a signed two-year contract. This is the only Android Wear smartwatch that works with AT&T's NumberSync. This allows you to use your AT&T smartphone number to make and receive calls on all of your AT&T connected devices (like the LG Watch Urbane 2nd Edition LTE) at the same time, even if your phone is miles away and is turned off.
Some features of the LG G5 pointed out by AT&T include dual rear cameras with regular and ultra wide angle lenses, and an always-on screen that gives you the time, date or notifications 24/7. The modular design allows you to insert a fresh battery, an audio upgrade and an upgrade for the camera. And the 1440 x 2560 QHD resolution means that the LG G5 gives you a super sharp display. And DIRECTV integration allows you to use your LG G5 as a remote. You also will be able to watch live television and movies through the DIRECTV app.
"We are excited to offer the latest LG devices along with hot deals and unique experiences such as DIRECTV and NumberSync. We're the first carrier to bring NumberSync to the Android Wear platform on the LG Watch Urbane 2nd Edition LTE, which helps you stay connected with the same mobile number that your friends, family, and coworkers recognize. This is another example of how we're adding value through innovative solutions."-Jeff Bradley, senior vice president, Device Marketing and Developer Services, AT&T
The LG G5 will be available at AT&T stores starting April 1st.
source: AT&T