A new image of the LG G Watch looks as bland as the first
32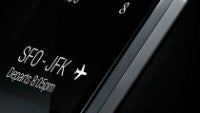 Okay, so maybe the headline isn't really all that fair, because the
LG G Watch
is planned to be the low-cost kickstart to the Android Wear ecosystem. It is planned as something of a developer reference device, and so there isn't a huge amount going into the hardware design. Even so, the G Watch is fairly bland in its hardware design.
The first image of the device that came out when it was initially announced didn't give much of a look at the smartwatch; it basically looked like a plain black plastic rectangle. LG released a new mockup of the device today (which is a blatant render on a CG arm), and it doesn't really do anything to change our initial impression. It looks exactly like what you'd picture if someone asked you to imagine a generic smartwatch.
The LG G Watch is planned as the first Android Wear device on the market, and has been slated for a Q2 2014 release. The general consensus is that the device will be released around the time of Google I/O, at the end of June, which is also the end of Q2. We still don't have any specs on it or a firm price range.