A $1 photo app for the iPad turns your images into Picasso-inspired cubism pieces
0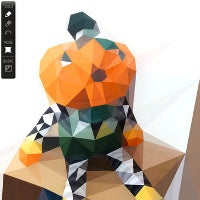 Poly
is a neat little iPad app turning your pictures into Picasso-flavored cubism-style pieces (and it's up to you to make them masterpieces) and it sells for just a buck on the App Store. The way it works is simple as everything awesome - you just tap to mark points on a photograph, which the app interpretes into a mosaic of polygons with colors matching the ones on the picture. The application runs best on the iPad 2, and sadly if you run it on the older first-gen iPad you'd notice a slowdown in its performance.
"inspired by the Triangulation invented by the mathematician Boris Delaunay in 1934. While the process behind is complicated, the result reduce an image to its essentials, creating the illusions of triangles, prisms and pyramids."
Check out the video below and hit the source link if you like the idea and want the app on your iPad 2.
Poly™ from Jean-Christophe Naour on Vimeo.