5 great apps to watch March Madness games streamed to your iPhone and Android
2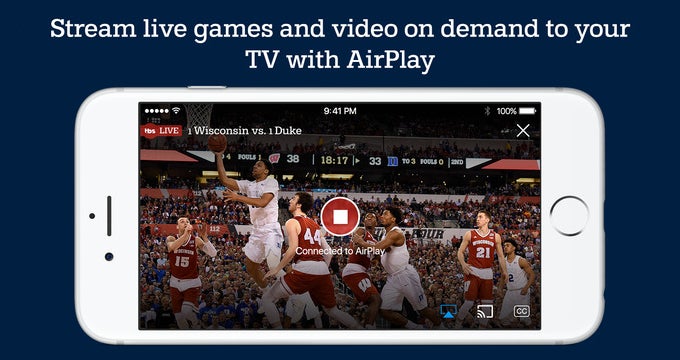 March Madness is upon us: the NCAA Tournament has sixty eight teams from across the nation playing to get in the one of the most watched basketball events of 2016.
This year marks the 78th edition of the NCAA men's division tournament and it has already kicked off on March 15th, but this year, the grand final is set for early April.
The difference between this year's NCAA and professional NBA basketball, however, is that it is surprisingly easy to watch all of the games without the need for a TV, and if you are working in an office without a TV set, you can easily make use of your mobile device to stream games. What are the best way to do that? We round-up 5 great apps to keep track of March Madness on your iPhone and Android.
NCAA March Madness Live
The official application of the tournament, March Madness Live is our number one pick for obvious reasons: it brings all the latest scores and allows you to watch the games without a cable subscription. Or you can use it as a second screen to stream your games and get live updates for every game of the tournament. It has some cool features as well: for instance, if you miss the end of an interesting game, you can go back in time and see the missed highlights.
March Mania 2016
If you really want to know everything about what's going on with games this March Madness, the March Mania 2016 app is a great place to get your news as the app will aggregate all latest news and videos from various sources, as well as official NCAA content. This way you will be able to keep tabs on the games and in case you've put money on it (or are planning to), you will be better informed. The nice thing is that if the general feed feels a bit overwhelming as it can be, you have the option to curate the feed to focus only on your favorite teams.
theScore
theScore is a general-purpose sports application that is popular amongst many without being too mainstream. It has a dedicated March Madness section that allows you to neatly follow the scores and get news from various sources. We love how the app is completely customizable, allowing you to get info on your favorite teams and games without drowning you in a sea of information. We also find it great for recaps of games, so you can quickly catch up with the missed action.
CBS Sports
CBS Sports is another all-around great sports application that has a special section dedicated to March Madness games. And since CBS will livestream games including those from the Elite 8, sweet 16 and first and second rounds, you might just grab the app in order to be able to quickly tune in to the games. Apart from the awesome live video feature, the app provides radio broadcasts from CBS radio stations, gives you the daily schedule for the tournament and provides consistent daily coverage.
Google Now
Finally, if you have Google Now, it will be the quickest ways to check out the scores for the games without the need to download any further apps. If you just want the score, that works great without overburdening your device with apps that you might not want in the future. With neat cards, game recaps and information that you can search by voice, Google Now stands out as a simple and efficient way to stay abreast of the tournament.