10" Lenovo tablet prototype promises ten hours of Android ICS use with Intel's Medfield silicon
0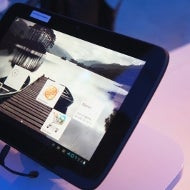 If there is one trend shaping at this year's CES, besides cheaper Android tablets, it is the ARM vs Intel catfight. Intel has been left so behind in the mobile area, that it is just now outing something that, at least on paper, can work on par with the current crop of ARM chipsets for phones and tablets. Still,
it promised prototypes to be shown in January
, and delivered at CES.
Besides the
Medfield-powered phone
, Intel tucked away on its CES premises a fully functional 10" Lenovo IdeaPad K2110 tablet, powered by the same power-sipping CPU, produced with the 32nm process. The efficient usage of transistor space is hinted by the quoted
10 hours of active Android ICS usage
, which is on par with the best tablets currently out there.
The Lenovo prototype features a display with 1366x768 pixels, looks quite slim, has a SIM card slot, HDMI-out, and is NFC-enabled. The tablet is said to be almost finished, with games and other 3D rendering reportedly running without hiccups. We have no doubts that Intel's tablet chip will be powerful, and our battery life concerns are somewhat dissipated for now with the quoted 10 hours of Android-ing. The only X factor now is the price Intel-based Android tablets will appear at.
via
Engadget