Intel bringing Android to Atom in January
5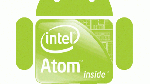 The mobile space is booming and Intel is feeling left out. The company has dominated the market in notebooks and desktops, but has yet to make much of a dent in the exploding market of mobile phones and tablets. The mobile market which is currently dominated by ARM-based processors from companies like Samsung, NVIDIA, Texas Instruments, and Qualcomm. However, Intel is looking to change that by adding Android support.
The trouble is that Intel may be starting from behind. The company is planning to have support for Android 2.3 (Gingerbread) on Atom E6XX series CPUs by January 2012, a full 2 to 3 months after the release of Android's next OS,
Ice Cream Sandwich
. Of course, by January it's likely that only Nexus phones and maybe Cyanogen users will be using ICS. But, if Intel is only going to have support by January, that means the first devices would be coming even later, and likely by that time there will be a fair amount of phones shipping with ICS.
Android on Intel x86 architecture has been done before by unofficial channels, but this will be the first official support from Intel. Maybe once it has Gingerbread support in place, the update to ICS may not be too difficult, but we'll have to see if Intel can catch up to the pack.