Here is what an Intel smartphone reference design looks like
14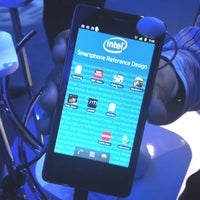 What you see pictured below, folks, is a
smartphone that has an Intel chip ticking inside it
– the Atom 2460, to be precise. It runs Android and can be currently seen at Intel's booth at CES. But there is something very special about the device, namely that it is not intended to end up on the retail market. Instead the smartphone serves the purpose of a reference platform, based on which other smartphone manufacturers are free to design their Intel-based handsets.
What this means is that the smartphone that Intel is currently showing off will serve as a yardstick, to which other handsets with Intel hardware inside it should be compared to. And if they are to be considered decent, they should deliver a user experience equivalent to or better than that of this reference device.
In case you are wondering what the reference smartphone is offering in terms of features, it has a 4-inch "high resolution" touchscreen on its front and an 8-megapixel camera on its back. There is a front-facing camera as well. Other goodies that are included are a 21Mbps HSPA+ radio, NFC chip, and HDMI output. Under the hood, the Intel Atom Z2460 processor runs at 1.6GHz and the Intel Graphics Media Accelerator handles all the eye-candy. Last but not least, its battery can provide up to 8 hours of 3G talk time and will last for 14 days in stand-by mode.
So, that is pretty much what we should expect out of the future Intel-based smartphones. Is anyone excited about their arrival? Feel free to share your thoughts with us in the comments.