OnePlus Buds Pro 2 review: volume warning!
5
We may earn a commission if you make a purchase from the links on this page.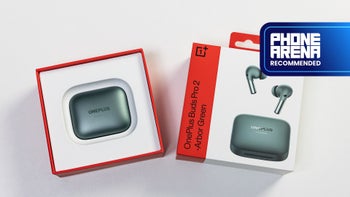 Another day, another set of wireless earbuds — the market is so saturated right now that if a new model of earphones comes out, it better have a unique selling point. Be it value for money, sound quality, or a unique feature.
OnePlus has a track record of hunting for that golden balance between reasonable pricing and high quality. The latest
OnePlus 11
is a very good phone for a $699 asking price, and it launched together with the new $179.99 OnePlus Buds Pro 2.
That's no small amount of money for wireless earphones — sure, it's cheaper than the
Apple AirPods Pro 2
or Samsung's
Galaxy Buds 2 Pro
, but more expensive than the regular
Galaxy Buds 2
or even OnePlus' own other offers — the
Buds Z2
and
Nord Buds
.
All of the aforementioned models have excellent sound, but here's what sets the OnePlus Buds Pro 2 apart:
OnePlus Buds Pro 2 in a nutshell:
Dual drivers - 11 mm and 6 mm - tuned by Dynaudio
Android Spatial Audio support
Customizable sound — EQ and automatic Audio ID 2.0
Up to -48 dB noise reduction
OnePlus Buds Pro 2 specs
| Color options | Arbor Green, Obsidian Black |
| --- | --- |
| Audio | 11 mm woofer, 6 mm tweeter; Dolby Atmos, Spatial Audio |
| Noise cancellation | Up to -48 dB |
| Connectivity | BT 5.3, BT multipoint (dual device), Google Fast Pair |
| Battery life | 39 hours total without ANC / 25 hours total with ANC |
On paper, the OnePlus Buds Pro 2 are very promising — decent battery life, dual drivers, Spatial Audio, and Bluetooth multipoint. Of course, we had to dive deeper!
OnePlus Buds Pro 2 design and colors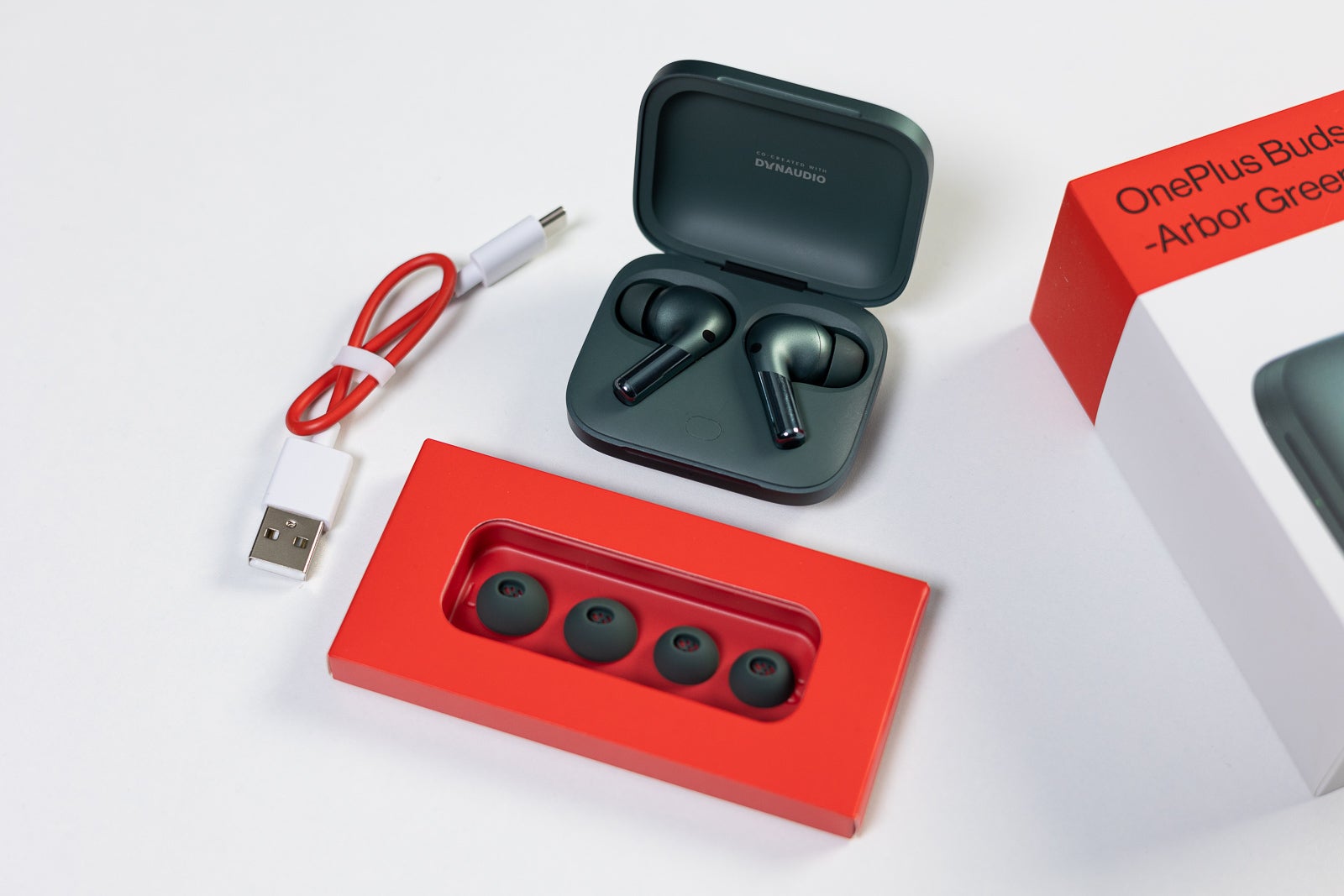 The design here is the same as the OnePlus Buds Pro from 2021, but that's very much OK. They are rounded and soft with relatively short microphone stems, and provide a good fit and seal when in use. My ears are typically quite picky with earbuds and their comfort. With the OnePlus Buds Pro 2, I could feel some discomfort after an hour's use, with wearing fatigue coming in about 2:30 to 3 hours of non-stop use. By my standards — this is pretty acceptable, I would continue using them daily and recommend them to anyone looking for a comfortably-fitting set to try.
As usual, there are three tip sizes inside the box to customize your fit, and their proprietary app will test if you have a proper seal when the Buds Pro 2 are in, which is nice.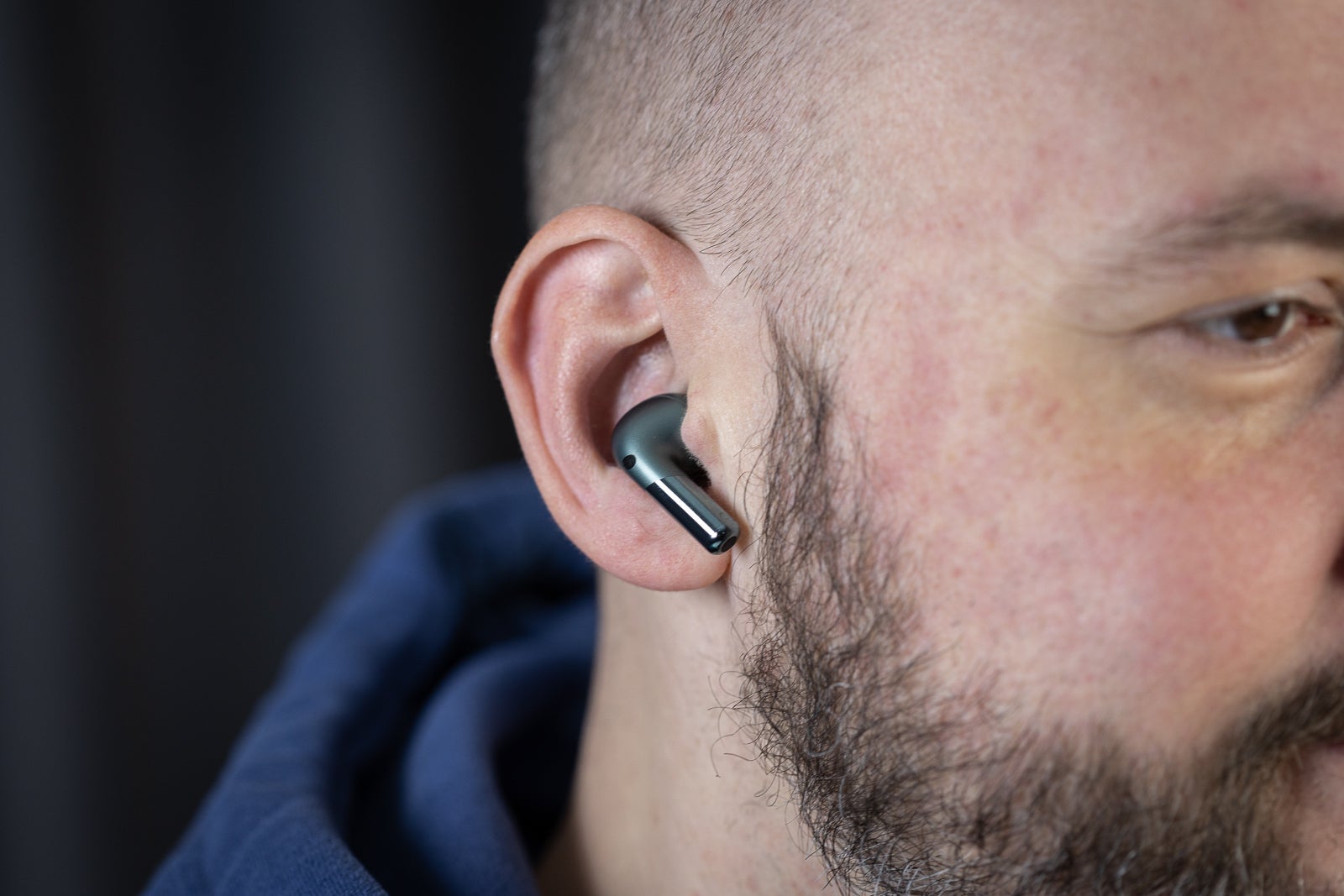 OnePlus Buds Pro 2 squeeze to control (Image Credit - PhoneArena)
The stems provide media playback control via squeezing. One squeeze for play/pause, two times for forward, and three times for back. Press and hold to toggle ANC, hold longer to enter the special Zen Mode Air — more on that later. There's no way to control volume, which is not ideal, but we do like squeeze controls over touch controls, as you don't get accidental taps while adjusting the earphones' fit.
The case itself is pretty nice — it's a horizontal design in a pretty compact shape, made of soft touch plastic. The hinge feels upgraded over the original OnePlus Buds Pro as it opens and closes in solid, smooth motions.
Obsidian Black and Arbor Green (Image Credit - PhoneArena)
The OnePlus Buds Pro 2 are available in two colors, matching the new OnePlus 11 phones — Arbor Green and Obsidian Black.
OnePlus Buds Pro 2 sound

The dual drivers of the OnePlus Buds Pro 2 have been tuned in partnership with Dynaudio — a speaker company with a 56-year history that only builds speakers with their own drivers.




So, needless to say, going into this we were pretty excited. A 11 mm woofer and 6 mm tweeter per earbud is rarely a setup we see. In fact, we rarely see dual drivers on sub-$200 wireless buds.




The very first thing we can tell you is that these are loud! When paired to a device that was outputting music through a different set of buds beforehand, they just blasted out incredible volume. No distortions and no issues here — just rest assured that you have tons of volume on tap should you need it. But take heed — volume warning!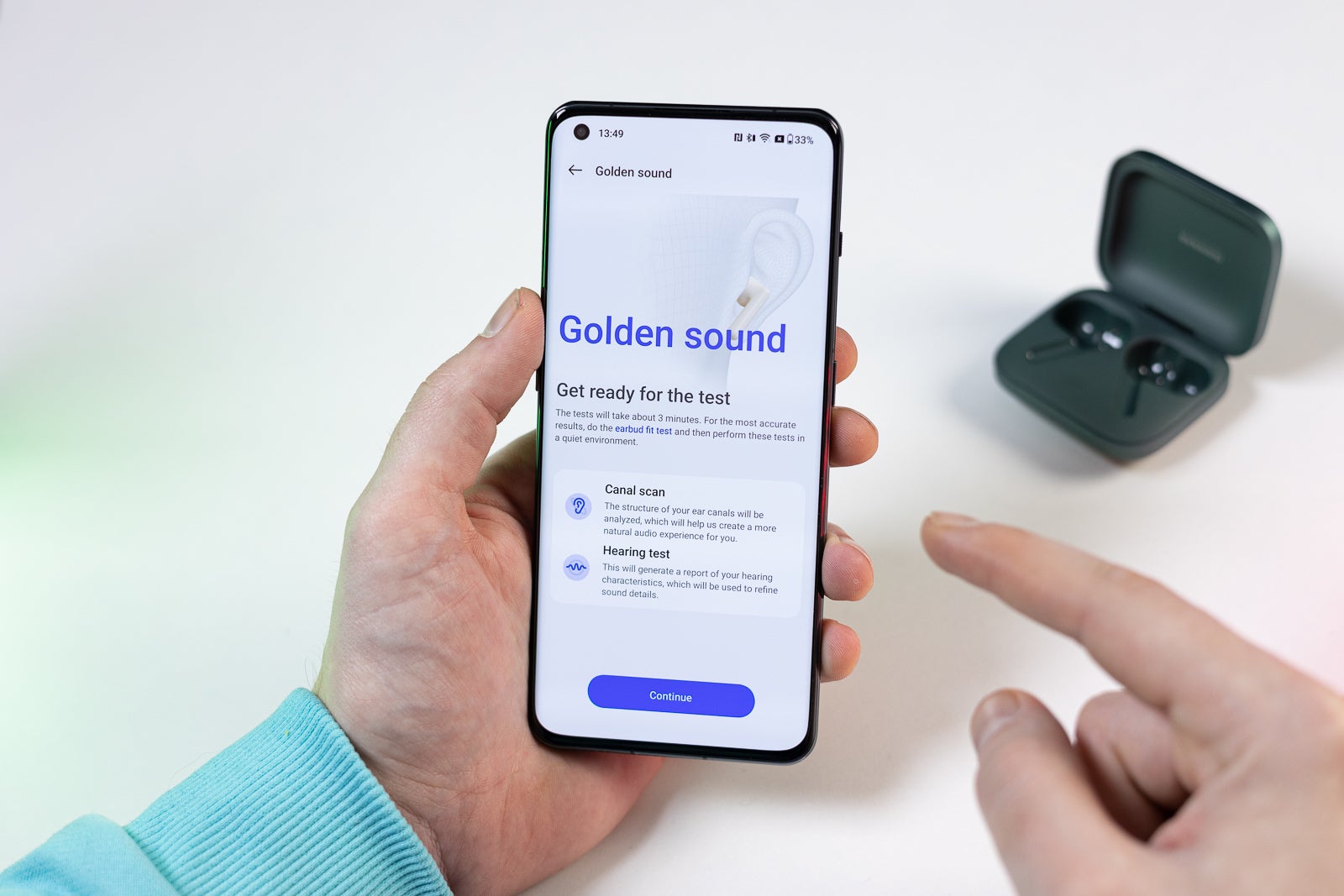 HeyMelody app for OnePlus Buds (Image Credit - PhoneArena)
Out of the box, without downloading their HeyMelody app, the OnePlus Buds Pro 2 already sound fantastic. The bass is very deep and thumpy, but incredibly focused and controlled. At no point did we feel any head-squeezing sensation, or loss of detail in the music. The upper midrange seems to have a confidently pronounced hump, but it somehow doesn't sound harsh or fatiguing — just very detailed. There's a lot of air room in the highs as well, without causing hiss or the feeling of compression.
We tried comparing them with their closest competitors — the Galaxy Buds Pro 2 and AirPods Pro 2 — and we can't quite liken them to each. Every one of these buds has their own way of "sounding good" — in the OnePlus Buds Pro 2's case, the signature sound comes from the detailed upper midrange and the super-focused bass response.
Another upgrade worth noting is that the Buds Pro 2 can reach a lowest latency of 54 ms, which is up by quite a lot from the previous model (94 ms on the OnePlus Buds Pro). OnePlus states these numbers were achieved when using the latest OnePlus phones, but we also tried the Buds Pro 2 with an iPhone and felt like there's not much latency.
Tuning sound and noise cancellation with the HeyMelody app
But comparing them to other sets becomes murky territory should you download the HeyMelody app. It allows you to customize your sound in two ways — either have the earbuds test your hearing and automatically adjust the EQ curve, or just open a user-controlled EQ and do it yourself.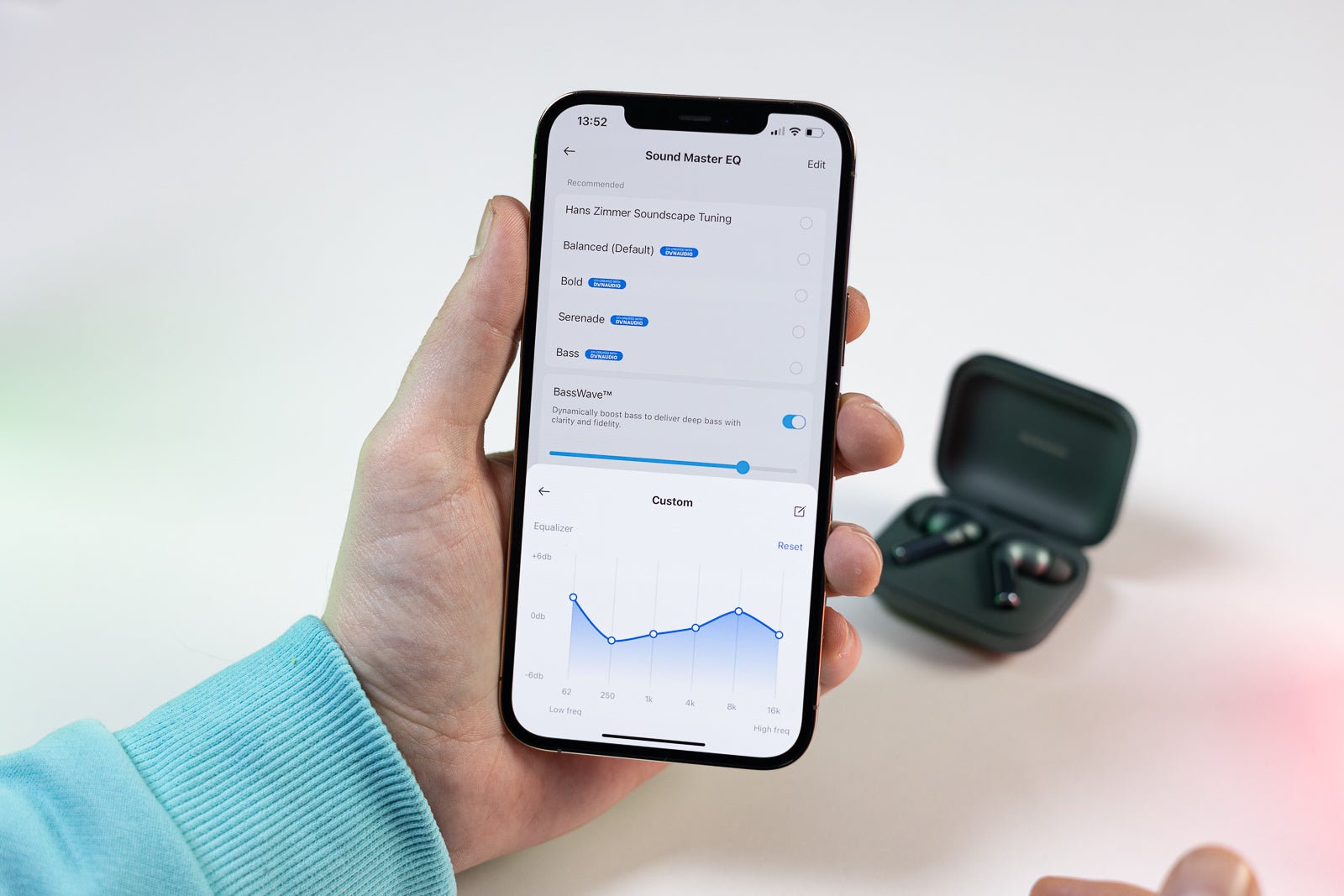 OnePlus Buds Pro 2 custom EQ (Image Credit - PhoneArena)
We found the EQ to be very responsive and fun to use, and it helps that you can save a few custom presets to call back whenever you want to A/B test them. Or, you can make use of the Dynaudio-tuned presets that are already there.
The noise cancellation feature can be fine-tuned to your ears if you let the HeyMelody app run a quick response test of your auditory canal. We tried this and the result was surprisingly good — the level of noise reduction didn't change in a conceivable manner, however, we were no longer feeling that "plugged" sensation, which usually accompanies noise-reduction earbuds. We do recommend you use this if you pick these up!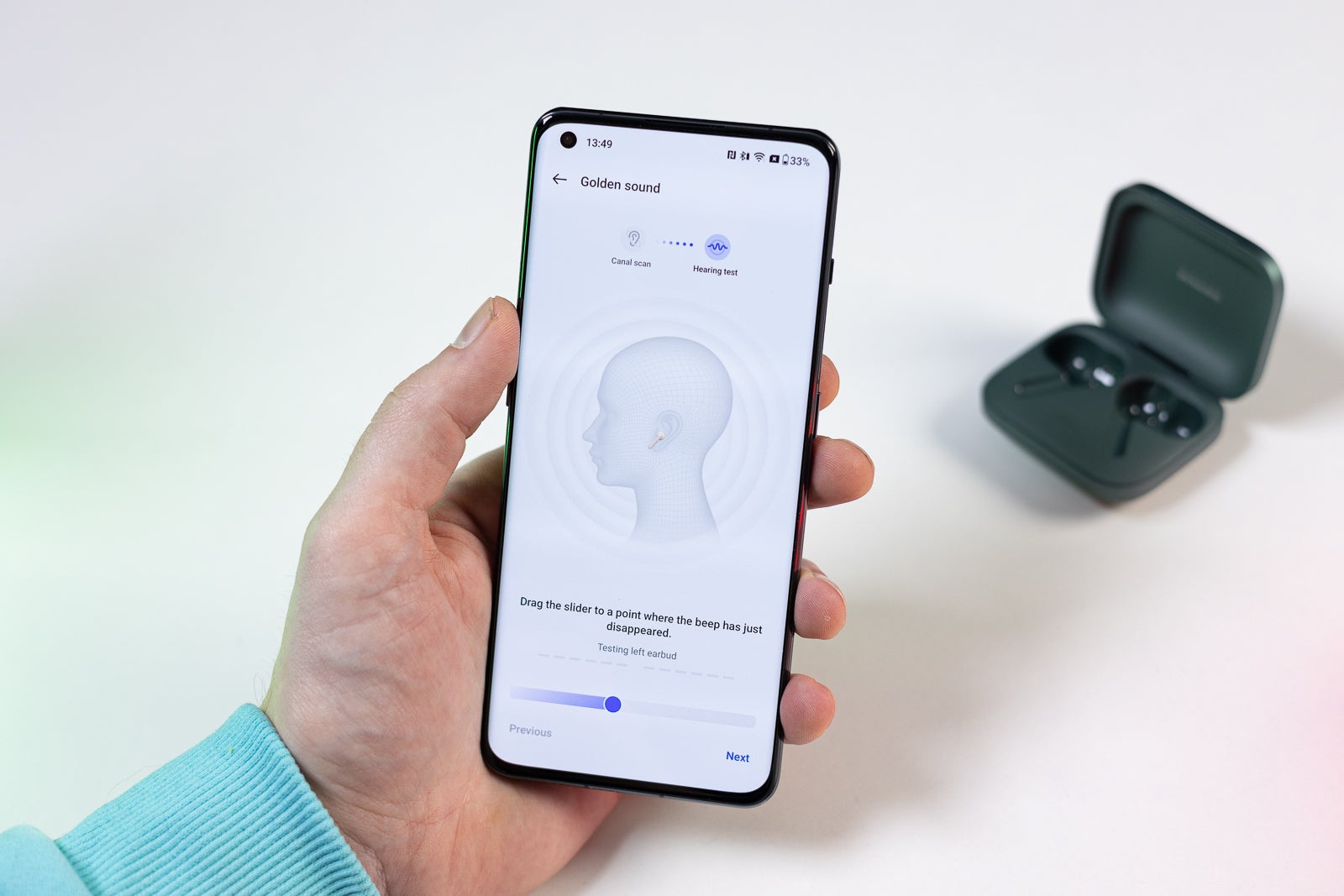 Fine tuning your experience (Image Credit - PhoneArena)
You can also tune the strength of the noise cancellation within the HeyMelody app — Mild, Moderate, Max, or Smart. OnePlus states that it can reduce outside sounds by up to -48 dB and that the ANC algorithm will cancel a wide frequency spectrum up to 4 kHz — essentially, it should be better at muffling out human speech as well as low-level hum.
In our tests, we didn't find the noise cancellation to be particularly successful in completely neutralising voices, even at Max cancellation. Switching from Mild to Moderate to Max did affect how much of the low-end frequencies were being filtered out, though. We would imagine that you want to use Max in an airplane, for example. But fun fact, as Max focuses more on the low frequencies, it lets higher-pitched sounds — like a laptop fan — through more.
Also, on Max, the earphones lose a lot of their bass response, since they are busy producing low-end sounds for the cancellation to work. It's not too bad — not to the point where the music becomes harsh, but we definitely lose that pleasant thump to it. We would recommend just leaving the noise control mode to Mild, as this assures the best music experience. Just turn it on, start up your favorite song, and you probably won't hear much of the outside world.
Speaking of the outside world, the Transparency mode is pretty good on these! Sounds come in with a slighttly shaved-off top end and you can tell it's not "the real world", but it's a very close rendition to the actual sounds that are going on around you. You can comfortably wear these and enable Transparency whenever you need better awareness.
Spatial Audio
The feature of the future — Spatial Audio is all the buzz nowadays. It's a technology, which transcends typical left-right stereo setup and tricks your brain into perceiving instruments and sounds as if they are taking up actual space somewhere around you.
Or at least it should, if done very well. But many will agree that there's nothing wrong with good old stereo, and Spatial Audio doesn't make songs sound better... just different.
No matter which side of the fence you are on, it's nice to see that the new OnePlus Buds Pro 2 support Spatial Audio on Android — any contemporary Android phone will be able to play tracks mastered for Spatial Audio through these earbuds.
Things become more advanced if you pair them to a OnePlus 11 specifically.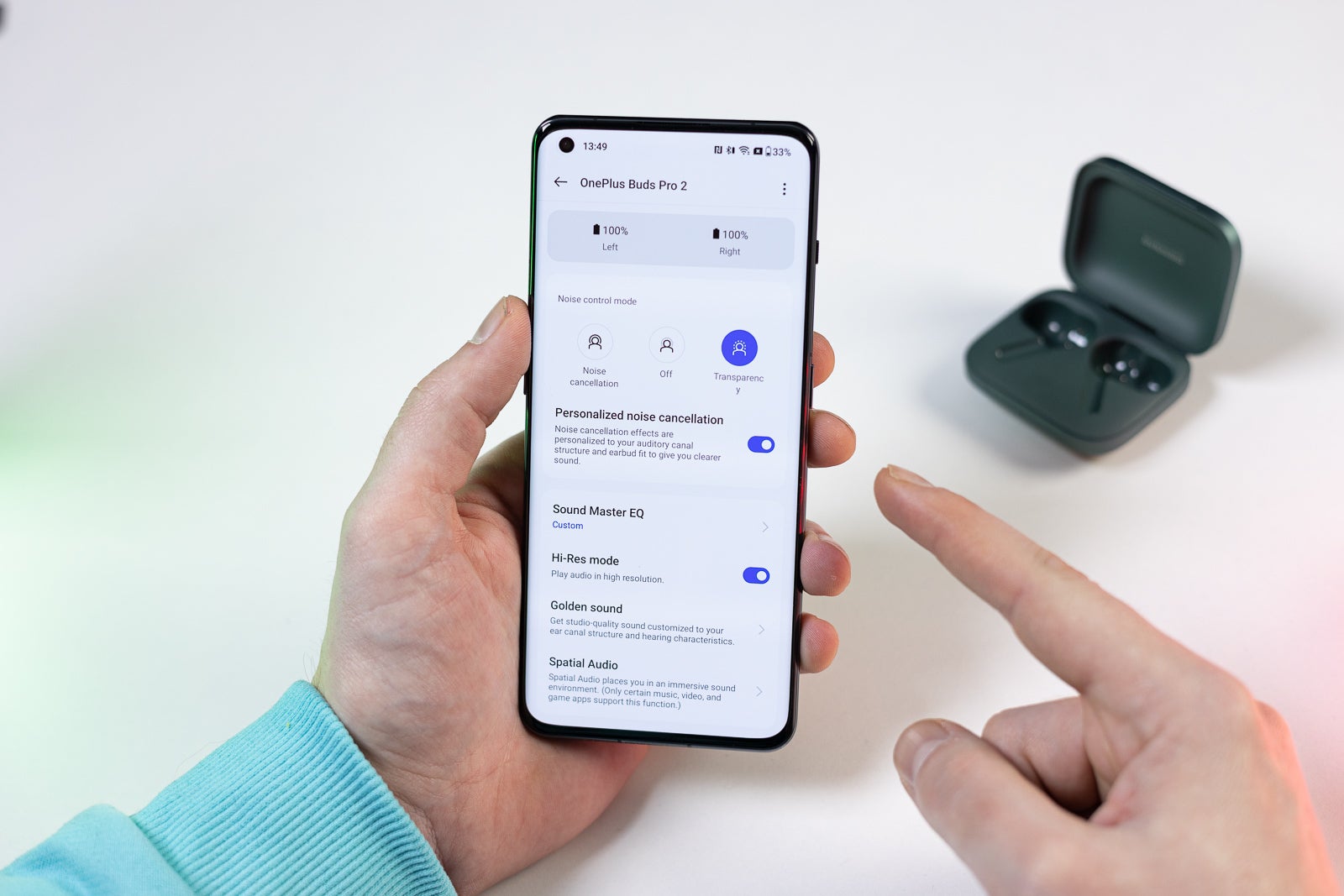 Only OnePlus phones will get that Spatial Audio sub-menu at the bottom (Image Credit - PhoneArena)
First, you will have the option to "spatialize" any sound — removing the "plugged" effect of earbuds and making the audio sound more open, as if you are listening to big speakers in the room. Secondly, it adds Dolby Head Tracking, should you require it.
We aren't super impressed with either of those features. Spatializing sounds OK, it really does add a perception of a large room, but it doesn't sound very good with music. You can still use it for TV shows, especially older ones that weren't mastered very well, to get a wider soundstage and give the characters' voices some space (so they don't sound like they are inside your head).
Head tracking is... not impressive. There's a noticeable delay, which very much defeats the purpose of the feature in the first place. Head tracking is supposed to "rotate" the stereo balance as you turn your head, allowing you to keep the illusion that your phone is the source of the sound, and not the earbuds themselves. However, if there's any delay in the rotation of the virtual space — which there is — the feature is just a source of confusion and slight frustration, so you will keep it off.
Are these the OnePlus AirPods?
OK, so Spatial Audio didn't wow us, but the rest of the package here is quite something. Decent noise cancellation, great Transparency, fantastic sound and bass control, and very good comfort.
If you are in the Apple ecosystem, a set of AirPods is still probably the better choice just for their ease of pairing and device switching — from iPhone to iPad, to Mac, to Apple Watch.
However, the OnePlus Buds Pro 2 do support 2 devices via Bluetooth multipoint, so if you don't own that many iProducts, you can make this work. And, if you are not locked in to one specific ecosystem, these earbuds are a very viable choice.
What is Zen Mode Air?
Lastly, the HeyMelody app holds a Zen Mode Air menu, which allows you to download short, loopable ambient sounds to the Buds Pro 2. They are pretty basic — you've got some seashore sounds, some chirping birds,
You activate Zen Mode Air by squeezing a stem for 3 seconds and then just... listen. We are not sure of the application here — there are plenty and plenty of relaxing ambient tracks you can find on YouTube or Spotify, all of which are higher quality and longer loops.
You could make the argument that Zen Mode Air allows you to uncouple yourself from those devices, so you can move away from the Internet, plug your ears with the Buds Pro 2 and just play a simple, relaxing sound effect to meditate to.
Sure, great. But you know what? The earbuds don't have volume controls on them. So, they will stay at the exact volume they were on when you left your evil connected device in the other room. When you enable Zen Mode Air, you may not get a nice, relaxing, soft tune — you may get ear-piercing bird chirps.
So, yes, we are not fans of that mode and we don't see it as a selling point for these earphones.
OnePlus Buds Pro 2 battery life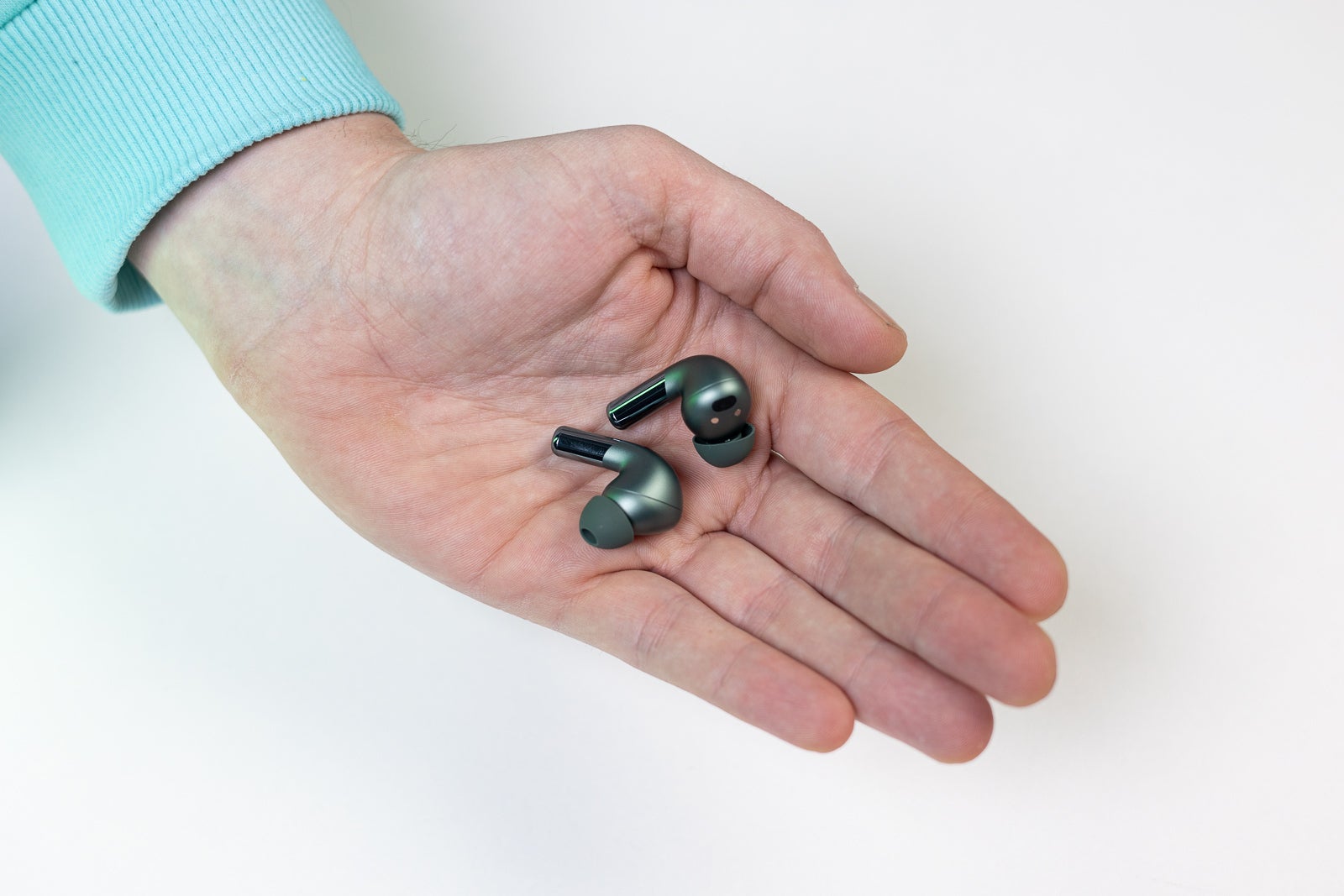 Good to go for 6 hours
Official numbers say that, with ANC on, the OnePlus Buds Pro 2 deliver 6 hours of playback + 19 extra hours in the case (for
25 hours total battery life
). If you turn ANC off, you should get around 9 hours from the buds and 30 extra hours from the case (
39 hours total
).
But the charging case also supports its own version of Warp Charge, so you can get "10 hours of playback" in 10 minutes of charging. It also has a wireless coil on the bottom, so you can plop it down on any Qi pad to get some juice.
In real life — we didn't really try to drain these to 0%. The longest we used them for were 3-hour non-stop sessions, at the end of which the earbuds had 60% of juice left in them. So, it seems OnePlus' numbers are accurate. In fact, we saved more power because these earbuds are so loud that we had the volume down below half (OnePlus tests battery at 50% volume).
OnePlus Buds Pro 2 summary
All in all, these are pretty solid earbuds, but they are also not exactly cheap. The first generation of the OnePlus Buds Pro had an MSRP of $149.99, these new ones are up to $179.99. You could chalk that up to inflation, but let's not forget that we also got upgraded to dual drivers within the earbud and Spatial Audio support.
Are they worth $179.99? Yeah — looking at the market landscape, they are priced between the Galaxy Buds 2 and AirPods Pro 2. In fact, the OnePlus Buds Pro 2 cost exactly the same as a set of non-Pro AirPods 3. So, looking at the competition in the price bracket — and close neighbourhood — we'd say the OnePlus Buds Pro 2 offer quite the package. Good sound, great fine-tuning options, dual device connectivity, good battery life and fast charging.
Unfortunately, the unique selling points — like Zen Mode Air and Spatial Audio Head Tracking — are not really amazing. In fact, they are easily ignored. So, while the OnePlus Buds Pro 2 definitely have enough to justify their asking price, they don't really have something to pull you away if you are being beckoned by the sweet song of another brand.