Samsung Galaxy Buds 2 review – the right sound for the right price
5
We may earn a commission if you make a purchase from the links on this page.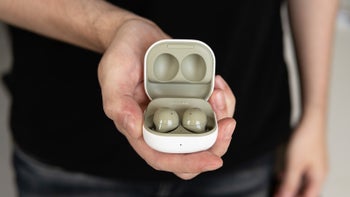 For their price of $150, the Samsung Galaxy Buds 2 look and sound fantastic. If you're after
wireless earbuds
with great ANC, and about as portable as Apple's AirPods, the Buds 2 are easy to recommend.
In fact, the Galaxy Buds 2 are probably the best budget wireless earbuds you can get right now, period. Let's take a closer look at
Samsung
's newest Buds and see why.
You may also find interesting:
Design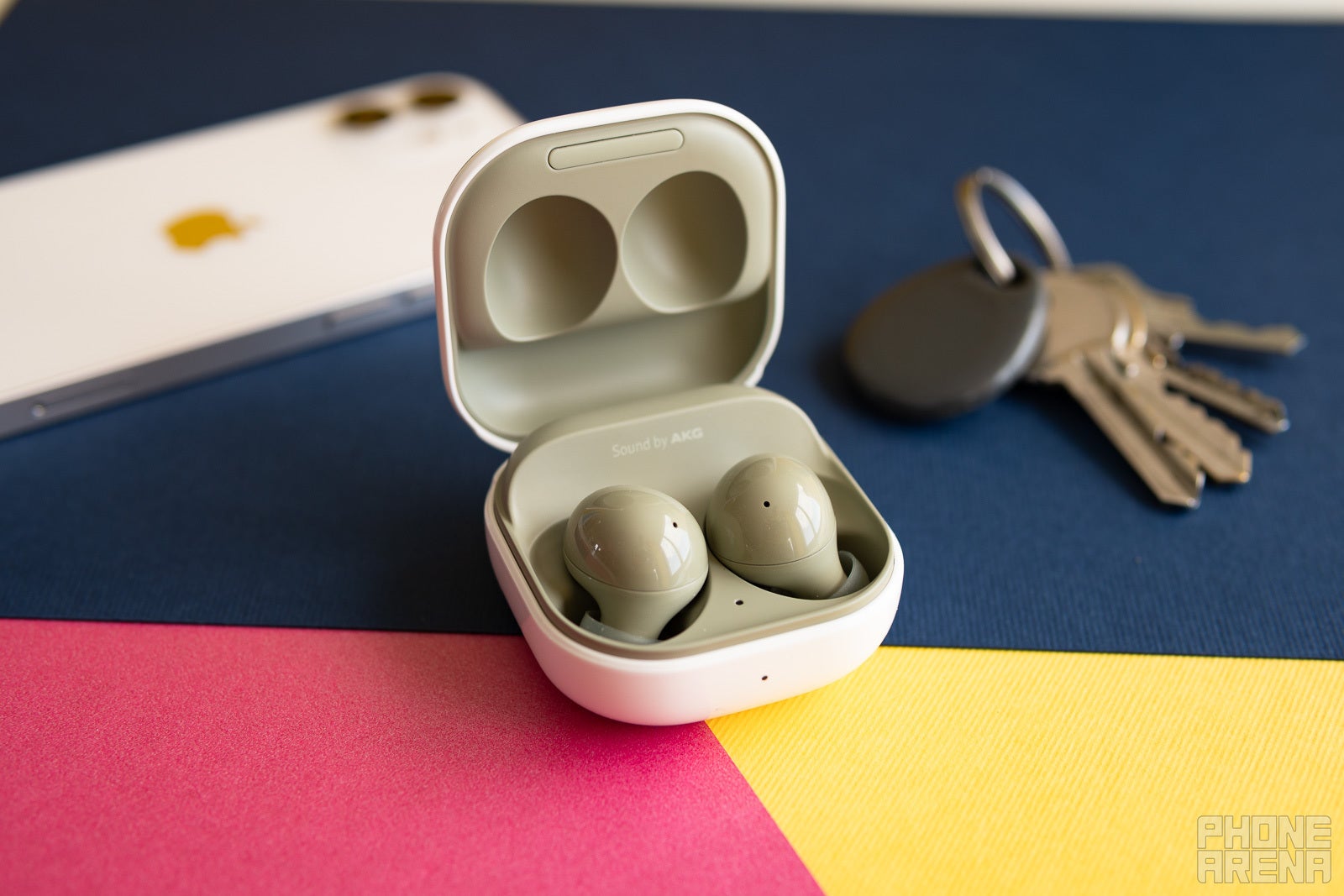 The Galaxy Buds 2 earbuds come in a wonderfully curvy square charging case, made out of glossy plastic on the outside and matte on the inside. It has some nice heft to it, but it's surprisingly small and thus it fits perfectly comfortably in pockets, making the Buds 2 super easy to carry around.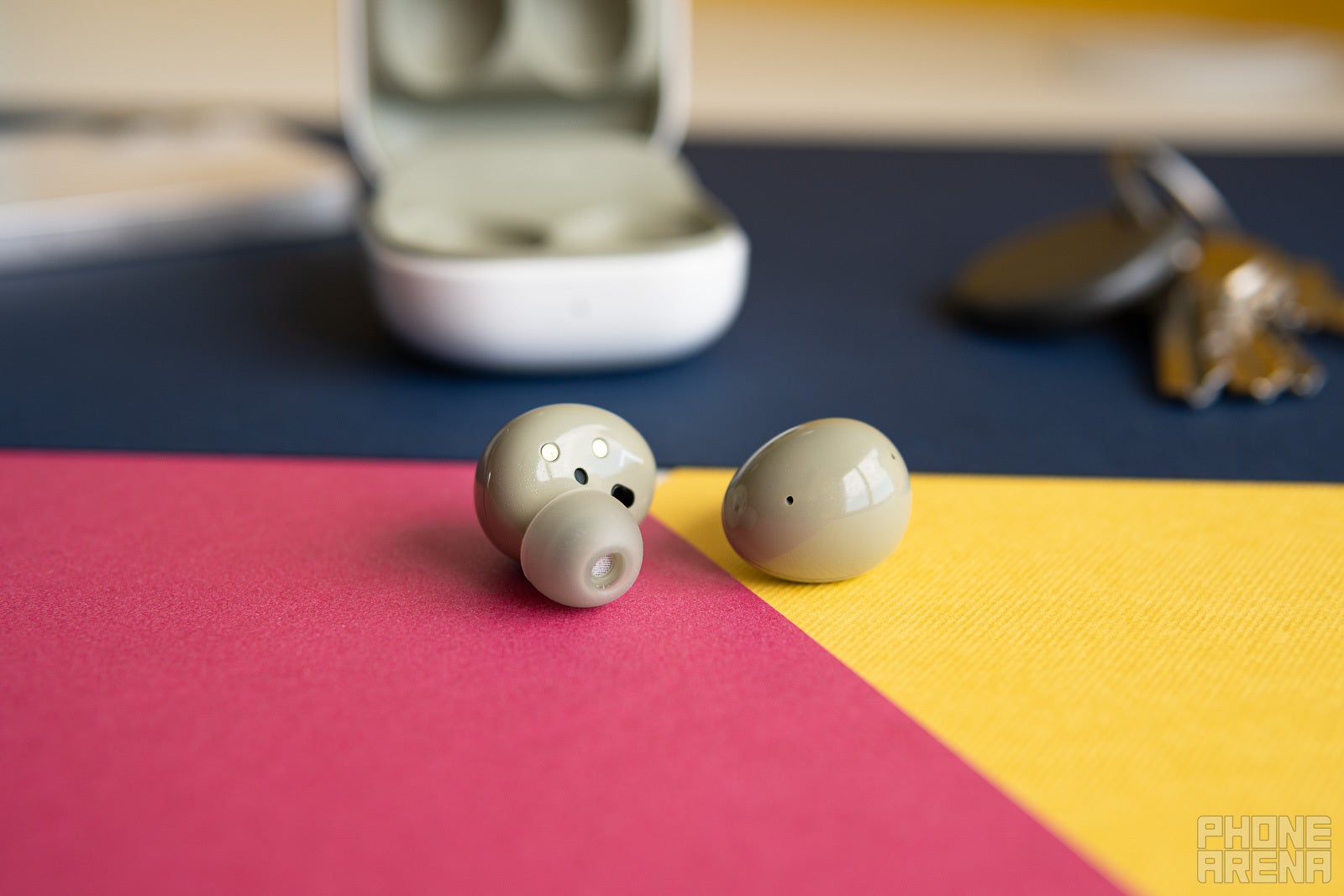 The Buds 2 earbuds themselves are also very curvy, no sharp edges anywhere. Somewhat egg-shaped, reasonably small and with traditional silicone tips for a good in-ear seal, unlike the
Buds Live
. Overall, this is a really neat-looking and feeling package for $150.
You can get the Buds 2 in four different colors, which are white, graphite, and the more unique olive and lavender. The Buds 2 case weighs 41.2 grams, while the earbuds combined are 10 grams, adding to an overall weight of just 51.2 grams.
Fit and comfort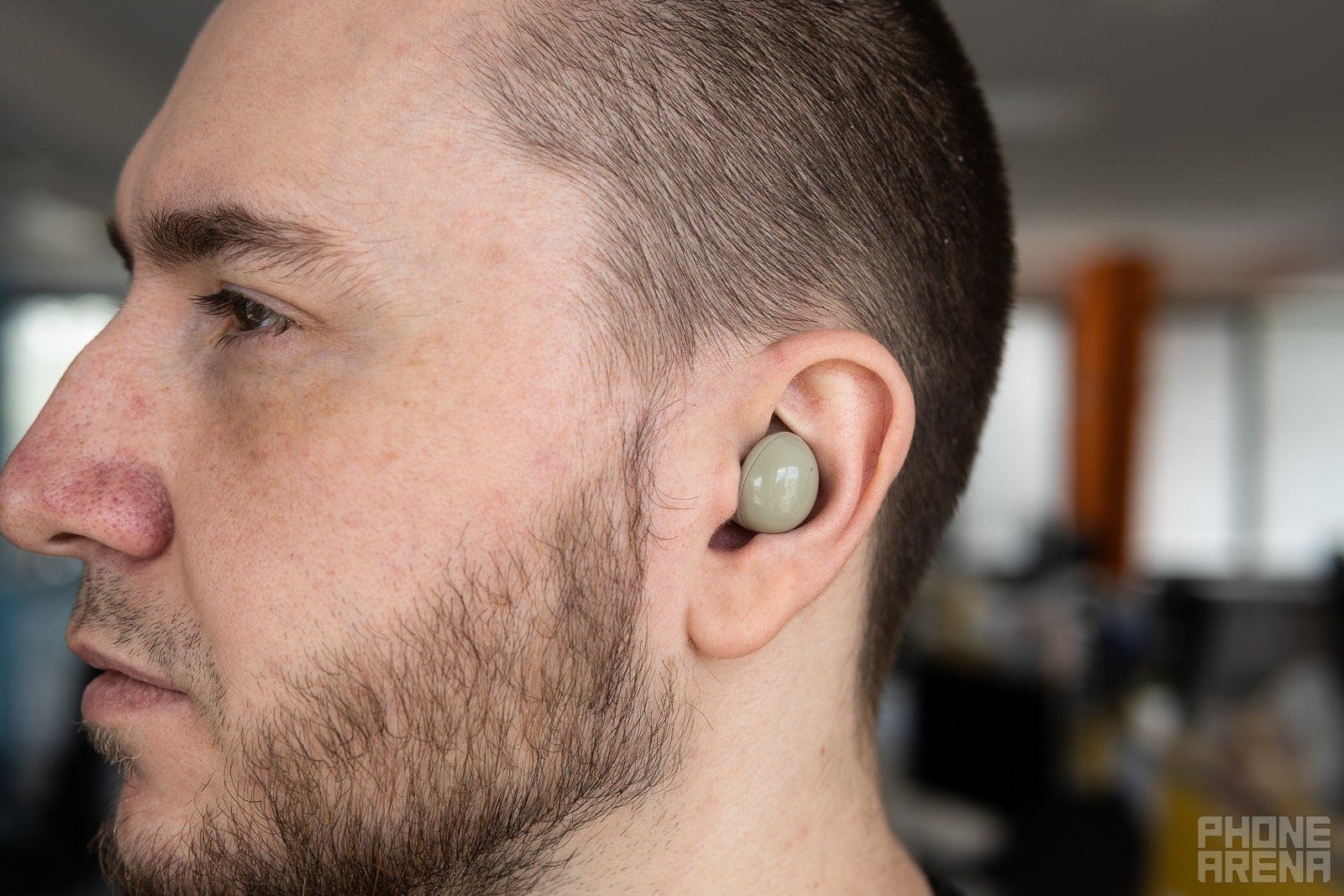 I'm one of those people who prefer over-ear headphones as opposed to earbuds, as the latter are usually too irritating for me, but I'm happy to report that the Galaxy Buds 2 are quite light and comfy to wear for long periods of time.
And if the default eartips are too small or large for your ear holes, the Buds 2 do come with two extra pairs of eartips – one being smaller and one larger.
We all have different ears and preferences, so this is subjective, but trying them alongside AirPods – I do prefer how the Buds 2 fit and feel, even if they are slightly more weighty. And with the Buds 2, you don't have stems or anything visible in your peripheral.
Speaking of weight, according to Samsung the Buds 2 are the company's lightest earbuds yet.
It's also worth noting that the Buds 2 are IPX2-rated, meaning that you can comfortably wear them at the gym and sweat away. However, the Buds 2 should be kept away from pools and kept indoors during heavy rains. IPX2 means that the Buds 2 have been tested to survive 10 minutes under the equivalent of a 3 millimeter rainfall, nothing stronger than that.
Pairing and Bluetooth range
Pairing the Galaxy Buds 2 is quick and easy, as simple as pairing any other Bluetooth device to your phone. I first paired them to an iPhone, which was a near-instant process. However, note that the Galaxy Wearable app, which Samsung encourages you to download for these earbuds, isn't available on iOS. Still, using and controlling the earbuds works just fine on Apple devices.
But of course, it's very likely that you'll be using an Android phone instead. If it's a Samsung phone, starting the pairing process is as easy as opening the Buds 2 case near it.
Once you download the Galaxy Wearable app you get a number of handy extra features which we'll cover below, but note that the app isn't actually mandatory.
As for the strength of the connection between these Bluetooth 5.2 earbuds and your phone – it's quite impressive. With both an Android phone and an iPhone, I was able to walk far away and even close two doors behind me without the connection breaking, which is fantastic, especially considering that the Buds 2 are just $150.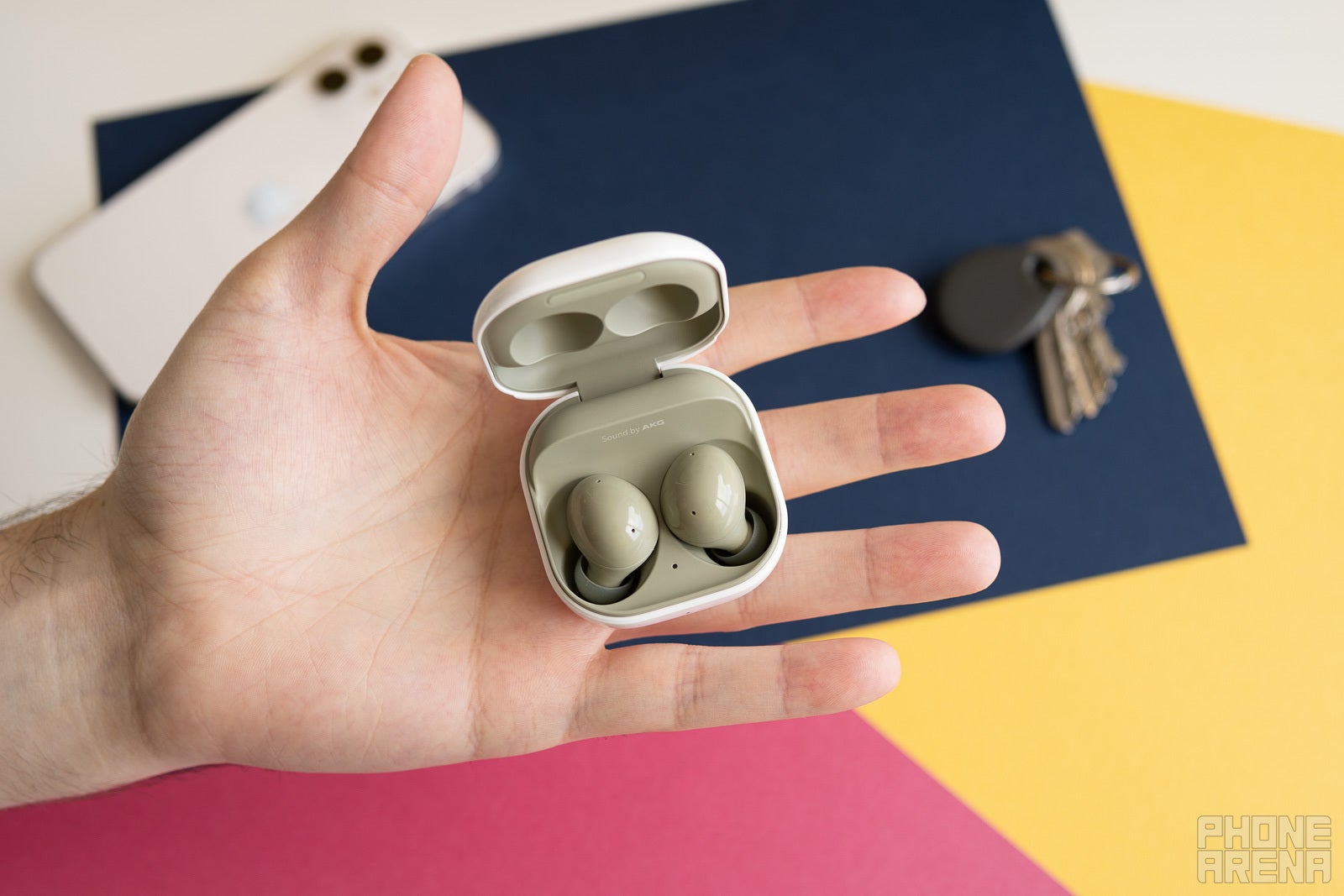 If you're working in an office and wish to pair them to your PC – that's also just as easy as opening the Buds 2 case near it, by the way. My Windows 10 laptop almost immediately shows a prompt to pair to them, again quite convenient.
Sound quality and ANC
The bass of the Galaxy Buds 2 is very punchy, and definitely more notable than what you get on more "flat" earbuds like Apple's AirPods. The low-end on the Buds 2 is satisfying and clean, at least if you love listening to modern bass-heavy music. The highs are there too, reasonably clean and detailed, but the mids seem a bit pushed to the background.
It's safe to say those earbuds aren't for professionals who would want to master music or produce with them, but are perfect for casual listeners who enjoy good bass and highs. I would describe the Buds 2 as "fun" and "punchy".
Of course, it's worth noting that if you don't like strong bass or you're simply used to flat-sounding earbuds, you may have to tune in the Buds 2 to your liking via the Galaxy Wearable app, which is available on Android.
And now onto the active noise cancelling (ANC), which is definitely Samsung's best ANC to date. Unlike some older Samsung earbuds like the Buds Live who barely had any, the ANC of the Buds 2 doesn't mess around.
Samsung claims that the Buds 2 ANC blocks up to 98% of background noise, and while I wouldn't go that far, it does manage to significantly reduce the rumbling of a nearby air conditioner, or pretty much any sounds. However, don't expect total silence, as you'll still faintly hear nearby noises, even if muffled and quiet, at least until you actually play a song. When music is playing and ANC is on, you're pretty much in your own world.
And when you actually want to hear what's happening around you, you can switch from ANC to Ambient Sound. This feature lets you hear voices and other sounds the Buds 2's three microphones pick up. From the Galaxy Wearable app you can set Ambient Sound to low, medium (default) and high, the latter of which will both let you hear surrounding sounds and will boost them, at the cost of also adding some white noise. Overall, the Galaxy Buds 2 Ambient Sound is pretty good, and the direction external sounds are coming from is easy to pinpoint.
Microphone quality
These are $150 earbuds with already a number of surprisingly good features for the price, so the mic not being quite "studio quality" shouldn't be a big issue or surprise. Your voice will still sound nice and clear during calls. Even in windy weather, the mic on the Buds 2 is well capable of capturing your voice and letting people on the other line hear you over the potential wind noise. I did notice that the mic pics up a bit too much echo when talking indoors, but it's nothing major to worry over.
Touch controls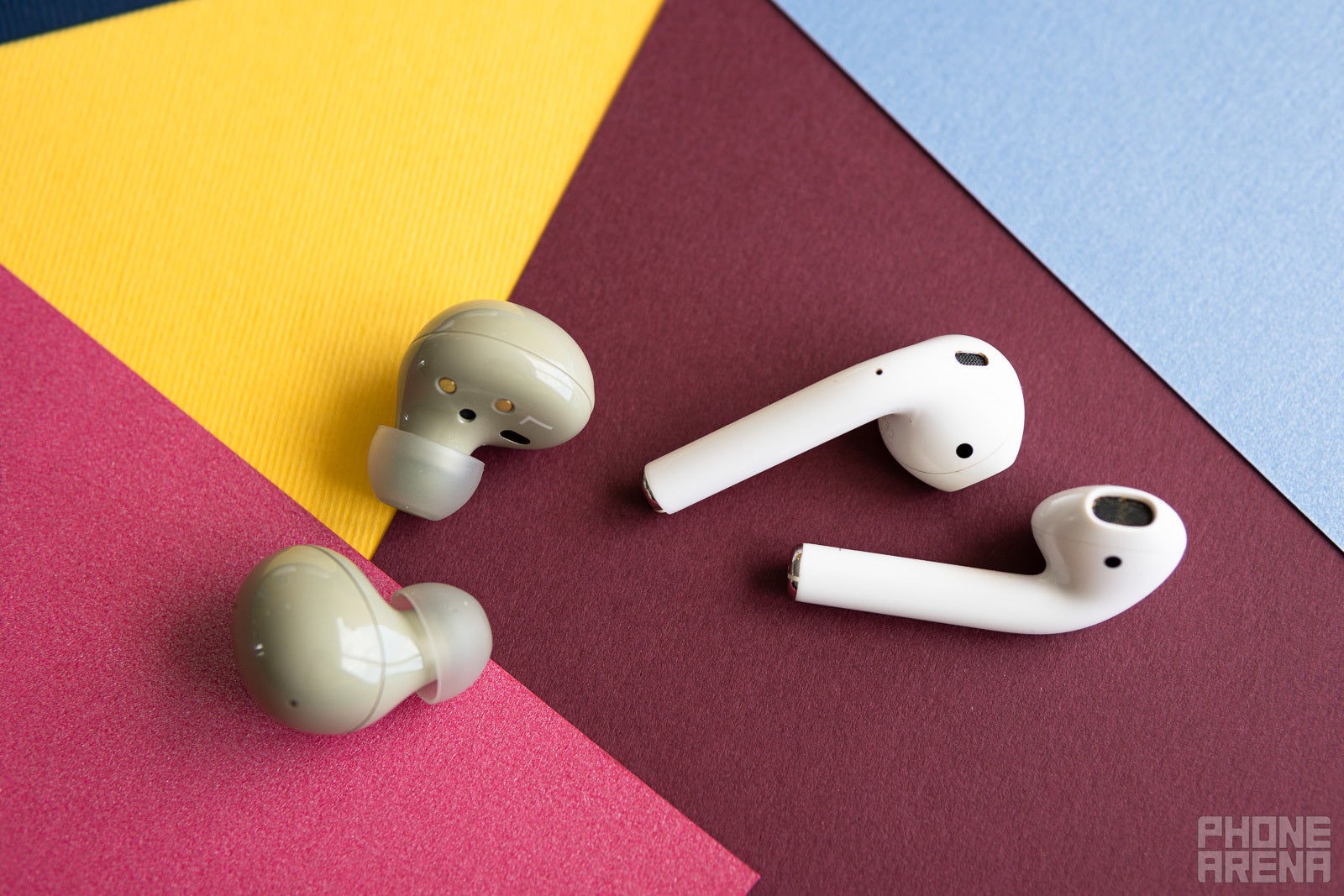 The Samsung Galaxy Buds 2 earbuds next to Apple's AirPods
As usual with Samsung earbuds, the Galaxy Buds 2 rely on touch controls and don't have physical buttons. Tapping the left earbud once will play or pause your song, while double-tapping it will play the next song or answer an incoming call. Triple-tapping the left earbud will go back to the previous track. All of those touch controls can be enabled or disabled via the Galaxy Wearable app.
By default, you also get a touch and hold gesture, which will switch between active noise cancelling and Ambient Sound. But what this gesture does can be customized via the aforementioned app.
Touch and hold on one of the earbuds could alternatively be set to trigger Google Assistant, or you can set one of the earbuds to do volume up, the other – volume down with this gesture.
Speaking of gestures, it's worth noting that the Buds 2 can detect if you took them off and will conveniently pause your music.
As was the case with previous Samsung Buds, the downside of these touch controls is that they're really easy to trigger by accident, for example when merely trying to adjust how the earbuds fit in your ears.
Even worse, two important gestures – double and triple-tap are disabled by default for whatever reason, and you can't enable them on iPhone, since there's no Galaxy Wearable app. So on iPhone, the only gestures you actually get are a single-tap to play and pause, and tap and hold to switch between ANC and Ambient Sound.
Galaxy Wearable app features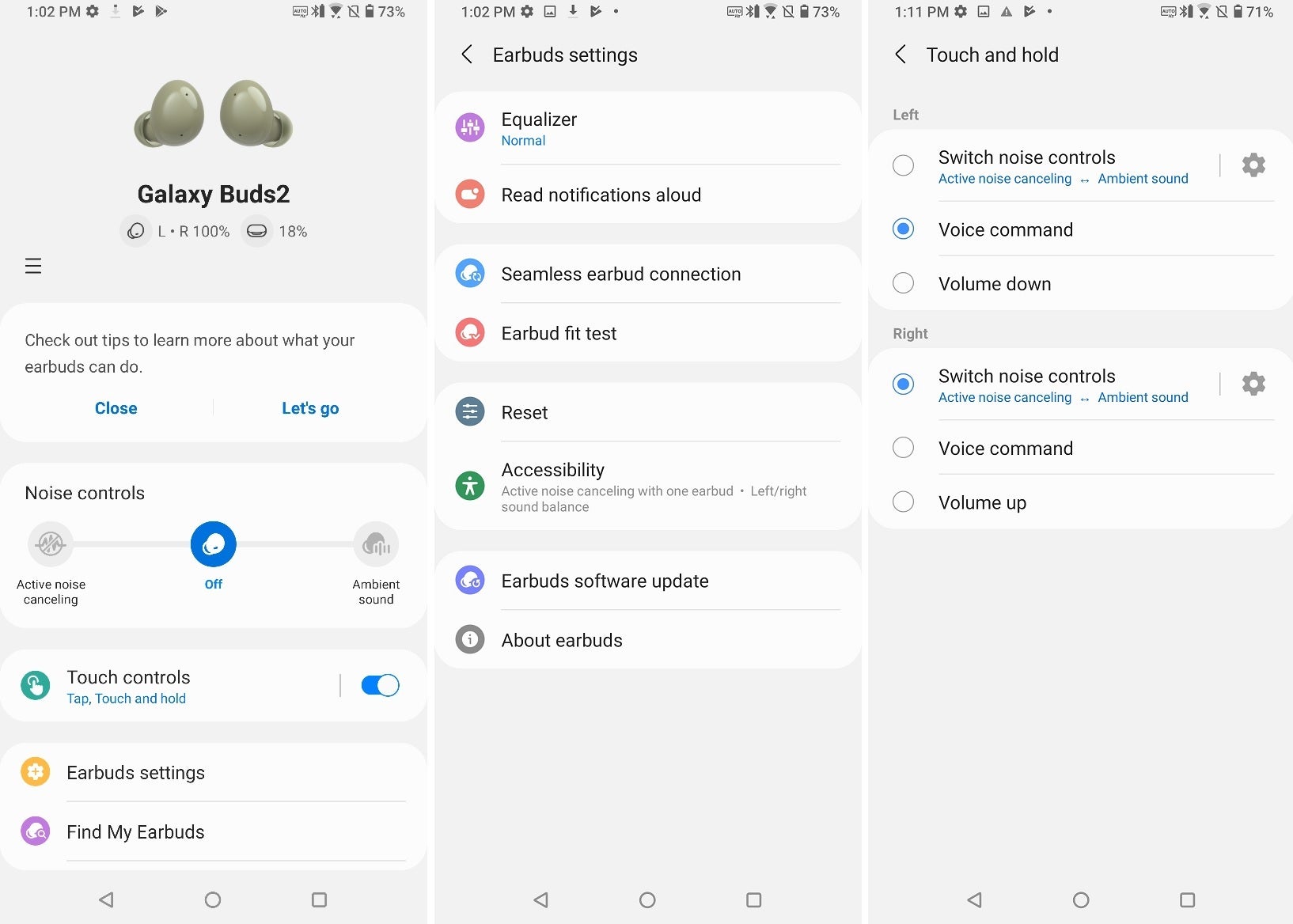 The Galaxy Wearable app with the Buds 2 connected
As mentioned earlier, Android users can get a companion app for these earbuds, which gives you a few additional handy customization features, such as an equalizer. The equalizer is preset-based, with the options being "Normal", "Bass boost", "Soft", "Dynamic", "Clear" and "Treble boost". The latter should satisfy those who may find the bass of the Buds 2 too strong by default.
The Galaxy Wearable app also lets you disable or enable touch controls and customize the touch and hold gesture, as explained earlier. In addition, you can enable it to read your notifications aloud, so you won't have to take your phone out of your pocket to see who's texting you.
If you're into the Samsung ecosystem, have a Samsung account and use all Galaxy devices that run OneUI 3.1 or later, you also get a feature called Auto Switch. It automatically changes which device the earbuds are paired with, as you're switching for example between your phone and your Galaxy Tab tablet, so you won't need to do it manually.
There's also an earbud fit test in the app, which plays a sound in both of the earbuds and lets you know whether you've got a good fit going on.
Lastly in the Galaxy Wearable app you also get two accessibility features, one for increasing your left or right volume individually, and one that enables ANC to work even if you're just wearing one of the earbuds.
Battery life and charging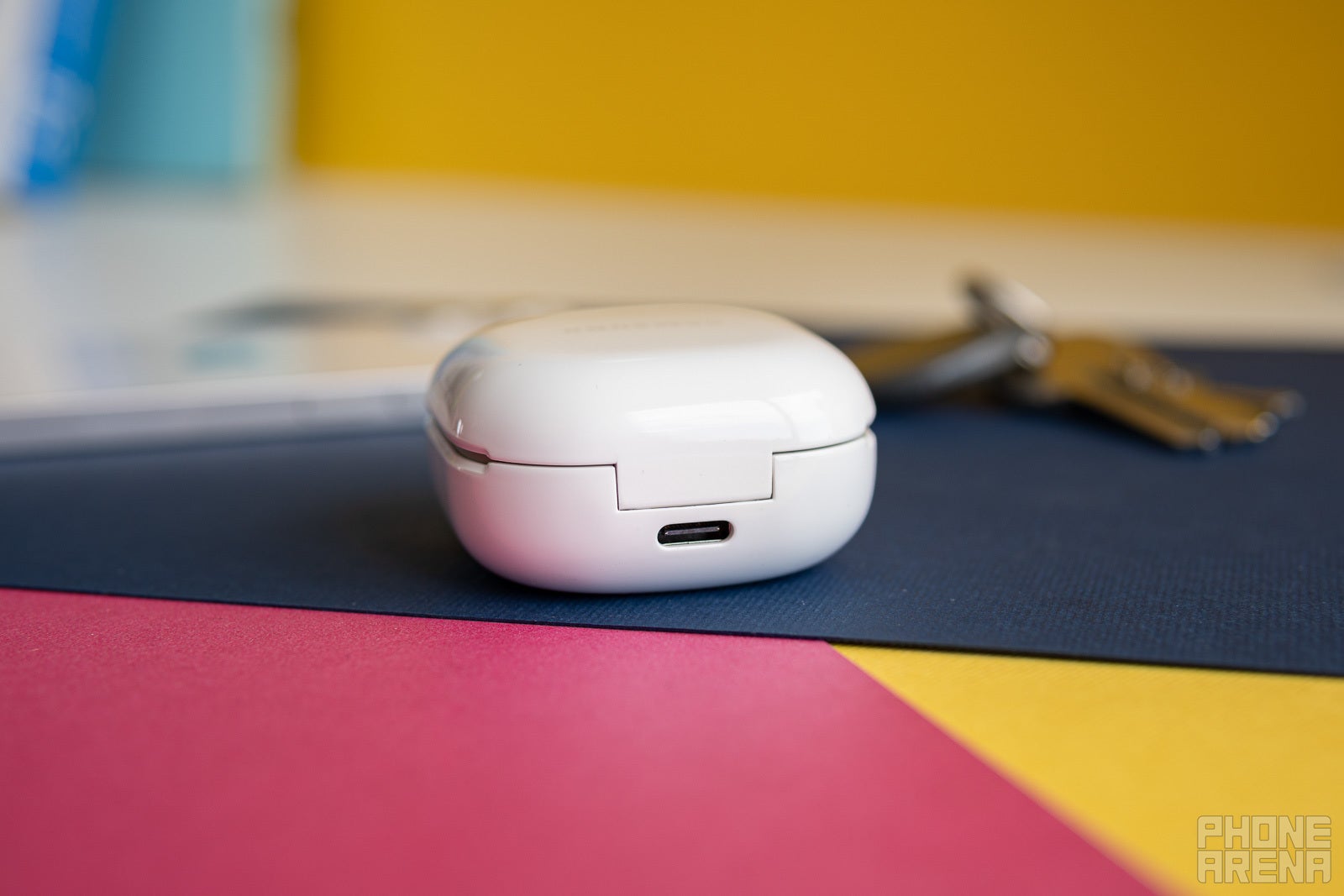 The Buds 2 charging case packs a 472 mAh battery, while each bud has a 61 mAh one inside. According to Samsung, the Galaxy Buds 2 earbuds on their own can last up to 7.5 hours with ANC off or 5 hours with it on. On a single charge and with the case though, you can get up to 29 hours of play time with ANC off and 20 hours with ANC on.
The Galaxy Buds 2 case can charge either via the included USB Type-C cable or wirelessly with a compatible Qi wireless charger. Quick charging the case for just 10 minutes is said to add 150 whole minutes of playback.
Numbers aside, if you wish to listen to your Galaxy Buds 2 for an entire full day, it's safe to say that they'll carry you through it. Just remember to put them in their charging case when you're taking the occasional short break.
Recommended Stories