AirPods Pro 2 review: Closer to perfection
8
We may earn a commission if you make a purchase from the links on this page.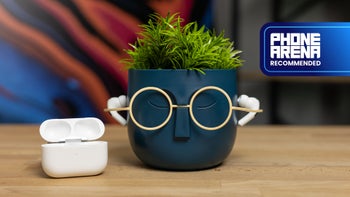 For their price of $249, the AirPods Pro 2 are perhaps the closest thing to perfection when it comes to true
wireless earbuds
. If you're an iPhone user, it's getting pretty hard to recommend anything else at this price range, considering how beautifully the AirPods Pro 2 manage to combine convenience and great sound, without any tradeoffs.
Exciting sound with Spatial Audio, unreal active noise cancellation, plus some nice little upgrades to the charging case make these a worthy upgrade not only over the first-gen AirPods Pro, but arguably over any other AirPods you may currently be using.
Let's take a closer look…
Table of Contents:
AirPods Pro 2 unboxing and ear tips sizes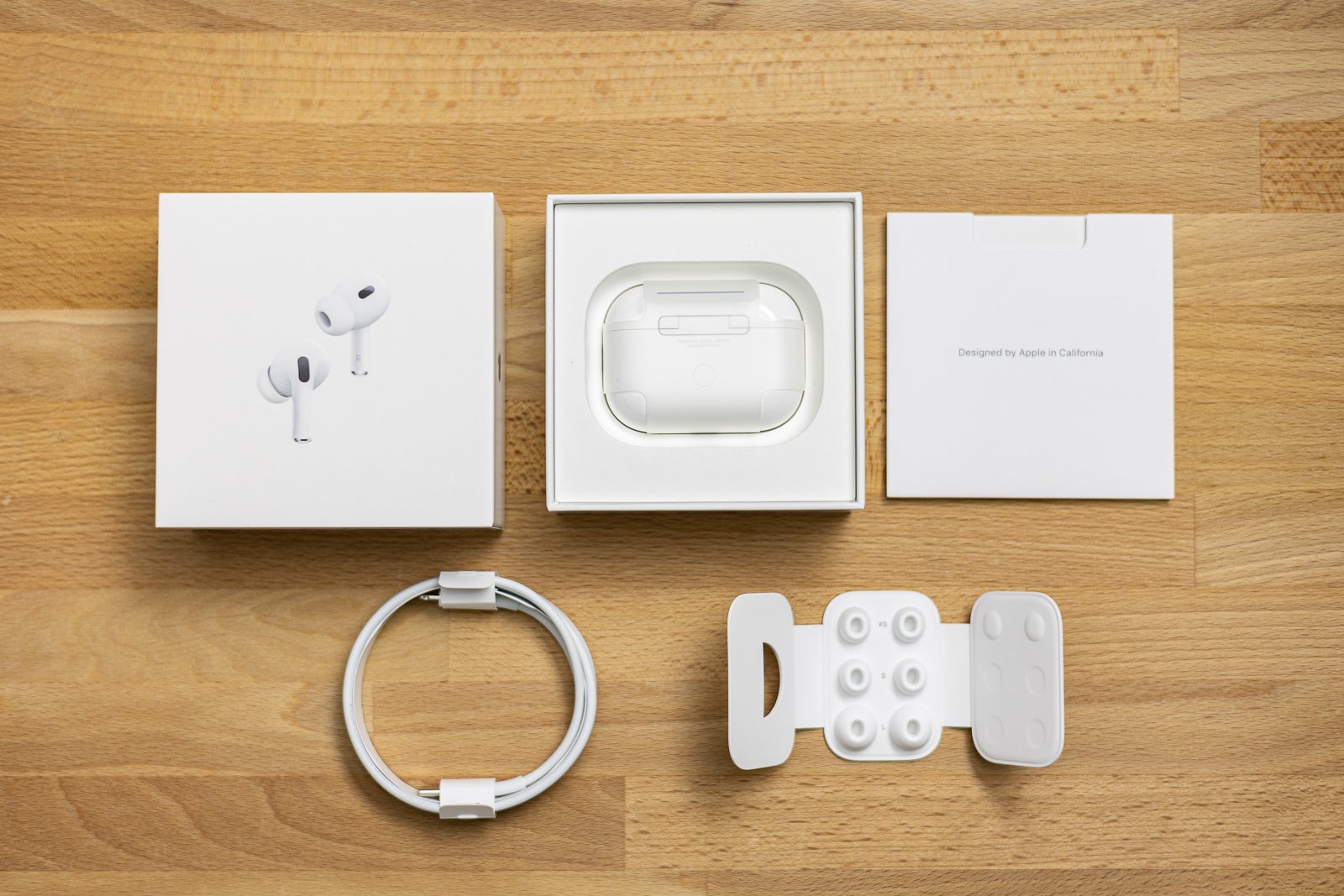 (Image Credit - PhoneArena) AirPods Pro 2 box contents
The AirPods Pro 2 come in a very familiar, minimalist white square box. The earbuds are the only thing you'll see on top of the box, printed beautifully, and even embossed.
Stickers on the side of the box, and the printing on the bottom reassure you that these are 2nd generation AirPods Pro with a MagSafe charging case (hard to tell otherwise, at least at first).
Getting to your new true wireless earbuds is the usual ordeal for
Apple
products – you hold the top of the retail box, with the bottom part sliding out slowly, so you can really savor the moment.
Inside the box you're greeted with your new AirPods Pro 2 wrapped in protective plastic, a Lightning-to-USB Type-C charging cable, paperwork (no Apple sticker though), and not the usual three, but four pairs of ear tips.
Those are extra small, small, medium and large ear tips too choose from, with the medium ones already pre-applied to the earbuds.
We all have different ear shapes and sizes, some of us even have different-sized earholes, so having these options is more than welcome, and appreciated.
AirPods Pro 2 design and colors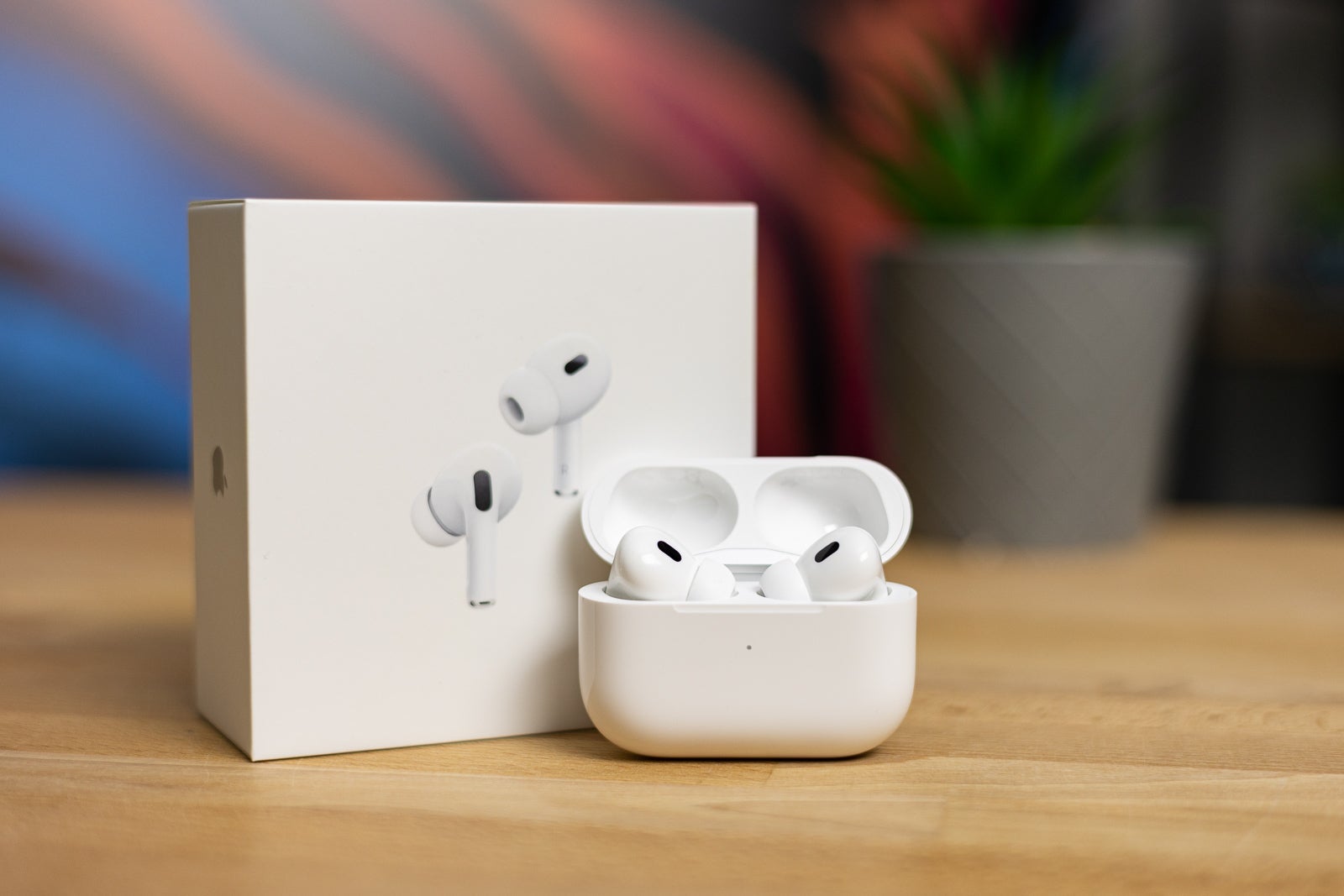 (Image Credit - PhoneArena) AirPods Pro 2
For their price of $249, the new AirPods Pro (2nd generation) feature a design that's, at first glance, virtually identical to the original 2019 AirPods Pro (1st generation). However, there are some visual differences we'll talk about soon enough.
The earbuds have the familiar straight stems, with touch-sensitive spots that serve as playback controls. We also have generally the same glossy plastic build as always.
Looking closer at the earbuds, though, Apple has changed two things – one tiny, hard-to-define, black design element has been moved up where their air vent previously was, while the vent itself has also been moved upwards to the top of each earbud. That aside, nothing new visually for the earbuds.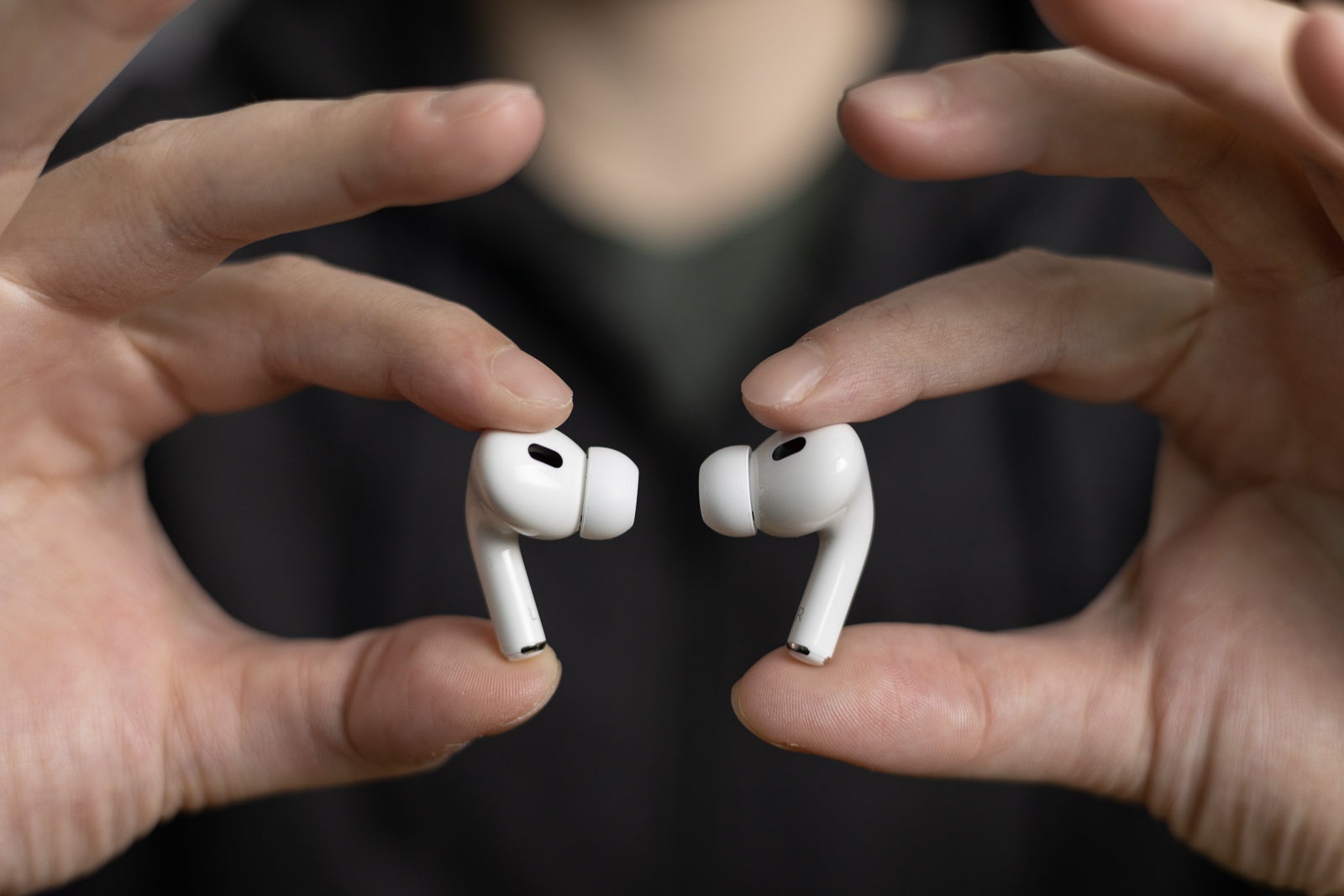 (Image Credit - PhoneArena) AirPods Pro 2 earbuds
But the AirPods Pro 2 charging case has a few new things going for it, visible almost immediately. First, it now has a metal lanyard loop to the right, which is a nice little touch to see make a comeback in general. But perhaps even more noteworthy – the AirPods Pro 2 case now has its own speaker on the bottom, and thus, a little speaker grill next to its Lightning charging port. Yep, no USB Type-C, still.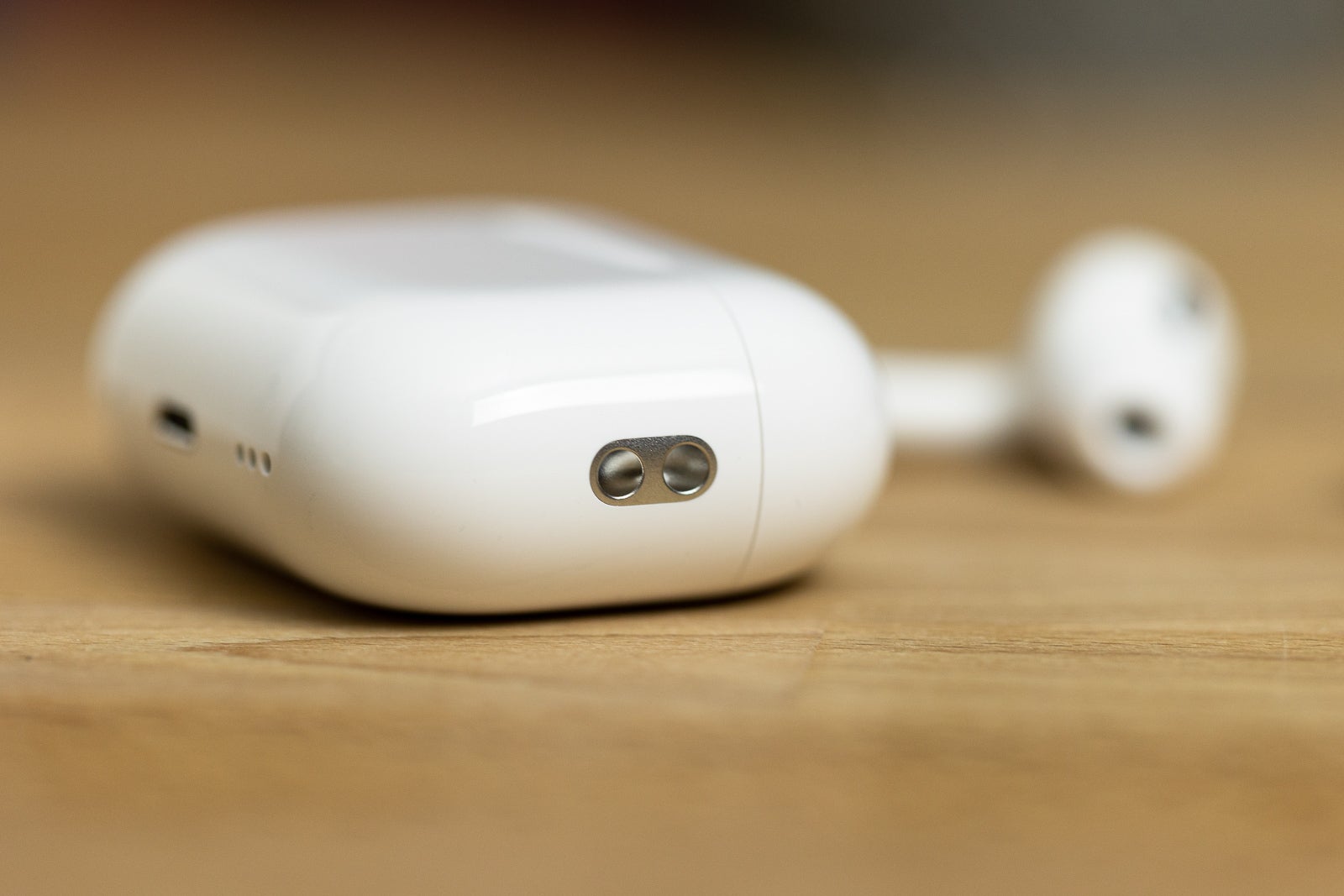 (Image Credit - PhoneArena) AirPods Pro 2 lanyard loop
This new speaker will deliver low battery alerts, or help you find your AirPods Pro 2 case if you lose it, by making a noise when prompted via Find My. It even makes a cute little beeping sound when you put your earbuds back inside the case, and close it. Nice touch.
Besides that, the AirPods Pro 2 case is a familiar rounded rectangle, with a solid-feeling lid, and a metal hinge. On the front of the case, we still have a single LED light, and on the back of the case is the Bluetooth pairing button you'll likely never need to use.
Now let's talk about the AirPods Pro 2's color options – there are none. As you may have expected, the AirPods Pro 2 only come in glossy white, for both the case and the earbuds themselves. The case can be engraved if you want to add your own little touch to your personal AirPods Pro 2, but that's about it. I wish Apple at least changed things up a bit by making the case matte plastic, but hey…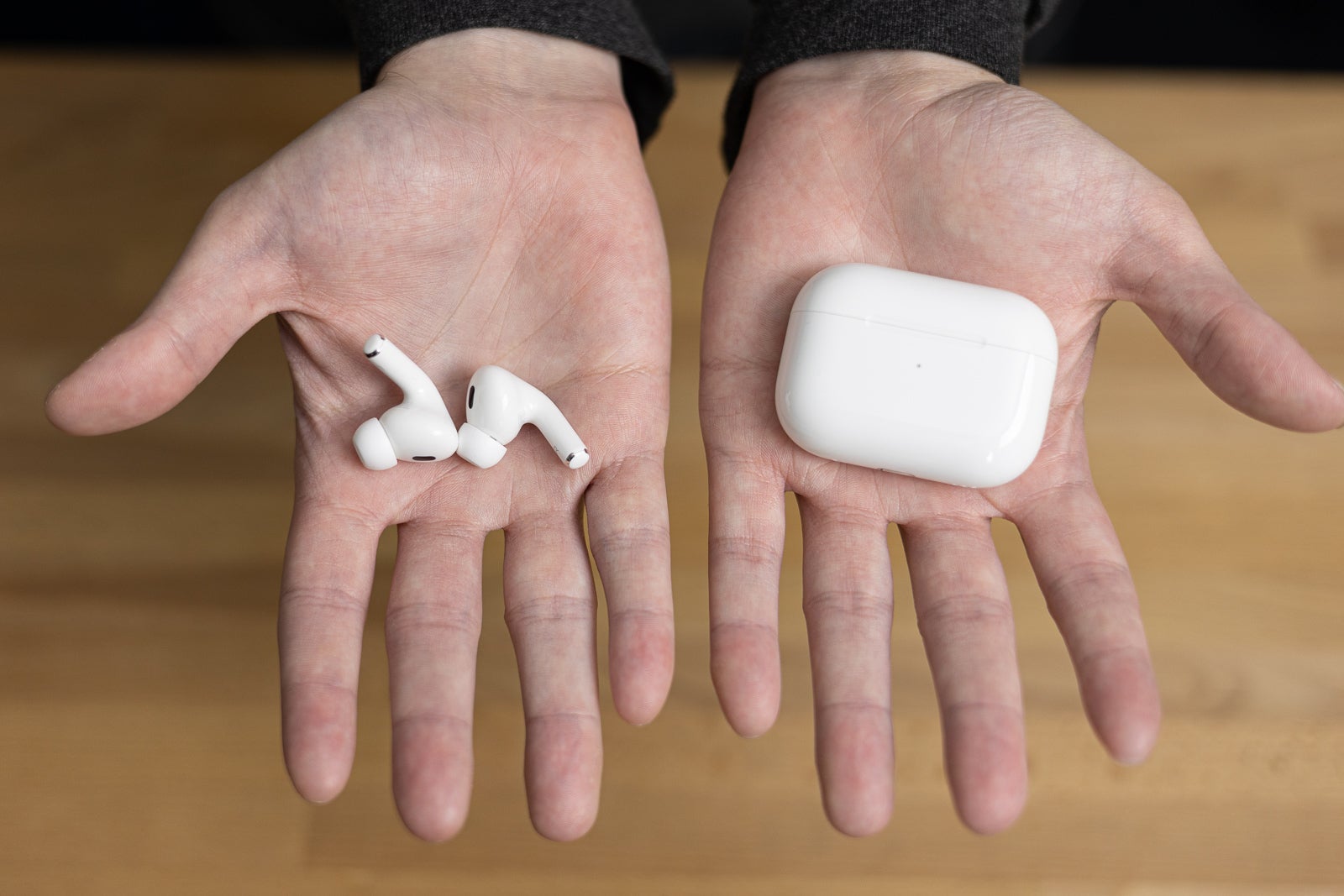 (Image Credit - PhoneArena) AirPods Pro 2 earbuds and case
Both the AirPods Pro 2 earbuds and the case are IPX4 sweat and water resistant, which means they're well adapted for non-water sports and exercise. No matter how intense and sweaty your workouts may get, your AirPods will be fine.
The total weight of this package (AirPods Pro 2 case + the earbuds) is 1.79 ounces (50.8 grams), which is comfortably light. It's easy to forget about in a pocket in general, although the case didn't visibly get any thinner or narrower than the first-gen AirPods Pro's case.
AirPods Pro 2 pairing and supported devices
Although you can pair the AirPods Pro 2 with any device, even an Android phone or a Windows computer, you'll lose on some features – most notably Spatial Audio, which we'll talk about later. The touch controls will always work, though – play, pause (but no Siri of course), and switching between ANC and Transparency mode.
Pairing the AirPods Pro 2 with an iPhone is as easy as ever – simply unbox your new earbuds, open their case close to your iPhone, and a pairing prompt will pop up on screen. It's a very quick and easy process.
However, if you're pairing them with an Android phone, you'll have to go the longer route – navigating into the Bluetooth settings on your phone, then finding and tapping your new AirPods to pair them that way. If they're not appearing, press and hold the circular button on the back of the AirPods Pro 2 case until the LED on the front starts flashing, which means they're in pairing mode.
But again, if you have an Android phone, you may be better off looking into some other earbuds first, like the
Galaxy Buds 2 Pro
or the
Sony LinkBuds S
. And if you want something on the budget end, check out the $40
OnePlus Nord Buds
.
AirPods Pro 2 fit and feel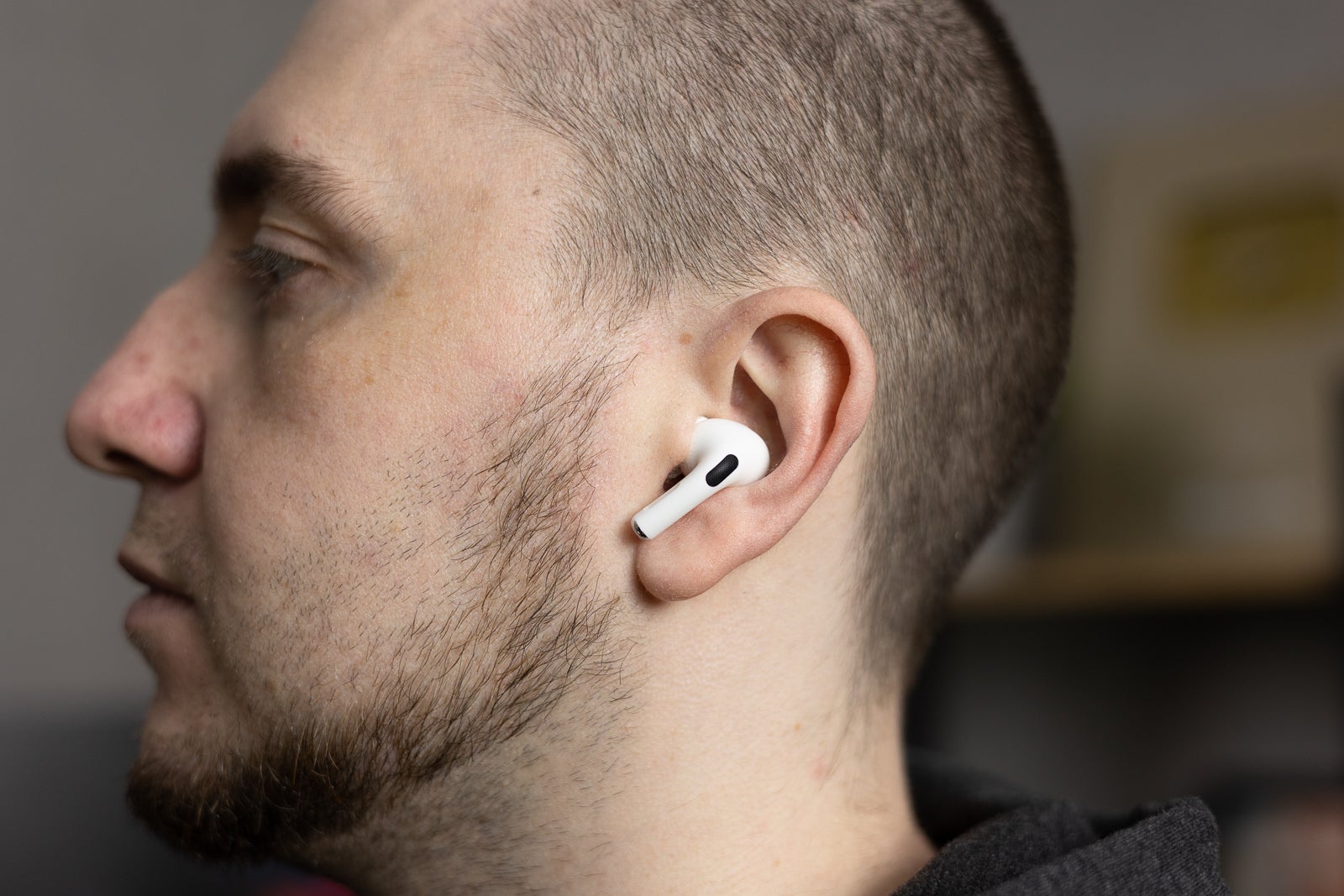 (Image Credit - PhoneArena) AirPods Pro 2 earbuds in ear
As mentioned earlier, we get four different ear tips sizes to choose from, so in the rare chance that the AirPods Pro 2 earbuds feel loose in your ear, just switch to the larger ear tips.
But in my experience, as usual the pre-applied medium ear tips fit perfectly well, and there's really no scenario where I see these earbuds falling off my ears, even during intensive exercise.
I do have a little gripe with these ear tips though – they might be a bit too thin. Twice now I'd take the earbuds out of my ears and the ear tips would turn inside out from merely brushing against my ear. It's easy to fix, but I'd rather we got harder ear tips, unless this is the trade off for how comfortable they are.
In any case, the AirPods Pro 2 earbuds fit nicely, which provides apt passive noise isolation. Perhaps best of all – for someone who normally gets irritated by in-ear headphones, I can actually wear these for quite some time with no issues. The AirPods Pro 2 earbuds are just that light and comfy, easy to forget about.
Unlike older AirPods, the stems aren't long enough to appear in my peripheral at all too, which was kind of annoying before. So no complaints here.
But just so you'd have the raw numbers in mind for better perspective – the AirPods Pro 2 earbuds weigh 0.19 ounces (5.3 grams) each, which is barely anything.
AirPods Pro 2 active noise canceling (ANC) and Transparency mode
Apple was already among the top dogs when it came to ANC in consumer headphones, but with the AirPods Pro 2 it's promising "next-level Active Noise Cancellation and Adaptive Transparency." We have some bold claims:
"Featuring up to two times more noise cancellation than their predecessor, the H2-powered AirPods Pro are built to let you listen in peace. With control over what you hear – and don't hear – you'll be immersed in songs and podcasts like never before." - Apple
And boy are those claims seemingly 100% correct! The AirPods Pro 2's noise canceling is so strong, that it basically shuts off the universe around you. People's voices, city noise like rumbling cars, office noise like keyboards clacking – everything goes away. It feels pretty surreal.
The only sounds that will make it to your ears are some faint high-frequency noises, left over from all the sounds around you that the AirPods Pro 2 are blocking.
So the ANC here really is very impressive, quite possibly the best in this price range, and that's coming from someone who's often used previous AirPods with ANC, even the big over-ear AirPods Max, plus tons of ANC earbuds from other brands like Samsung and Sony.
I'll be publishing a direct comparison of these versus the last-gen AirPods Pro soon, but I'm feeling pretty sold on Apple's claim that the AirPods Pro 2 offer "up to two times more noise cancellation" already.
As for Transparency mode, that's the mode you can switch to when you don't want ANC, but instead you wish to hear what's happening around you. Transparency mode lets sounds in, such as voices, and city noise that you'll likely want to be aware of (e.g. cars). And it works very well, almost as if you're not hearing everything as processed by microphones and played back to you digitally. Good stuff.
AirPods Pro 2 sound quality and Spatial Audio
And here we are at the most important bit – how good do the AirPods Pro 2 sound? Is that "Pro" in the name a signifier of a perfectly flat, monitor-grade sound? Probably not, but…
The AirPods Pro 2 sound pretty amazing. I'm generally very impressed with how quickly true wireless earbuds began delivering both high quality sound and absolute convenience, with no major trade offs.
We get a clean and wide sound with satisfying, tight bass. I love bass-heavy music, but if you usually listen to jazz and classical music, you might even feel that the AirPods Pro 2 are a tad too bassy. Of course, you can always tune the sound from the Music app settings, toning it down if needed.
Still, for me, and the general population, I dare say we have some perfect bass here – it's not muddy, it doesn't distort or drown out other frequencies, it's not overpowered, yet it's far from weak also.
I am noticing, however, perhaps an emphasis on high frequencies, which might be pushing the mids a bit into the background.
But here's the plot twist – all this is with me having Spatial Audio enabled. It's on by default, and turning it off changes things quite a bit.
With Spatial Audio off, the AirPods Pro 2 sound much flatter, narrower, more "normal," closer to budget in-ear monitors (yes, for monitor headphones, this price range is budget). So if you don't want that all wide and exciting Spatial Audio action, turn it off, and you'll get an experience more akin to the average good $250 earbuds, namely more traditional sound.
Now, with Spatial Audio off, that emphasis on highs I mentioned earlier is gone, the sound is a bit fuller, definitely much narrower (which is not a bad thing, that's how most songs are mixed), and the bass is even tighter, if a bit less pronounced.
In any case, I'm confident that the general population will find the AirPods Pro 2 pretty amazing-sounding for such tiny and light earbuds.
And you have Spatial Audio or no-Spatial-Audio to choose from – two completely different sound signatures! One of them is bound to be to your liking, depending on whether you want exciting, wide sound, or a more toned down, traditional sound from your music and movies.
Me personally, I won't be producing music with these, just enjoying music, so Spatial Audio all the way, baby!
AirPods Pro 2 microphone quality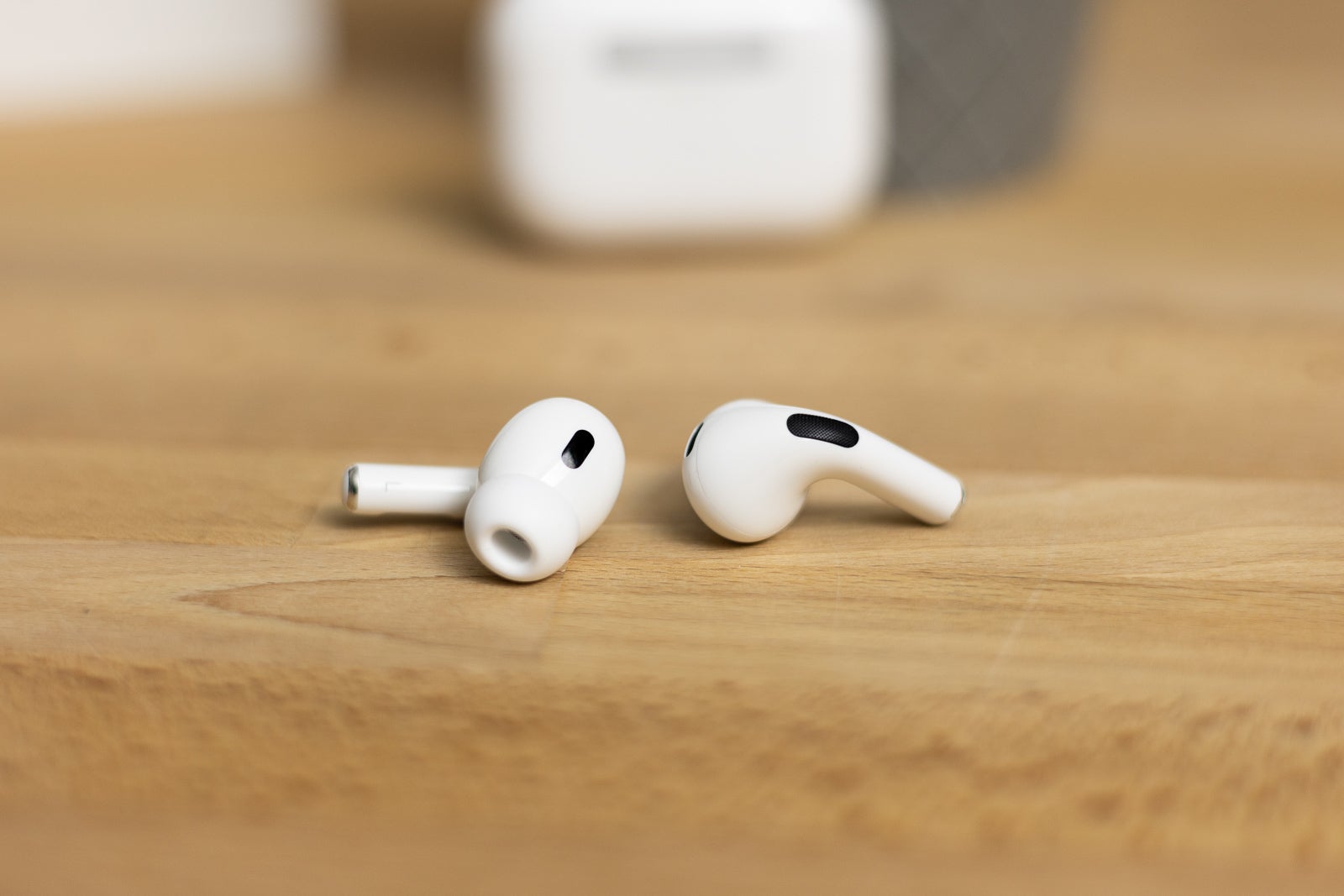 (Image Credit - PhoneArena) AirPods Pro 2 earbuds
The AirPods Pro 2 have noise canceling microphones and rear air vents, "optimally placed to quickly detect sound coming in, working together to counter noise before it reaches your ear."
This sounds reassuring, as you'd expect from Apple marketing, but you won't be getting studio-quality mic recordings from these. In Zoom calls or regular phone calls you'll sound pretty mono-ish, and not as clear as you might expect from earbuds with "Pro" in their name.
There might be a bit of hissing depending on your voice and how you pronounce the letter s, and in quiet environments the microphones tend to even pick up my breathing and relaying that to the folks in the call, which is not ideal either.
Still, the voice clarity is good, about average for wireless earbuds in this price range. And on the upside – the AirPods Pro 2 do manage to isolate wind noise very well.
I made some lossless audio recordings on top of phone calls to confirm all this, by the way. We're not even talking about compressed audio recordings, which most apps rely on for lower latency and bandwidth.
AirPods Pro 2 touch controls, new volume gesture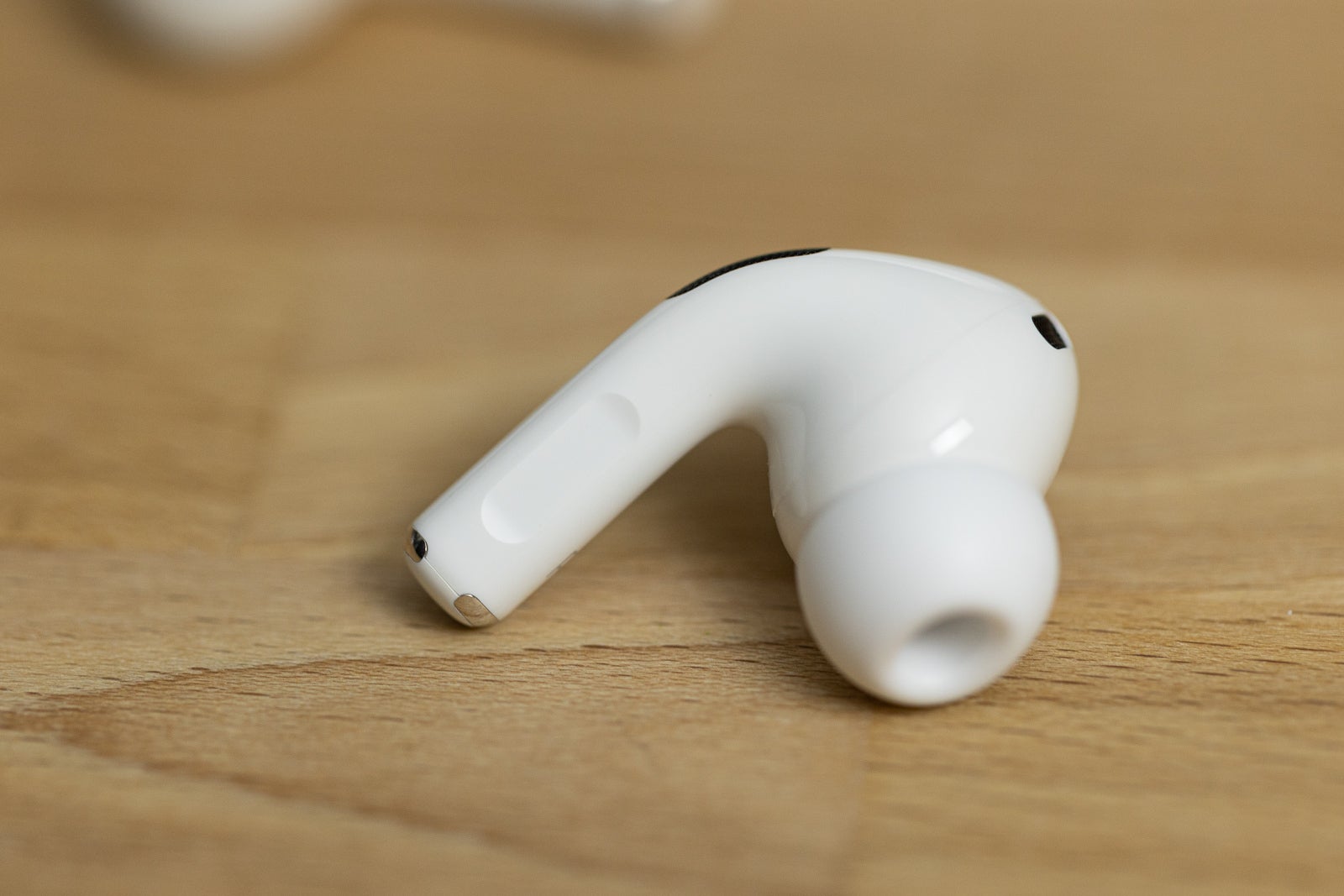 (Image Credit - PhoneArena) AirPods Pro 2's touch sensitive area
Let's have a few words about the touch controls here. If these are going to be your first AirPods, you might be a bit lost, expecting sensitive touch controls on the surface of the earbuds.
Each AirPods Pro 2 earbud has a little flat surface on its stem, which is easy to feel for, and you press that once or several times to control your music.
One press

for play, pause, or to answer a phone call

Two presses

to skip forward to the next song

Three presses

to play your current song from the start, or play to the previous song

Pressing and holding

to switch between ANC and Transparency mode

Saying "Hey, Siri"

will wake up the virtual assistant, if you have this feature enabled

Swiping up or down

will raise or lower the volume
Yep, we saved the most exciting bit for last. Finally on AirPods we have a volume control gesture! And while I expected it to be finicky, It's actually working perfectly. You slide your finger up the touch area and hear a reassuring "click" – the volume goes a bit up. Slite down – it goes down. Easy peasy.
Maybe not at first, though, since the touch area of the earbuds is always facing a bit towards your cheeks, you'll need to quickly build some muscle memory to maybe hold the earbud with your thumb and glide up or down with your index finger, like I ended up doing it.
As for the other gestures – they all work flawlessly, and since you're actually required to press the touch area, not just merely brush against it – there are no annoying accidental triggers going on. Which, if you're new to wireless earbuds, is a common issue for most of the competition.
AirPods Pro 2 battery life and charging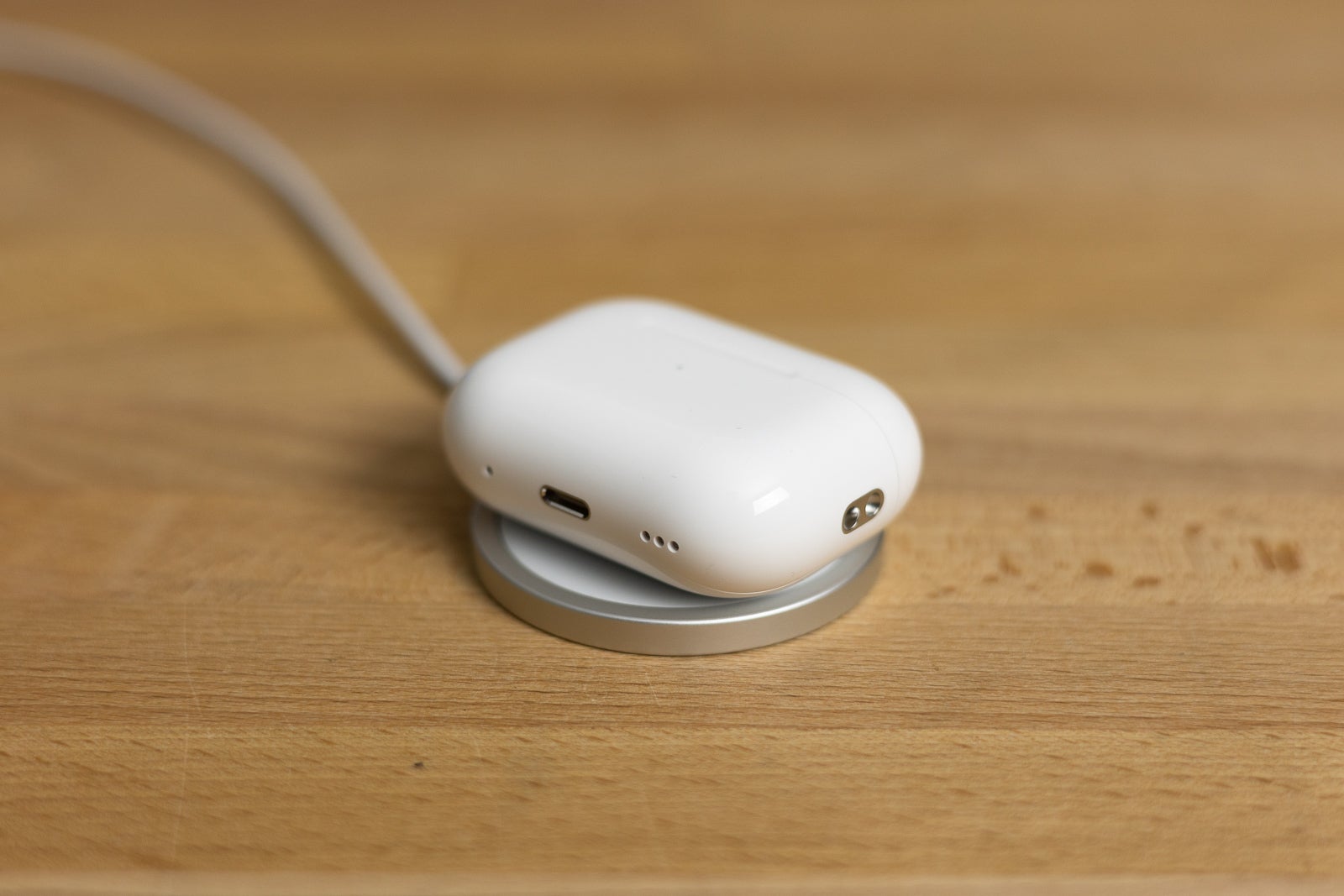 (Image Credit - PhoneArena) AirPods Pro 2 MagSafe charging
Your AirPods Pro 2 earbuds will charge from their case, starting as soon as you place them inside. The case itself can charge either via the Lightning port on its bottom, or via a MagSafe or Qi wireless charger.
The case now also notably has magnets that make it snap perfectly to MagSafe chargers, and it holds pretty well too. I even tried lifting my MagSafe charger in the air and the AirPods Pro 2 didn't fall.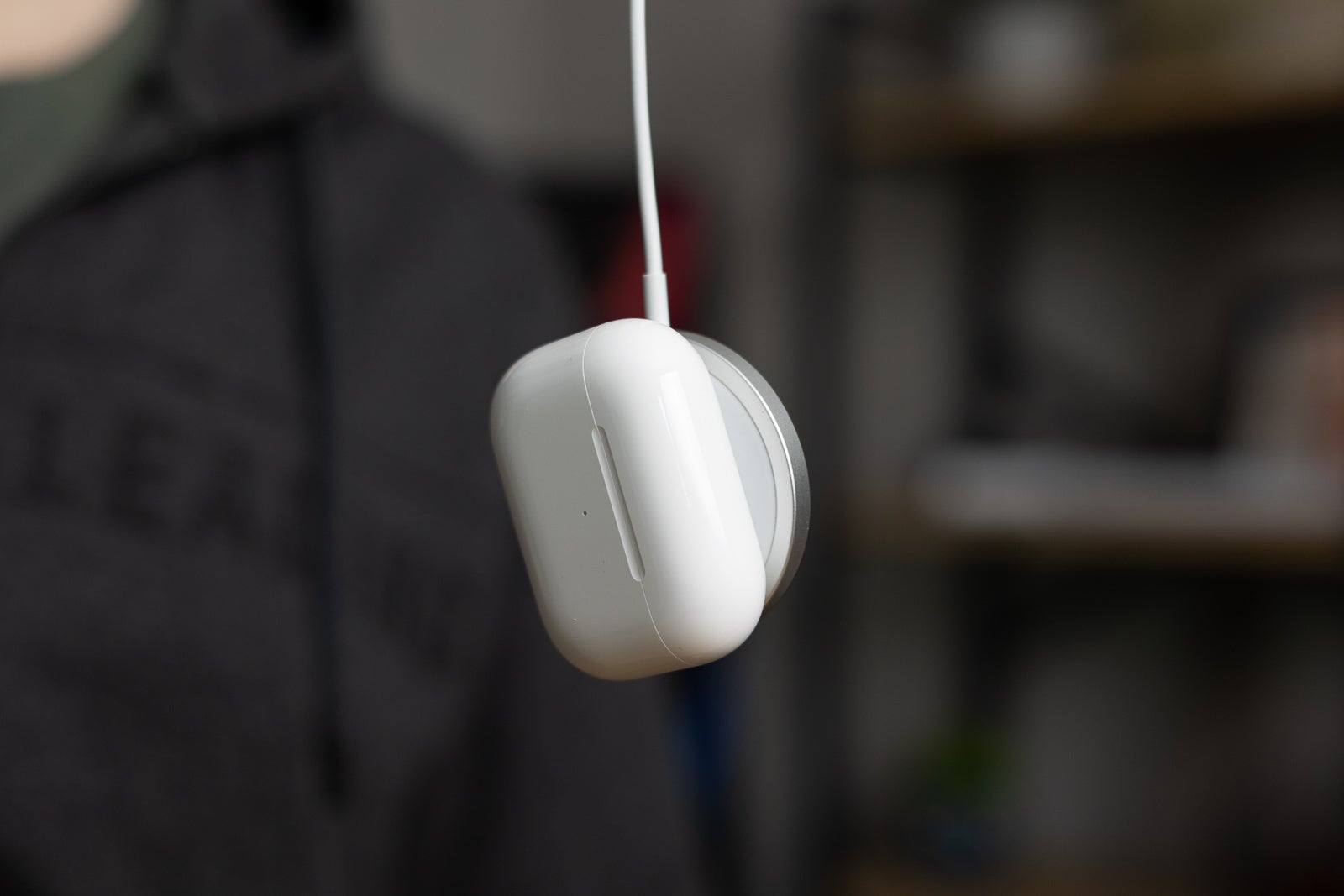 (Image Credit - PhoneArena) AirPods Pro 2 holding on pretty tight to a MagSafe charger
As for any random Qi charger – yes, that'll work fine too; in fact I'm often charging them on the same Anker wireless charger that I charge my iPhone on; you'll just lose on that magnetic snapping and holding action.
In terms of battery life, the AirPods Pro 2 earbuds can last up to 6 hours on a single charge, or more likely – up to 5.5 hours if Spatial Audio is enabled (which it probably will be).
But if used with their case, the AirPods Pro 2 can last up to 30 hours on a single charge, so you should feel comfortable going on, say, a weekend trip, without taking a charger with you. You might even still have some battery left on Monday.
In addition, just 5 minutes of keeping the earbuds in their case charges them with about an hour of battery. And of course, although you do get a Lightning-to-USB-C cable in the box, there's no charging brick, so you'll have to reuse your iPhone's charger or buy a separate one.
Recommended Stories