OnePlus Nord Buds review: quality and comfort for just $40?!
6
We may earn a commission if you make a purchase from the links on this page.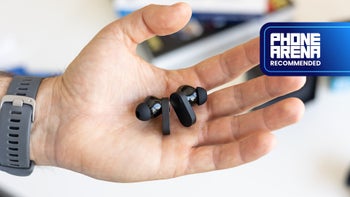 Intro
You just expect a pair of $40 truly wireless earbuds to sound bad. Or at least not quite excellent. After testing quite a few of them, we think that's a fair assumption.
The new $40 OnePlus Nord Buds, however, are anything but bad. In fact, they go so much above expectations with both sound quality and comfort, that we can just say it right away: get a pair! Be it for yourself, or a gift, you won't regret spending all of $40 on these tiny little buds.
Of course, there are a few things to keep in mind: these are not your Hi-Res, active noise cancelling, award-winning-sound type of buds. You shouldn't expect
that
much out of a dirt cheap pair of wireless headphones! What you should expect is a great balance of price and features, and with these reasonable expectations in mind, let's dive in the review.
Nord Buds specs summary:
Battery life:
7 hours (buds), 30 hours (case)
Price:
$39 in the US | £49 in the UK | €49 in Europe
Weight:
4.82g (buds), 41.7g (case)
Connectivity:
Bluetooth 5.2
Features:
IP55 (buds), USB-C port
Look, weight and feel
The Nord Buds might be cheap, but have a refreshingly simple and elegant design that if we had to compare to something, would be a splash of Bauhaus. You have a standard glossy element that goes in your ear, while the stem is very short and comes in a slim, pill shaped form.
The buds are overall very tiny and weigh next to nothing at just 0.17 ounces (4.82g), which definitely helps with comfort.
The Nord Buds belong to the type of headphones with rubber tips that go
in
your ears (rather than sit
on
your ear like the original AirPods). This gives you a better seal and some form of passive isolation from outside noise. They ship with standard mid-sized tips attached, but you also swappable small as well as large-sized tips for a proper fit for various ear shapes. We know some people who absolutely abhor this in-ear type of earbuds (you know who you are), but if you don't mind this type of earbuds, the Nord Buds would likely fit you very comfortably.
I have also tried walking and light running with the Nord Buds and wasn't worried they will fall out, plus you have IP55 certification, so they are also not bothered by some sweat.
What's in the box:
Buds
Charging case
Small and large sized tips
USB-A to USB-C cable
Sticker
The charging case also comes in a pillow shape, just like the buds. It's a lightweight box, but a bit larger than others so it is definitely not the most comfortable thing to carry in jeans pockets, which is a shame. The charging case design is pretty clean: there is an LED light indicator on the front, and then a USB-C port on the back and next to it an almost invisible pairing button.
Sound and Call Quality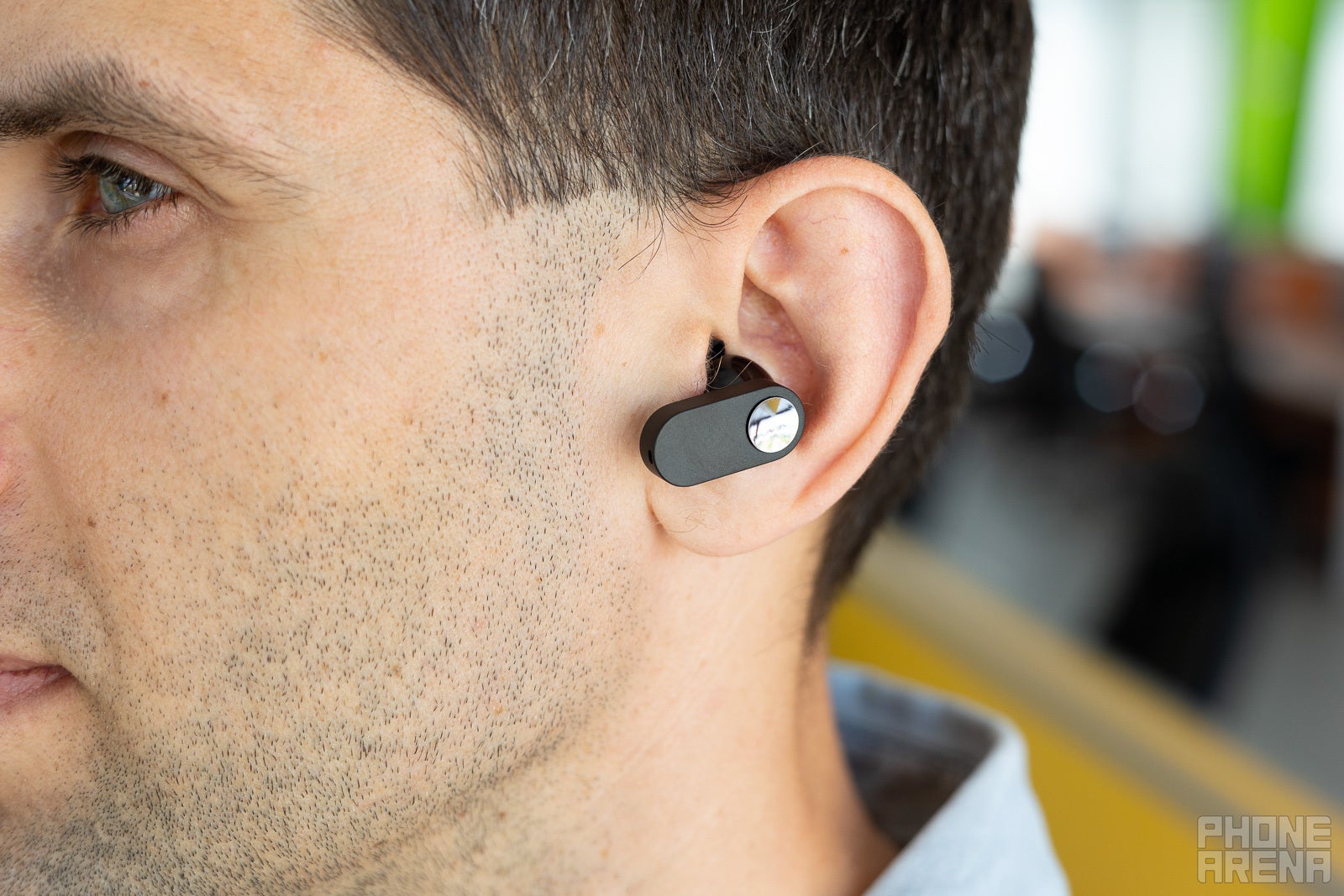 Upon first listen, I was surprised to hear a good amount of bass that didn't fall flat even at higher volumes, a typical weakness of most cheaper buds. They don't go in the other extreme either: some cheap buds overemphasize bass to kind of conceal the lack of clarity in the mids and highs. The Nord Buds, on the other hand, have a clean and crisp sound throughout the frequency range, a feature you expect from way more expensive headphones.
Sound purists will quickly notice that the bass is still a bit more prominent than ideal, but we doubt the average listener would mind. Those who are more picky about sound quality have an EQ to tune it all up (we suggest lowering the bass by a notch and probably upping the mids a tiny bit).
Those who are more picky about sound quality will also notice the lack of an aptX codec.
If you plan on using these for calls and video conferencing, you should know that you have 2 mics in each bud. We tested call quality over a cellular network and you could definitely feel a bit of a drop compared to a phone mic, but your callers would still be able to hear you fairly well.
Number one issue: latency
There is a bit of delay that you notice when watching videos of people talking
Our number one issue with the Nord Buds has got to be the latency. If you watch a lot of talking head videos on YouTube, you will notice a slight delay between the speech on the screen and the moment the audio arrives in your ears. It's a slight thing, but noticeable.
We tested the headphone on a OnePlus phone, a different phone brand, as well as a laptop and we saw that across all three devices.
Features and App
Speaking of using the Nord Buds with various devices, these will, of course, work with pretty much any device with Bluetooth connectivity, but you get a few extra features if you use them with a OnePlus phone.
The first one is the ease of pairing with that neat AirPods-inspired splash screen that allows you to easily pair the buds the first time, and get a glimpse at the charge levels of the buds and the case in subsequent use. Then, you also get the app where you can change the default controls, and also select between a few sound presets, or just go all manual with the built-in equalizer.
Speaking of controls, you tap the circle in the upper part of the stem to pause and switch songs. The defaults are the following: tap once for play/pause, twice for the next song, triple tap for previous song, and you also have a long tap that allows you to quickly switch between paired devices. The cool thing is that you can set your custom controls for each action for each earbud, so a double tap on the left earbud could do something different than a double tap on the right one. And if you happen to use a phone by a different brand, you should download the free HeyMelody app that allows you to still get updates and customize the experience with OnePlus and Oppo wireless headphones.
The number one missing feature in cheap buds, including the Nord Buds, is active noise cancelling. Still, don't forget that having in-ear buds still helps isolate outside noise passively, and my co-worker could not hear me at all while wearing the Nord Buds in our shared office space. If you want active noise cancellation tech, though, you can get it on the $150 Nord Buds Pro (which I have been using and loving in the past few months), and truly cut off outside noise, but at nearly four times the price.
Summary and Final Verdict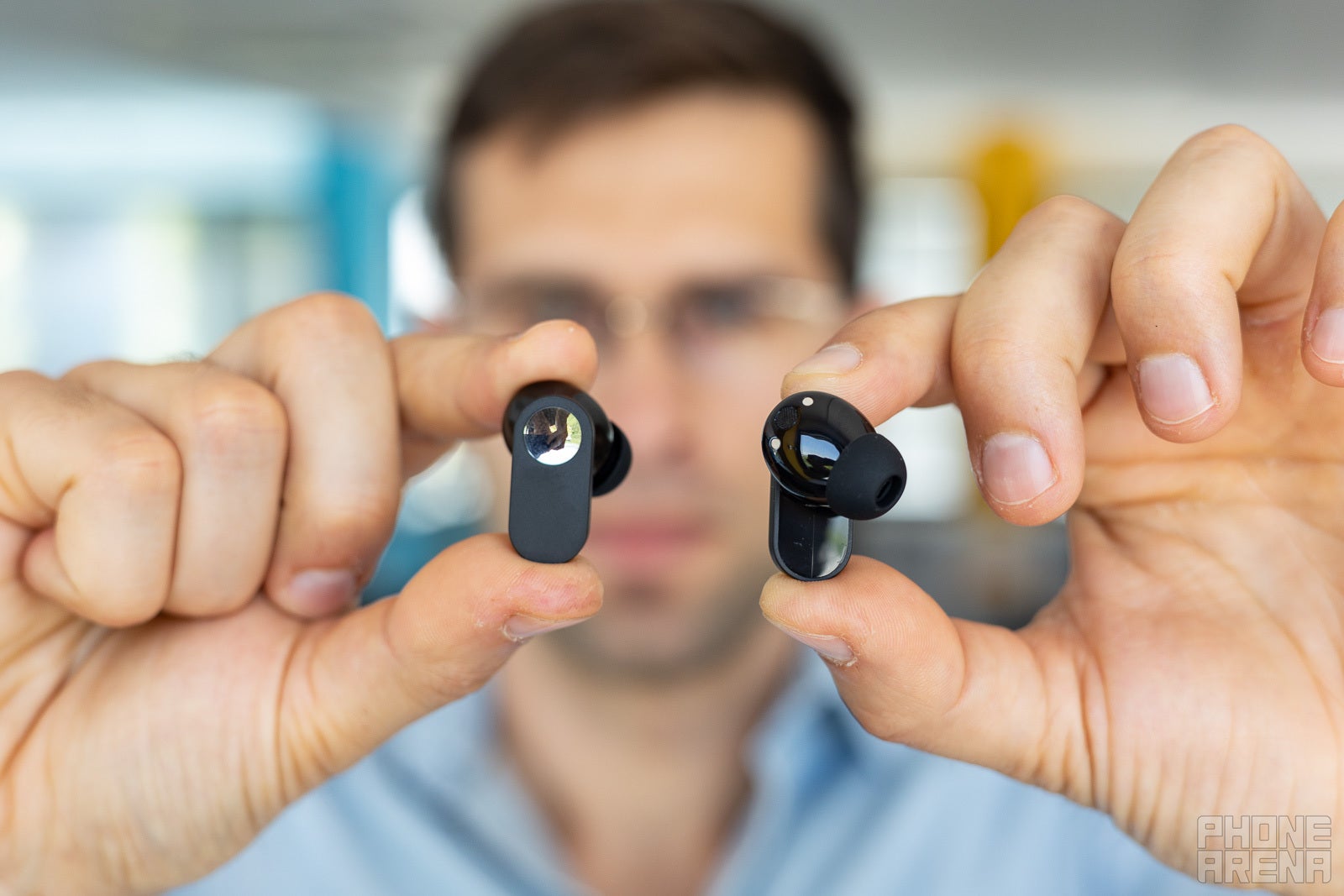 If you are not after the very finest sound quality in a pair of truly wireless earbuds, you should probably buy the OnePlus Nord Buds. They last a long time and sound good not merely in the context of their $40 price, they sound good, period. It helps that the design is as clean and elegant as it gets, and that you get excellent battery life and a convenient USB-C charging.
If you are the kind of person who dislikes in-ear buds, however, you should know that these are... well, in-ear buds. Also, if you will be using these to watch talking head videos or do some sort of music / video edits, you should also probably know about the latency issue and get higher-end headphones. For all else, the Nord Buds are great. Keep them in mind even if you don't need a pair right now, these would make for a perfect gift too!
Recommended Stories