Motorola Moto G 5G (2022) review
6
We may earn a commission if you make a purchase from the links on this page.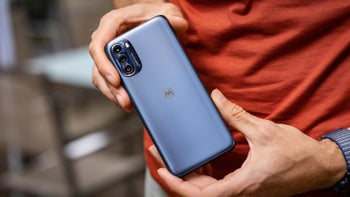 Moto G 5G (2022) Intro
Motorola has been ruling in the entry-level and mid-range segments with the sheer amount of devices released on a yearly basis that can seemingly fit into any budget while still offering a feature-rich specs sheet. The latest Moto G 5G (2022) is the perfect example for this: it costs $399 (but can usually be bought for around $299.99 on Motorola.com) and has a plethora of useful features that really vibe well with its low mid-range positioning. However, it's hard to recommend this phone due to some of its big shortcomings - the Moto G 5G (2022) drops the ball with its totally unimpressive LCD display and disappointing camera.
Still, there are some redeeming qualities to this affordable device, but ultimately, you might be better off with a competitor, like the Galaxy A53, which usually goes for $350, and is outfitted with a much better AMOLED display that even goes up to 120Hz and has a way more adept camera. Still, let's get to the bottom of the Moto G 5G (2022) and see what makes it tick.
Moto G 5G (2022) Specs
Mid-range affair
Here are the full Moto G 5G specs:
Specs
iPhone 13 Pro Max
Size and Weight
7.20 oz (204.0 g)6.51 x 2.98 x 0.37 inches (165.4 x 75.8 x 9.4 mm),
Display
6.5" IPS LCD, 90Hz, 1600 x 720 pixels
Processor
MediaTek Dimensity 700 MT6833, 2x 2.2GHz Cortex-A76 + 6x 2.0GHz Cortex-A55
RAM
4GB
Storage
64GB, microSDXC slot
Software
Android 12
Cameras
50MP wide-angle F1.8
2MP macro F2.4
2MP depth F2.4
Battery Size
5,000mAh
Charging Speeds
10W wired charging, charger included w/ box
Price
$399
Moto G 5G (2022) Design & Colors
Solid plastic endeavor
The Moto G 5G is fully made of plastic, and that's still to be expected in the price segment, but honestly, we don't mind. It makes the phone relatively lightweight and easy to handle, yet surprisingly solid at the same time. There isn't anything too fancy going on with the exterior, just your run-of-the-mill Motorola design with flat-sh sides but slightly bent at the rear, which makes handling the latest Moto G comfortable.
There are quite thick bezels up front, and there's hardly any excuse for that, as multiple devices in the same price range, like the aforementioned Galaxy A53, have way thinner bezels, ensuring for a much more modern look. In comparison, the Moto G 5G (2022) is definitely not deserving the 2022 addition to its name, and looks like something that should have been released back in 2019. At least the punch hole camera is autonomous and not a V-shaped extension of the top bezel.
There's a 3.5mm audio jack at the bottom, as well as a bottom-firing loudspeaker and a USB Type-C charging port. Biometrics-wise, there's a capacitive fingerprint scanner embedded right into the power button to the side, which works great. The phone is also IP52 water-repellent, meaning splashes of water wouldn't damage its internals.
The Moto G 5G is available in Midnight Gray, a stylish and classy color that goes well with anything.
Moto G 5G (2022) Display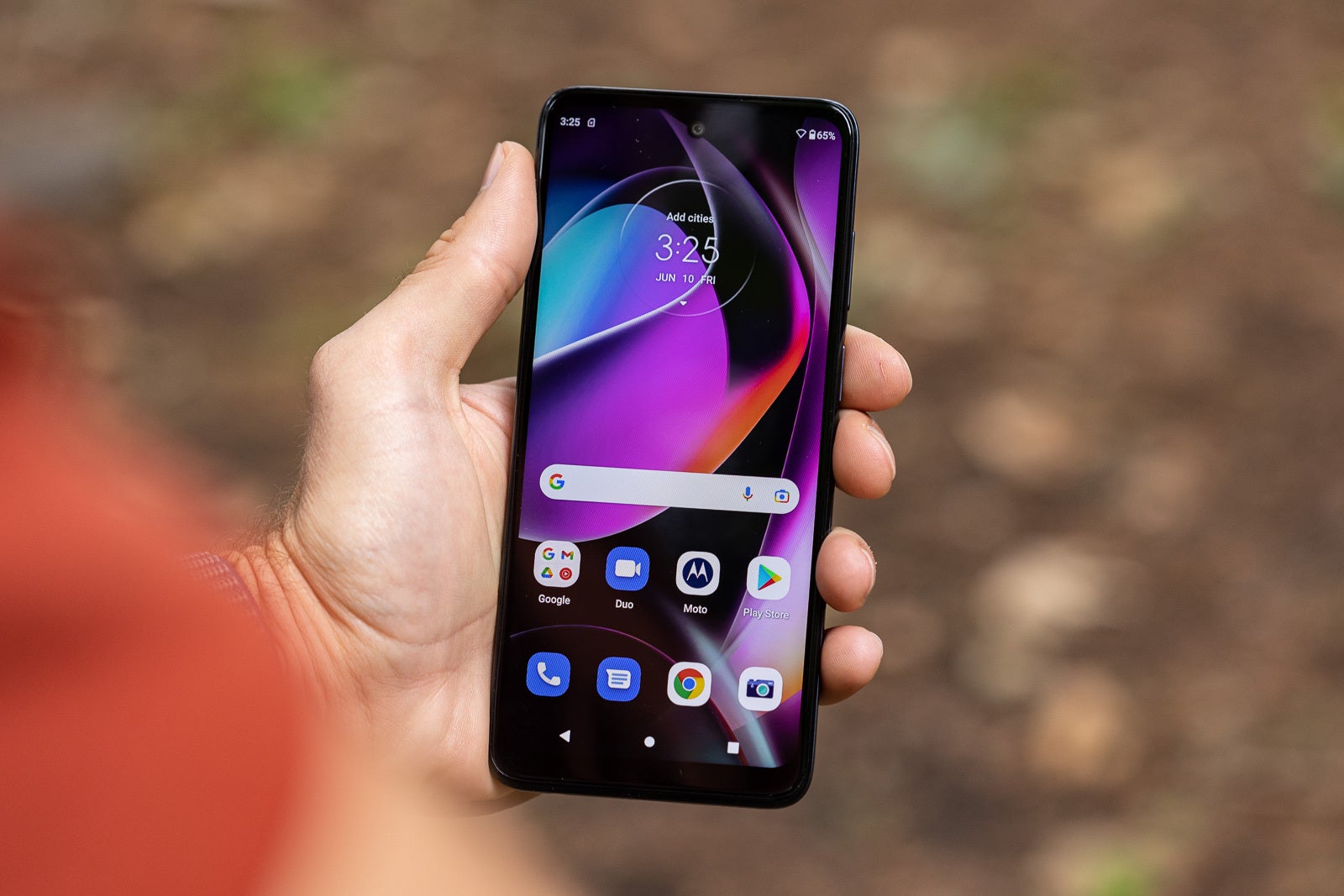 The completely flat 6.5-inch display of the Moto G 5G comes with a 90Hz refresh rate, but has the lowly resolution of 1600 by 720 pixels, which isn't ideal. Surely, the iPhone SE (2022) comes with a similar resolution, but the display over there is smaller, making for a much sharper image. Display sharpness isn't a strong suite of this Motorola phone, but color reproduction and maximum brightness aren't any good either. There are IPS LCD displays, and then there are IPS LCD displays, and the one here isn't anything to write home about: with washed-out colors and cold color reproduction, it has pretty bad viewing angles with severe contrast falloff.
As mentioned in the previous segment, biometrics-wise the Moto G is outfitted with a capacitive fingerprint scanner embedded right into the power button. It works fast and accurate, and usually unlocks the phone as you soon press the power button, which is great to see. An in-display fingerprint scanner is definitely not missed here.
Not impressive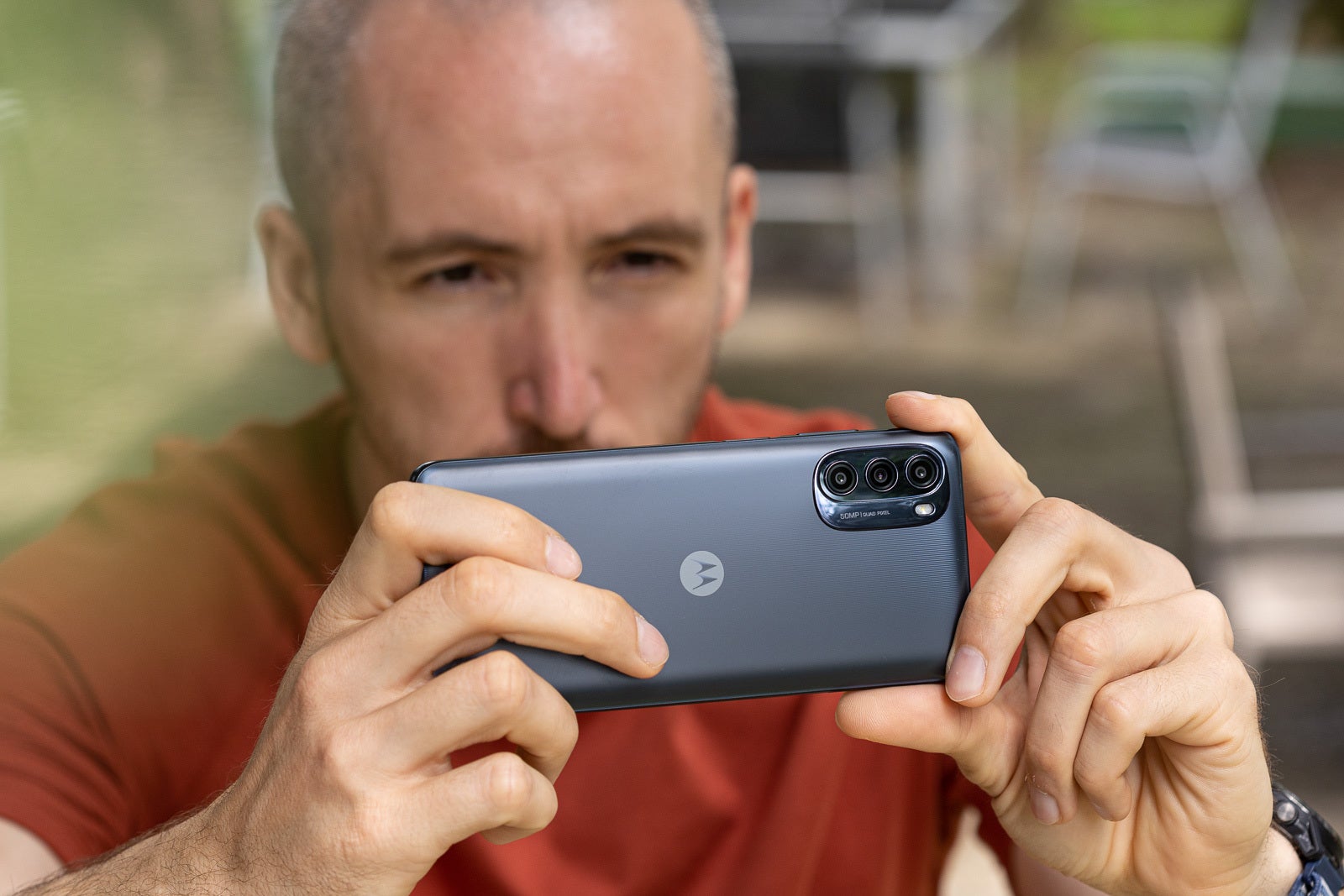 The Moto G 5G comes with a triple camera setup, and while that might sound intriguing at first, a quick look at the specs sheet might quickly disappoint, as you essentially get a 50MP wide-angle camera that you'll use in 99% of the situations, aided by a 2MP macro camera and a 2MP depth sensor that is used during portrait shots. A ultra-wide angle camera would have been a much better offering than the macro shooter, which doesn't do a stellar job itself.
There are a bunch of useful camera features, like Portrait and Pro modes are on board, and so are Night Vision, Ultra-Res (50MP mode), Panorama, Group Selfie, and some fun albeit gimmicky ones, like Spot Color, which removes all colors except for the chosen one, Cutout, which detects and only shotos human faces, along with Dual Capture and Spot Color for Video.
In terms of image quality, expect just okay performance. Daylight images turn out usable, but nothing that will raise an eyebrow in amazement. Oversharpening is visible in most images, which isn't great to see, and colors for the most part are on the punchier, more vivid side.
Portrait images turn out quite well. The depth sensor is definitely being used during these shots, as hiding it with your finger prevents the phone from taking a portrait shot at all, which is something that other phones sometimes do. Aside from people, it works well with other objects as well.
Macro mode is mostly a failure, as the macro shots a smudgy 2MP affair that's often out of focus.
Low-light images aren't very good either, with tons of noise visible, even when there's still plenty of natural light visible. There's a dedicated Night Vision mode, but it doesn't improve the quality by a lot.
Moto G 5G (2022) Performance & Benchmarks
Does the job, but nothing more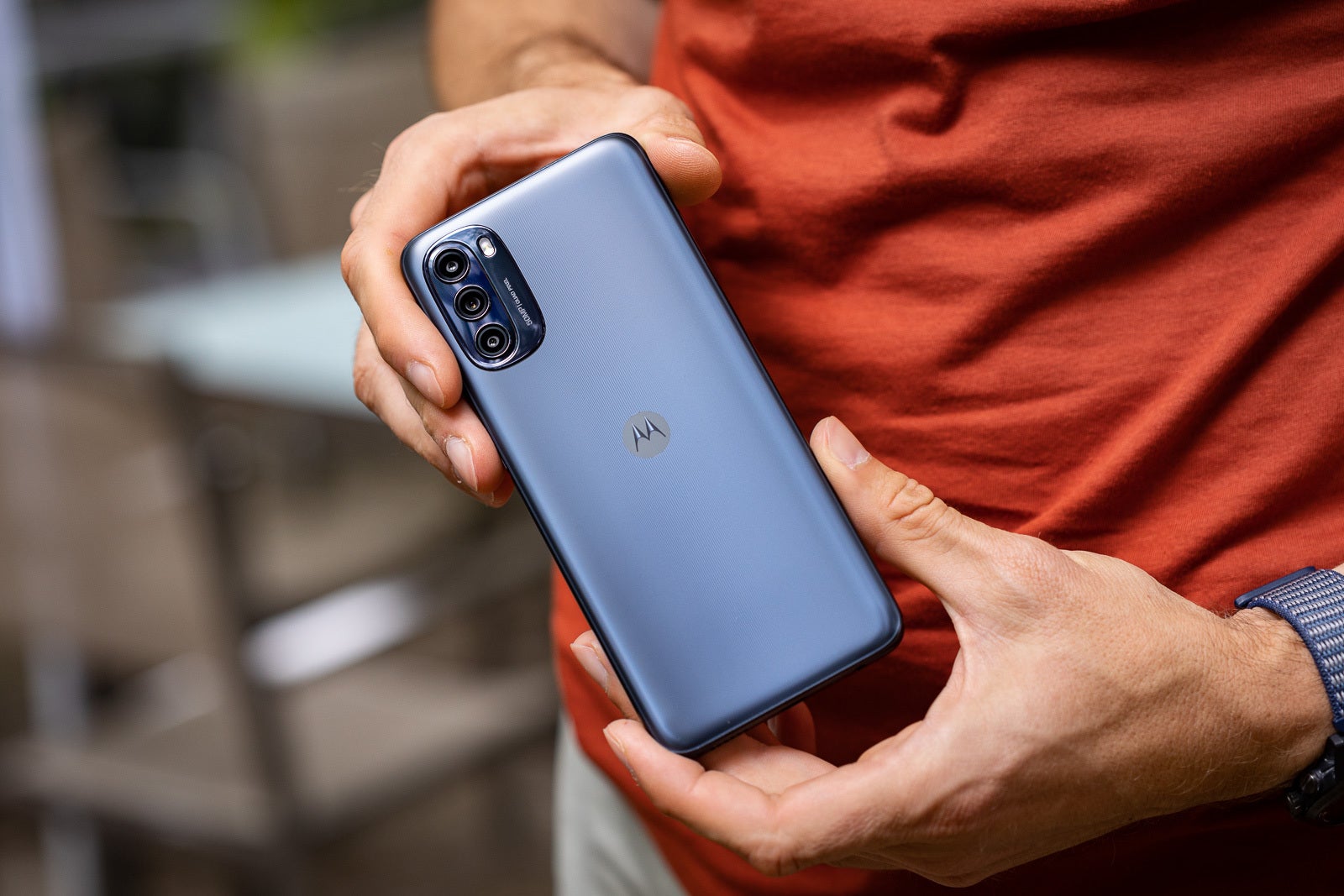 Coming in hot with the MediaTek Dimensity 700, the Moto G 5G is a modest performer. Surely, it doesn't exactly crush the benchmarks, but didn't impede my daily usage or anything of the sorts. While it lacks flagship power, the Moto G proved to be a sturdy performer that runs zippy enough. Surely, firing up Minecraft and creating a new world took longer than what I'm used to, but ultimately, you can game decently on this phone, with occasional stutters here and there. That's to be expected in the price range.
On the topic of storage, have in mind that the phone is available in two versions: 4 GB RAM and 64GB storage for the carrier version and 6 GB RAM and 256GB of storage for the retail one that you buy unlocked straight from Motorola. Both versions still come with microSD card slots that support up cards up to 512GB. Even with the 6GB RAM version I reviewed, unexpected app reloads were often, so the optimization and the multitasking experience aren't stellar.
Performance Benchmarks:
Moto G 5G (2022) OS / Android version
Interface-wise, the Moto G 5G comes with a mostly stock version of Android 12, with just a few custom additions, like custom gestures and accessibility shortcuts. The interface is clean and functional, and my favorite feature of all is the expanded customization menu that lets you easily create themes with system-wide colors, shapes, and fonts.
However, Motorola's software update policy is often ambiguous and is not universal, so it varies per device. The fact that Motorola's own phone
locator
doesn't list the Moto G 5G as an existing device is concerning, so while it's certain that it will continue to receive updates for the time being, it's unclear whether Motorola won't throw it under the bus in the not-so-distant future.
Moto G 5G (2022) Battery
Quite the performer
The Moto G 5G (2022) has a 5,000mAh battery at the back, and much alike many Motorola phones, it's truly a durable phone. It's easily a two-day phone with medium usage, including social media, video streaming, and web browsing.
On the PhoneArena browsing battery test, which involves automated web surfing and scrolling over a Wi-Fi network at 200 nits of pre-set screen brightness, the Moto G 5G endured for 15 hours and 56 minutes, which is a superb result! On the PhoneArena gaming battery test, which involves tasking 3D gaming with the display set at 200 nits, the phone lasted for 7 hours and 33 minutes, another impressive result.
PhoneArena Battery Test Results:
Moto G 5G (2022) Charging Speeds
Charging-wise, the phone supports 10W charging and the charger actually comes in the box. However, topping this large battery takes its toll: it takes roughly three hours, or 173 minutes as measured in our test, to charge the phone from full, which is definitely not great.
Moto G 5G (2022) Audio Quality and Haptics
There's a single speaker on the Moto G 5G (2022), and it's quite loud but not very rich sound. Music sounds a bit tinny and lacks more defined base. It's also easy to fully block the loudspeaker outlet with your palm - not good.
As we mentioned, there's a 3.5mm audio jack as well as wired FM radio, both of which are unicorns on today's phone market. Still, it's nice to have options, as the phone's speaker isn't anything spectacular, so it's advisable to use any headphones, be it wired or wireless, at all times.
The haptic feedback isn't great, it feels mushy and unsatisfying.
Moto G 5G (2022) Competitors
The Moto G 5G has some fierce competition. For starters, you could opt for the slightly more expensive Moto G Stylus 5G, which is subjectively a better phone, has slightly better battery life, faster Snapdragon chipset, and an ultra-wide camera.
On the Android side of things, there's also the Samsung Galaxy A53 5G, which can be snatched below $300 and comes with a beautiful AMOLED display and better cameras.
Finally, there's the iPhone SE (2022), which crushes everything in its class in terms of performance, but has significantly worse battery life and outdated design and display, yet a single good camera.
Moto G 5G (2022) Summary and final verdict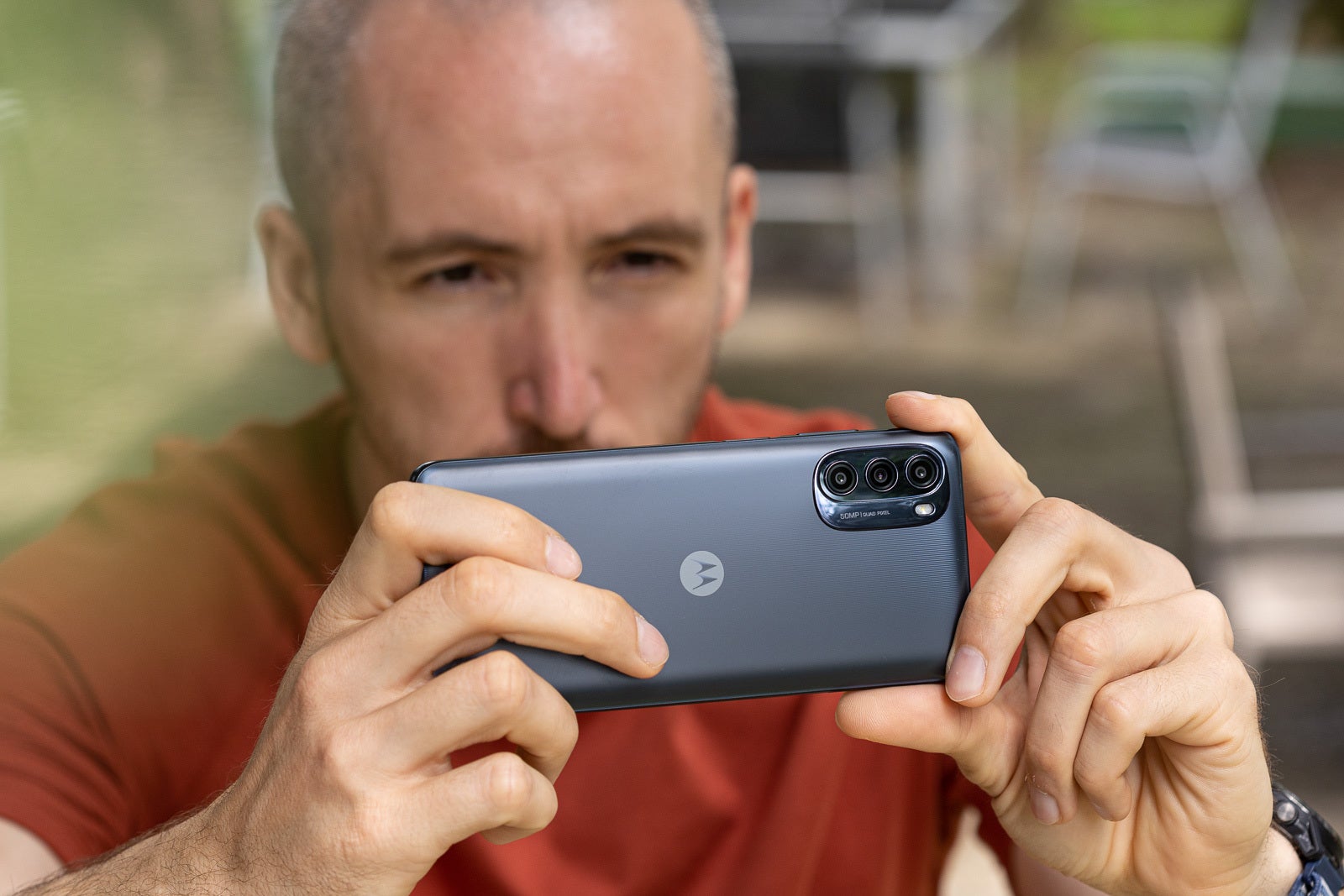 Overall, the Moto G 5G (2022) isn't a bad phone, but it's lagging behind some of its competitors. At $299, it's routine sale price, it's not a bad offering, but its regular $399 makes it a much tougher sell.
The phone does have some redeeming qualities, like the very good battery life and friendly design, but the unimpressive performance, lackluster display, and camera make it hard to recommend this one.
Recommended Stories