Honor 70 review: The extravagant mid-ranger
3
We may earn a commission if you make a purchase from the links on this page.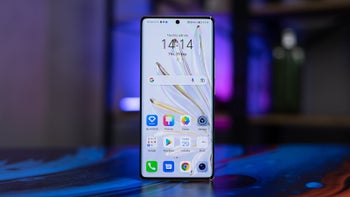 The Honor 70 is a thin and light mid-ranger that packs a beautiful 120 Hz display and very good cameras, delivers smooth performance, and comes with a fast 66W charger. Starting at £479.99 in the UK, it's well worth considering, especially if you're looking for something a bit more unique and reminiscent of the good old Samsung Edge phones, in addition to a fairly stock Android 12 experience.
Honor 70 Specs
Specs
Honor 70
Size and Weight
161.4mm x 73.3mm x 7.91mm, 178g
Display
6.67" OLED, 120Hz, FHD+ 2400 x 1080, DCI-P3 wide color gamut
Processor
Qualcomm Snapdragon 778G Plus
RAM
8GB
Storage
128GB / 256GB, no expandable storage
Software
Android 12, Magic UI 6.1
Cameras
54MP IMX800 Super Sensing Main Camera (f/1.9 aperture)+
50MP Ultra Wide & Macro Main Camera(f/2.2 aperture)+
2MP Depth Camera (f/2.4 aperture)
Battery Size
4800 mAh
Charging Speeds
Up to 66W wired charging, no wireless charging
Price
Starting from £479.99
Honor 70 Design & Colors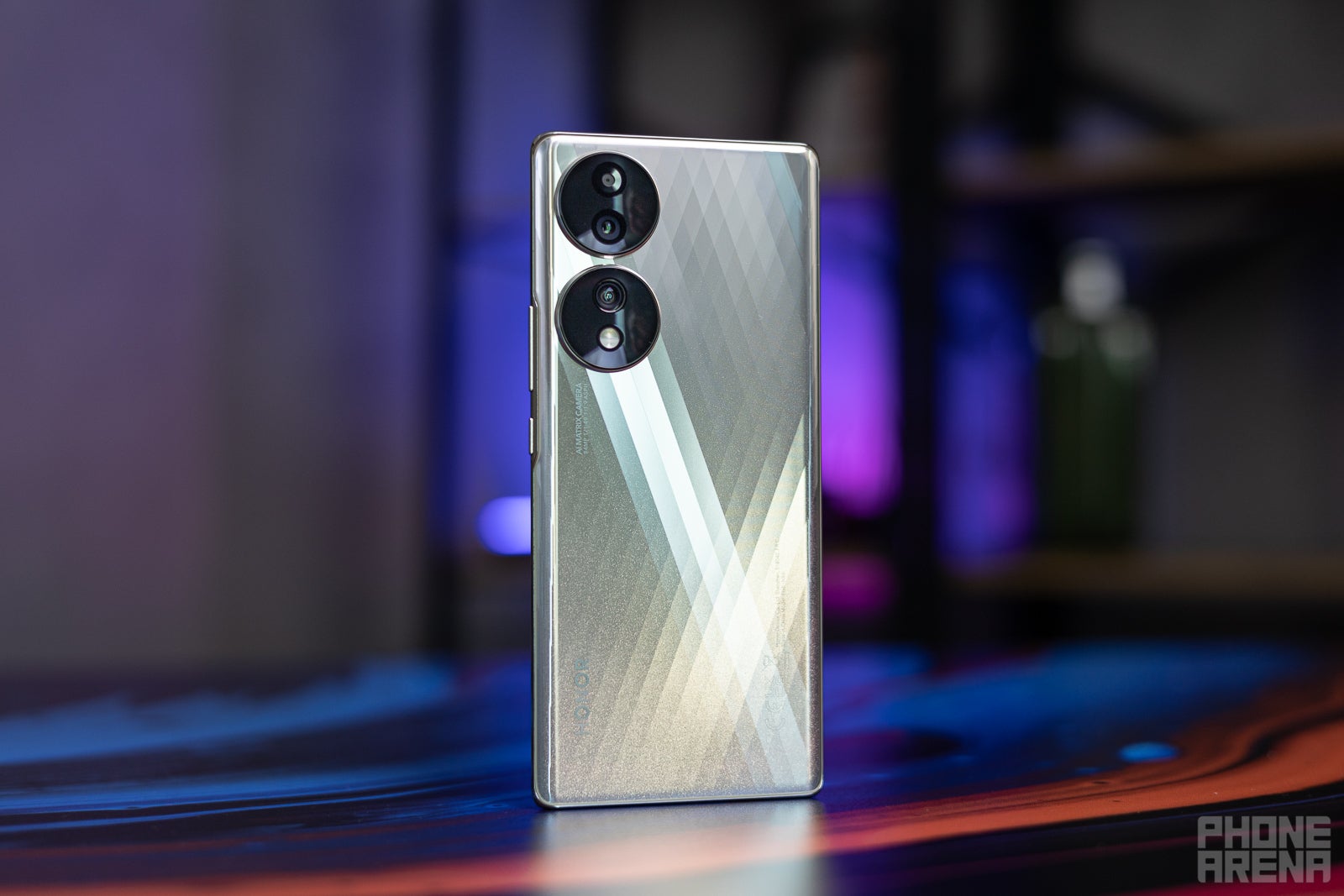 (Image credit - PhoneArena) Honor 70 back
Design-wise, the Honor 70 is quite the unusual phone that I'd wager people are either going to love or hate.
But let's start with the side of this phone that's less extravagant and actually quite objectively beautiful. From the front, the Honor 70 gives out Samsung Galaxy Note-mixed-with-Galaxy Edge vibes, as its display doesn't feature huge rounded corners, yet has slightly curved edges, leading into a very thin metallic-looking side frame.
The bezels around the display are tiny, and the display itself is only interrupted by a small holepunch selfie camera at the top center.
On the bottom of the phone we have a speaker on the left, a USB Type-C charging port in the middle, and a SIM card slot on the right (dual-SIM in some regions).
Now, let's turn our attention to the phone's back. What sticks out the most will obviously be the (likely unnecessarily) huge, raised circular camera modules, which hold three cameras and a flash. Already a pretty bold design element, with Honor likely aiming to convey that this is, in fact, a camera phone – with that being its main focus.
But if you get the "Crystal Silver" variant of the Honor 70, which we have here, you'll also immediately notice that there are reflective kite-shaped patterns on the back. Already extravagant enough, but Honor also chose to add a gradient of a reflective grainy texture on top of all that too, with it getting more visible near the bottom of the phone.
Honestly, it's a bit of a mess, just too much; and I can't imagine a lot of people will love this look, but thankfully, the other color variants of this phone are more focused and traditional. Speaking of which…
Honor 70 color variants:
Crystal Silver
Midnight Black
Emerald Green
Icelandic Frost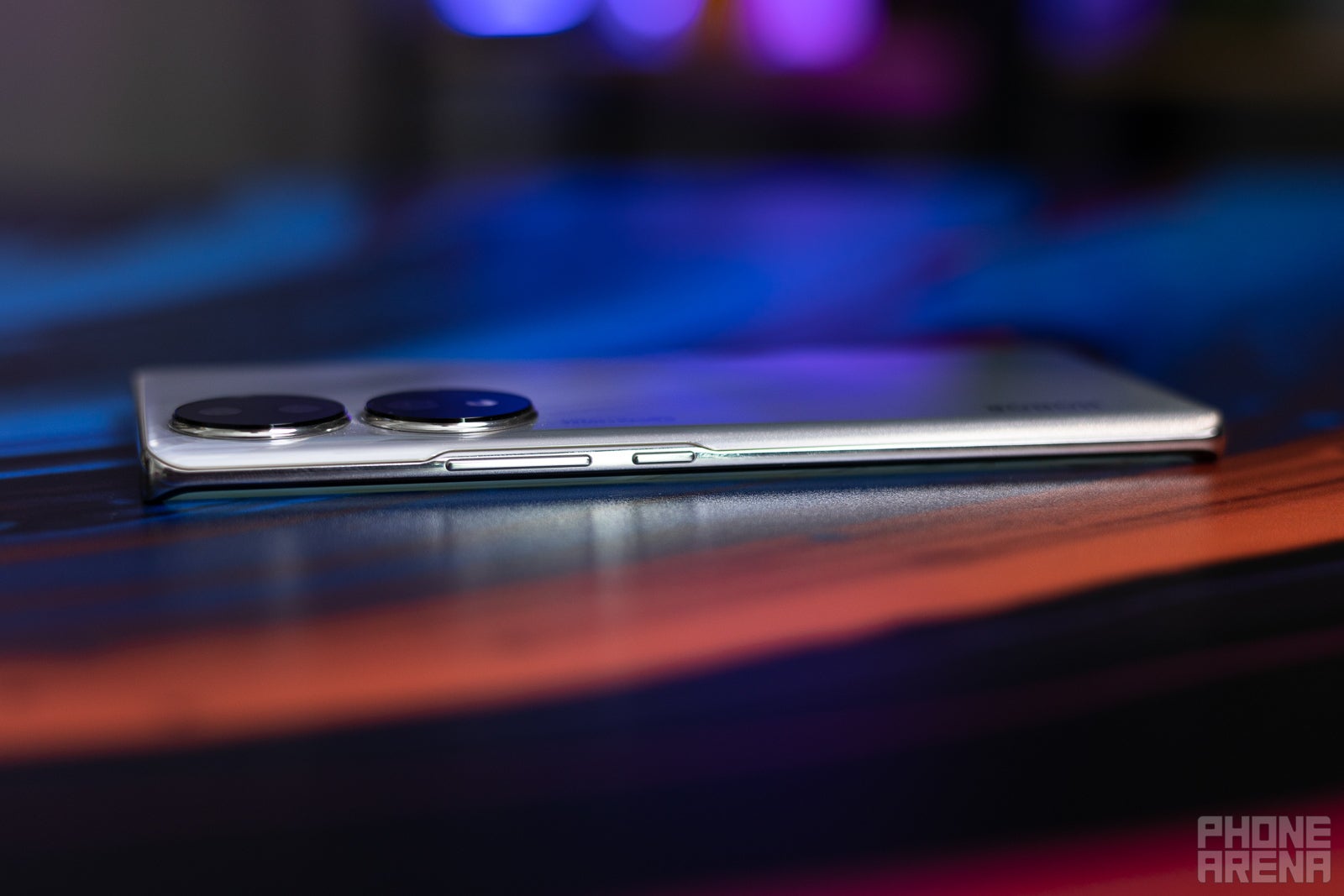 (Image credit - PhoneArena) Honor 70 side
Let's talk about weight and feel in the hand. The Honor 70 weighs about 178 grams, and definitely feels pretty thin and light. However, its back and frames do feel plasticky, and while the display feels glass-like, it might easily also be plastic.
Now, that's not necessarily a negative, since plastic is lighter than glass or metal, so, again, we're getting a pretty light phone here, which some people value a lot. Plus, if you're someone who slaps a plastic case on their phone anyways – then how the phone feels doesn't really matter.
I'm not going to say that the Honor 70 necessarily feels cheap, but its back does look kind of cheap, at least this color variant that we have here. The fact that it easily collects fingerprints and smudges doesn't help.
Honor 70 Display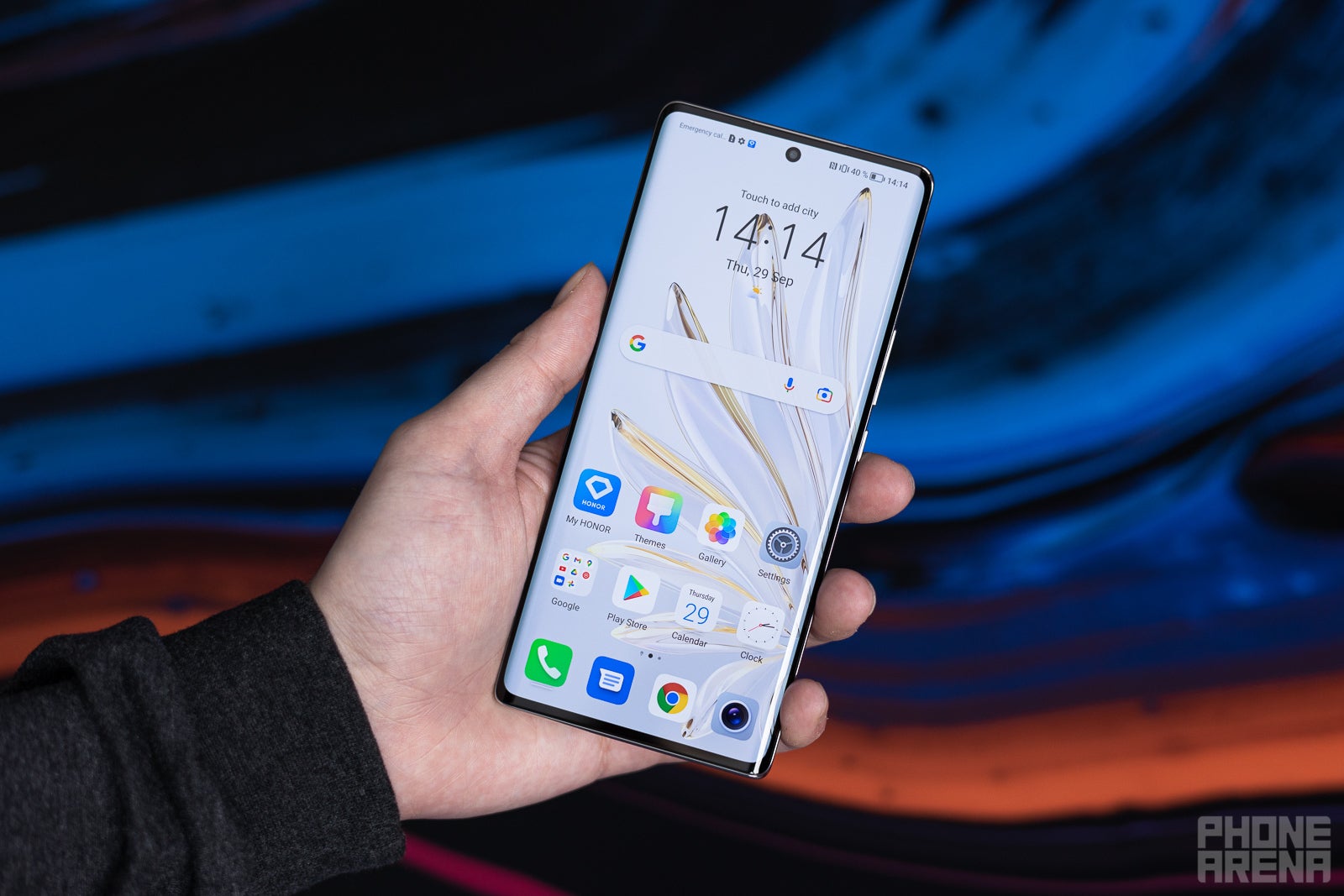 (Image credit - PhoneArena) Honor 70 display
The Honor 70 has a 6.67-inch OLED display, which is definitely one of the stronger elements of this phone. Its beautiful edge curves and the minimal bezels around it make it look almos edge-to-edge, at least from certain angles.
It gets plenty bright enough even outdoors, has vivid colors that really pop, and might even feel a bit over-saturated to some. That would be because its color temperature is set to "Vivid" by default, but you can switch to "Normal" for a… well, a normal, warmer P3 color space.
Spec-wise, here's what you should know about the Honor 70's display:
Size: 6.67 inches
Aspect ratio: 20:09
Color: 1.07 billion colors, DCI-P3 wide color gamut
Type: OLED, up to 120 Hz refresh rate
Resolution: 2400 x 1080 (FHD+)
Yes, we have 120 Hz refresh rate here, which, for the uninitiated, is double the screen refresh rate of the average smartphone. It makes pretty much everything on screen look that extra smoother, be it the Android interface's animations, scrolling through social media apps, or playing any games that support 120 Hz, which these days many do.
Best of all, the display isn't fixed at 120 Hz, draining the battery unnecessarily, although you can fix it. By default, it's set to "Dynamic" refresh rate, so it will go lower when appropriate (e.g. nothing's happening on screen). And, if you wish to, you can set the display refresh rate to the more traditional 60 Hz, which saves on power and might prolong the phone's battery life endurance between each charge.
Let's touch on that resolution – although 1080p might seem small to some people, it's actually about perfect for this display size, and you needn't worry about seeing pixels. Unless, of course, you're really looking up close for them.
And while we're on the topic of the display, there's an embedded fingerprint scanner in it, which would be your most secure way to unlock the device. There's face recognition too, but since it only uses the selfie camera, it won't work well in different lighting conditions, nor is it generally considered secure. But on the upside, that under-display fingerprint sensor works quickly and reliably.
Display measurements and quality
Honor 70 Camera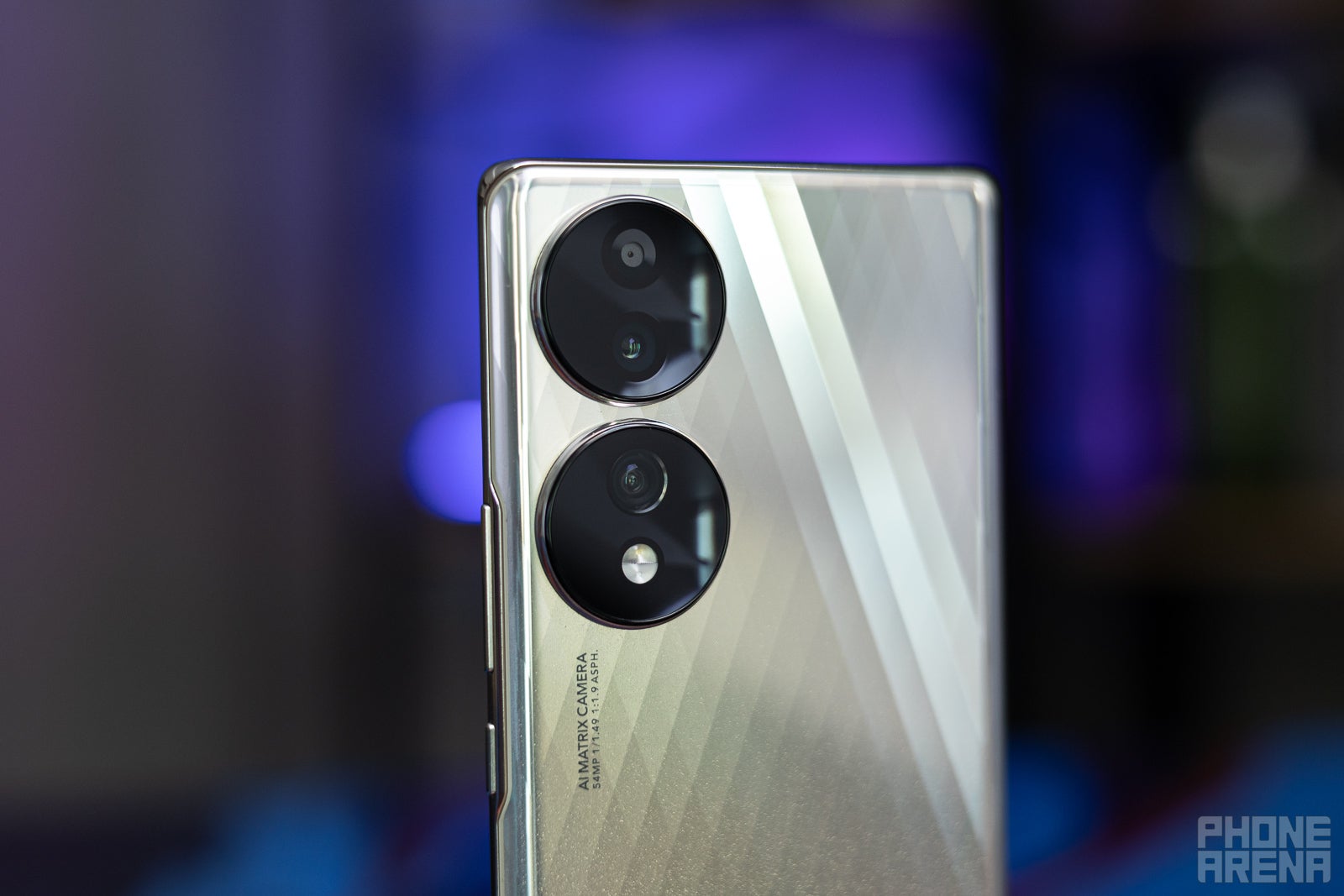 (Image credit - PhoneArena) Honor 70 camera
On the back, the Honor 70 is packing a 54MP main camera, a 50MP ultra wide (that doubles as a macro), and a 2MP depth camera. Here are the exact specs, followed by sample photos:
54MP IMX800 Super Sensing Main Camera (f/1.9 aperture)
50MP Ultra Wide & Macro Main Camera (f/2.2 aperture)
2MP Depth Camera (f/2.4 aperture)
We have support for up to 4K video recording at 30FPS (frames-per-second) here, which is good enough, although 60FPS is quite common these days, and would've been nice to have as an option.
There's no optical image stabilization, just electronic (EIS), but nonetheless, the video stabilization is quite good, as you can see from our 4K 30FPS video sample below.
When it comes to zooming, we don't have optical zoom either, but up to 6X digital zoom (up to 10X for photos).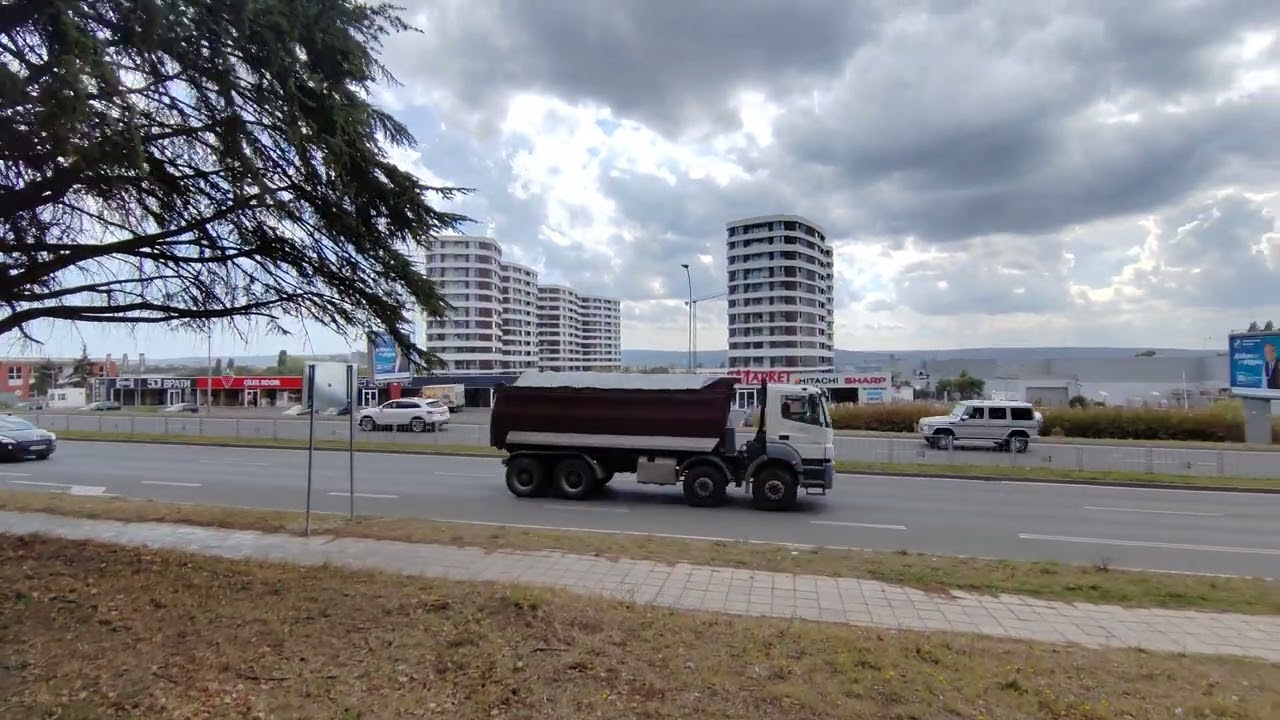 As we can see, the video quality of the Honor 70 is quite impressive for its mid-range price point – we have not only solid stabilization, true-to-life colors, sharpness, but both the main and wide cameras also handle challenging, bright shots well. That last part does take a bit of time for the camera to adjust its exposure, but still – impressive, and more than apt for social media use or even for some YouTube vlogging. Especially when we also take in consideration the good microphone quality even on a windy day like this.
In regards to that holepunch selfie camera, it's 32 megapixels (f/2.4 aperture). It performs well enough in good lighting, delivering sharp images with good, realistic colors, although it tends to overexpose bright areas (e.g. the sky in the sample below).
It's worth noting that, as is the norm with Chinese phones, there's a skin-smoothing selfie filter which is on by default, so if you get this phone, remember to turn that off for more true-to-life results.
Also, we do have support for portrait mode photos, which blurs the background, making the subject pop, and it works very well at detecting what's the subject and what isn't. Portrait shots come out quite beautifully, so this phone's trendy design is well suited for its (seemingly) intended audience of influencers and social media users in that aspect.
Honor 70 Performance
Ever since it came out of the box the Honor 70 has been performing smoothly and with no issues. Let's look at the specs that make it so…
Processor: Qualcomm Snapdragon 778G Plus
GPU: Adreno 642L
Memory and storage: 8GB+128GB / 8GB+256GB
So we do have one of the best mid-range processors powering this phone, which means mobile gamers will be happy with its performance.
And for anyone who's wondering – nope, the storage is non-expandable, meaning you can't slot in a microSD card, so choose wisely between the 128GB and 256GB options. Honestly, 128GB is plenty enough for most people, even if they plan on downloading some big games. As for movies and music – we tend to exclusively stream them these days, so you likely shouldn't worry about them taking up any storage. Not that you can't comfortably download several seasons of your favorite show, many of your favorite movies, and still have plenty of storage even on the 128GB Honor 70 variant.
Of course, if you plan on recording lots of long 4K videos, then investing in the 256GB storage variant might be worth considering, because those can get pretty large in file size.
Honor 70 OS / Android version
The Honor 70 comes with Android 12. On top of it, we have Honor's Magic UI interface, with its rounded-square app icons, fairly stock-looking menus, and some always-welcome features like a screen recorder. The default launcher is also pretty traditional and plenty customizable, so no complaints there.
However, the phone does come with some bloatware, such as TikTok, a Booking.com app, two games, and a "Top Apps" folder with an app called TrainPal inside, alongside a Trip.com app and WPS Office. You can uninstall these, but I can't help but notice that a Xiaomi phone I bought recently also had similar bloatware; it's almost as if every phone out of China relies on the same sponsors, who pay for those apps to come preinstalled.
Speaking of China, you might know Honor as a Huawei brand, but Honor was actually pretty quick to distance itself from Huawei after that whole banning fiasco, and was eventually sold to a different Chinese company. So it's no longer owned by Huawei, just so you're aware.
The best news is that the Honor 70 does come with a Google Play store and Google Play Services, so you needn't worry about not being able to download and use your favorite apps, or having to sideload them and what not.
So overall, the Magic UI interface looks good, works perfectly smoothly, and we have Android 12 with the Google Play store too – all good stuff! But if we think long-term, it's not exactly clear whether this phone will be getting any major software updates one or two years from now, so bear that in mind.
Honor 70 Battery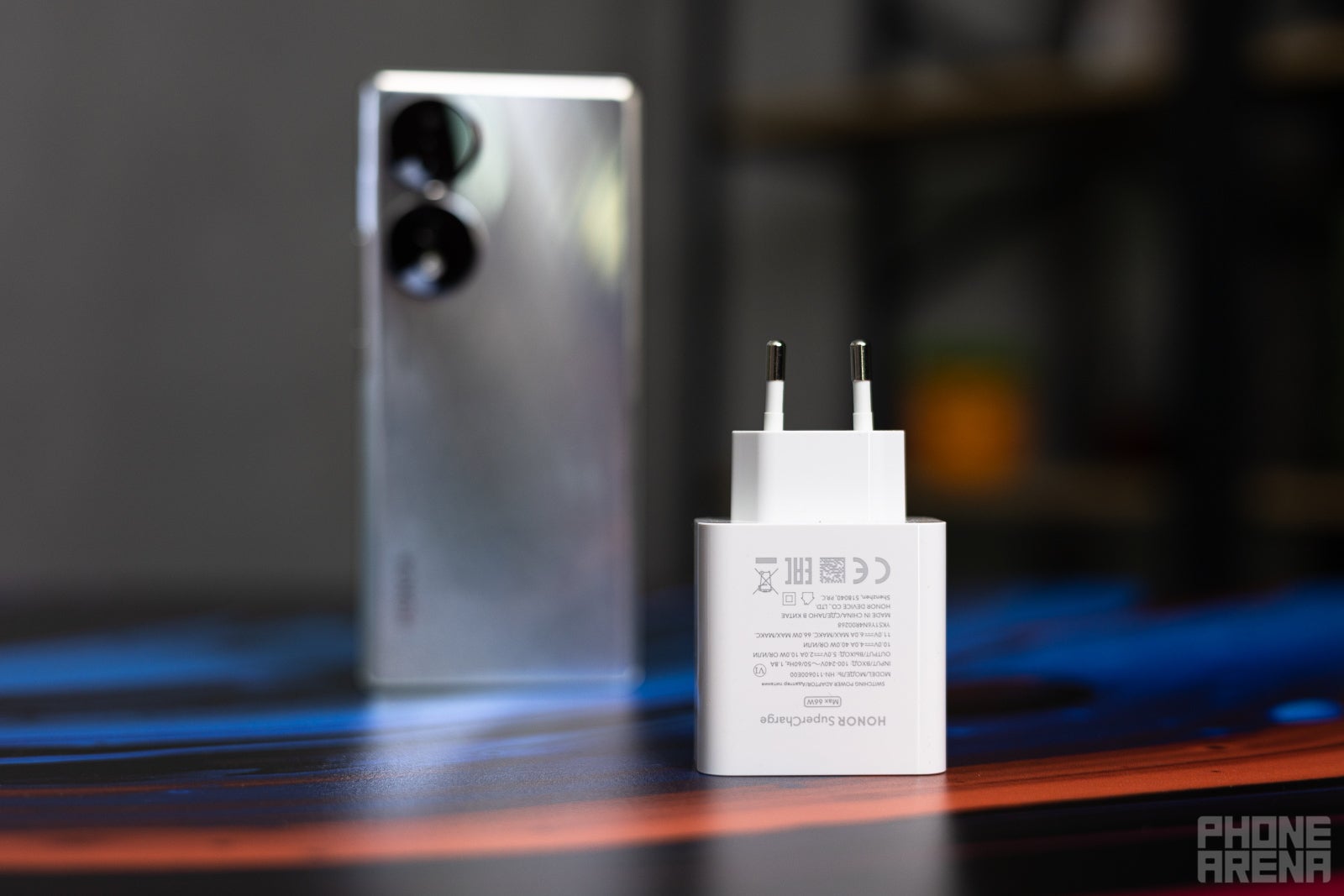 (Image credit - PhoneArena) Honor 70 with included 66W charger
The Honor 70 is packing a 4800 mAh battery, which, considering how light and thin the phone is, is actually pretty impressive. It supports up to 66W SuperCharge speeds, and Honor was kind enough to include a 66W charger in the box.
Charging this phone is indeed very quick, with just about 20 minutes being enough to top it to 60% from 0.
As for how long that battery will last you, Honor doesn't make any claims, but in my experience, this could easily be a two-day phone with light usage. Which, again, is impressive considering it's thin and light build.
What's a bit unimpressive is the lack of wireless charging, though, so if you're someone who likes the convenience that brings, this phone might not be for you.
Honor 70 Audio Quality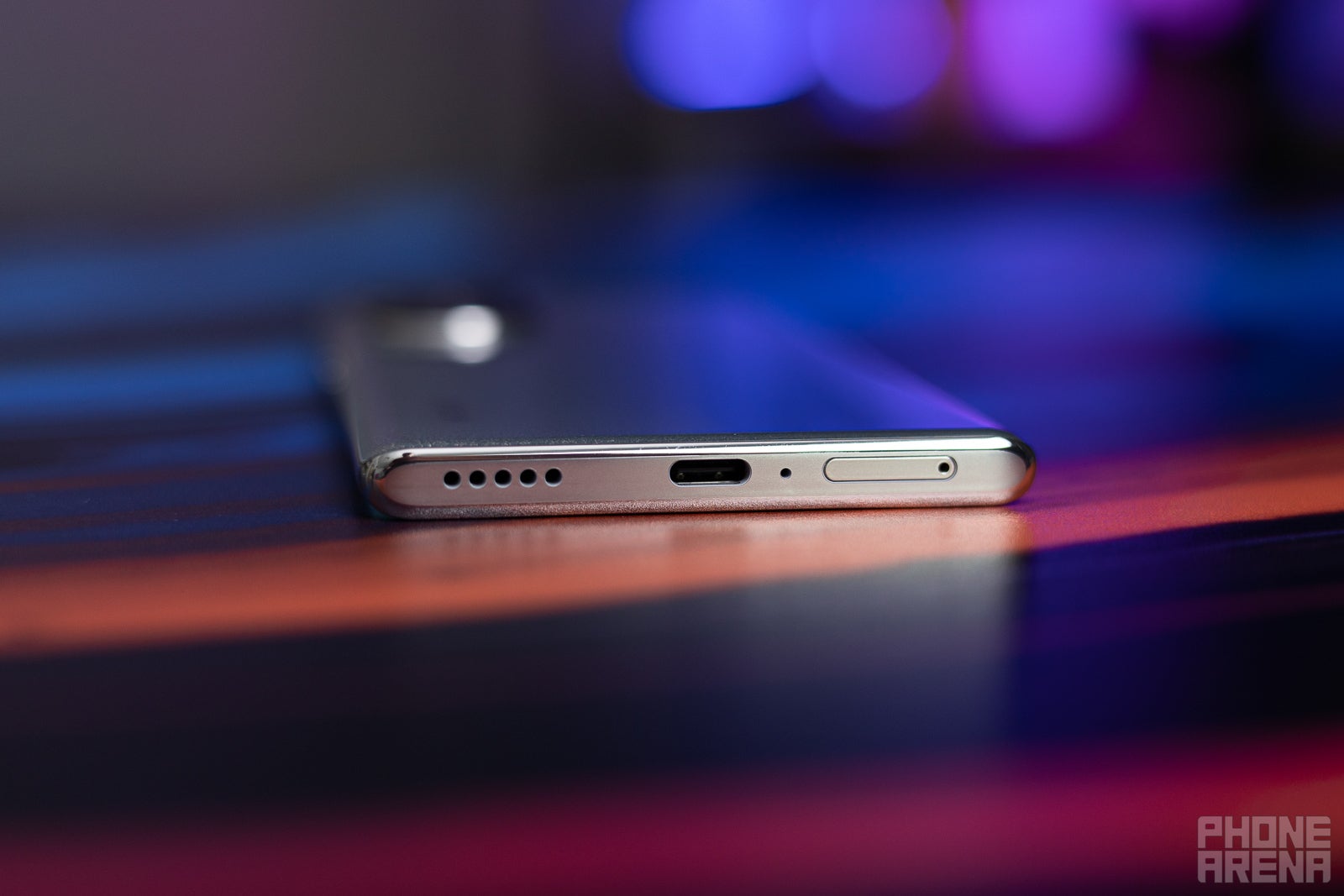 (Image credit - PhoneArena) Honor 70 speaker grill, USB Type-C port, SIM card slot
Like most modern phones, the Honor 70 unfortunately doesn't have dual speakers, but a single bottom-firing one. If you're hoping that the earpiece also chimes in to help create a mild stereo effect, it does not.
However, that single speaker is no slouch, it gets plenty loud and has good mids and highs, which can get a bit ear piercing at high volumes, though. But honestly, compared to the competition in this price range, and even certain Samsung flagships, this is a very good speaker.
No hint of bass, however, and that lack of stereo really does make things worse if you're used to flagship phones, which these days tend to use the earpiece as a "second speaker."
And while we're on the topic of audio; you might expect budget phones and mid-rangers to still have headphone jacks in 2022, but this particular one unfortunately does not. And considering how irritating that mono sound can feel, just coming from the right side of the phone, you might want to invest in some
wireless earbuds
. At least if you're planning on watching movies or listening to some tunes.
Honor 70 Summary and final verdict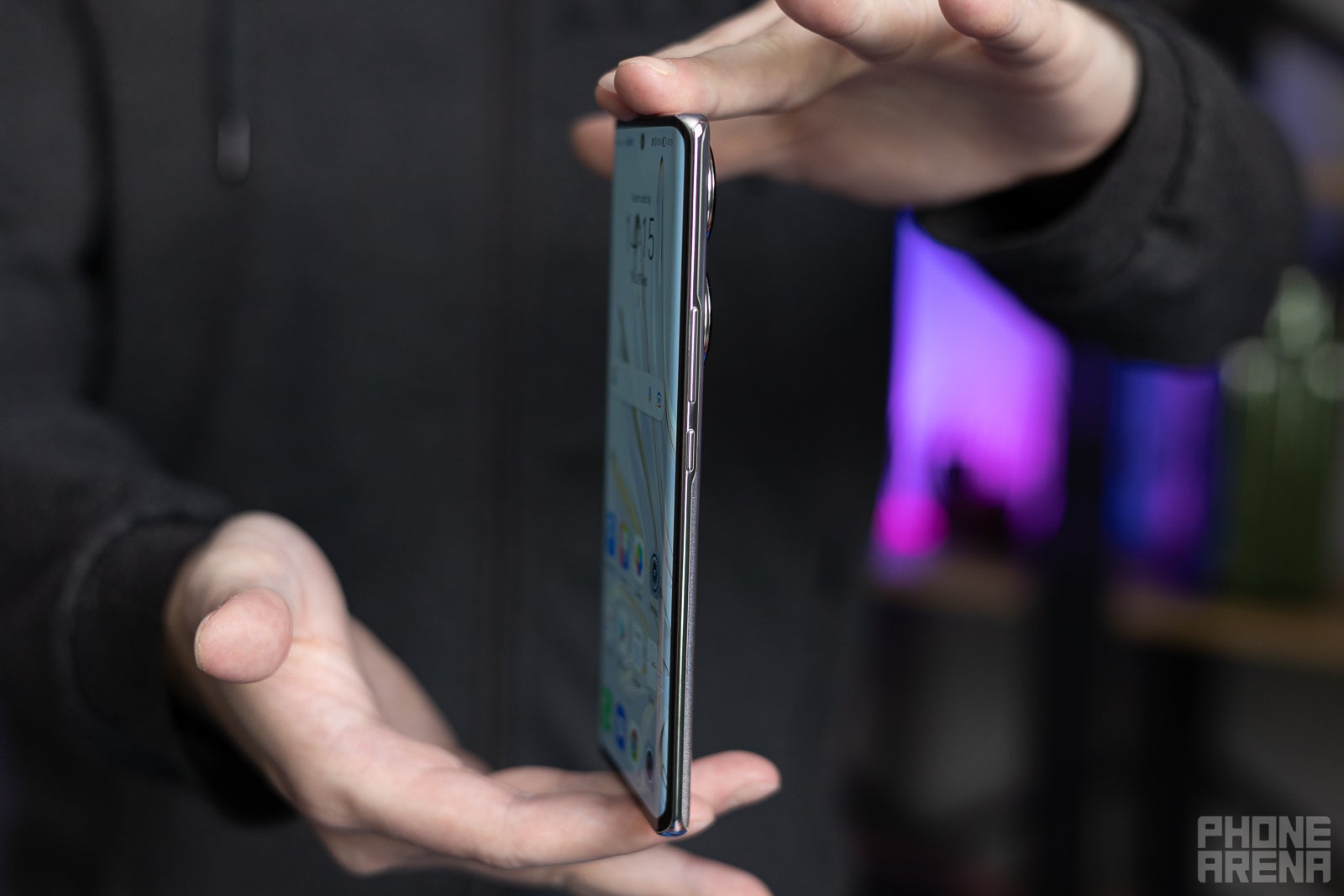 (Image credit - PhoneArena) Honor 70
The Honor 70 is a very good mid-range phone that performs well, has a beautiful, slightly curved display, and feels delightfully thin and light. Along with that we get some very capable cameras, and a fairly stock Android 12 experience with Google Play.
Some of its bigger downsides include the uncertainty about its software updates, its plastic build, and lack of water resistance and wireless charging.
Recommended Stories