Sony Xperia L Review
48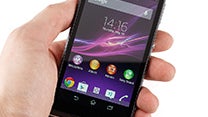 Introduction:
The
Sony Xperia L
is a mid-range device that screams Sony from the first look. And in a world filled with affordable mid-range Android devices design is of paramount importance. In this case, the Xperia L is an elegant phone, featuring a noticeable inward curve and a beautiful diffused LED light strip at the bottom that lights up whenever you have notifications pending.
With a 4.3 inch screen the Xperia L is a compact handset, great for single handed operation. It has no huge ambitions when it comes to performance or camera quality, but for some a smooth overall experience in the interface might be enough. Is there more to the Xperia than it appears on the surface, though? Read on to find out.
Design:
The Xperia L has the very distinct for Sony concave shape we have first seen in the
Sony Ericsson Xperia Arc
. It adds an extra flare of elegance but is also practical as it makes it harder for the device to slip out of the hand. Overall the device feels solidly built. In terms of physical dimensions, it has this prolonged hexagon shape that makes it look a bit larger than the typical 4.3-inch smartphone. The soft-touch plastic back makes it pleasant to hold.
All of the
physical buttons
are located on the right hand side: the new round power button that sticks out a bit, a volume rocker above it and a dedicated camera shutter key on the bottom. On the
back
there is an 8-megapixel camera with a single LED flash.
Finally, all of that comes in three
color versions
- a starry black, diamond white and a red one.
Screen:
The
4.3-inch screen
is a welcome break from the large 5-inch and bigger screens of today as you can actually operate this device with just one hand. Sony uses the Android on-screen buttons for navigation. That means they do take up a bit of those 4.3 inches, so in reality there is less room for icons and other usable content.
At 4.3 inches diagonal and with a
resolution of 480 x 854 pixels
the screen is not amongst the sharpest ones out there. Pixel density comes at the mediocre 228ppi.
Viewing angles
are fairly average and when you tilt the device you'd notice colors losing their saturation. Even without tilting the device though colors look a bit bleak and that is especially noticeable in the blacks that tend to look greyish rather than pitch black. Brightness is sufficient for outdoor use especially if you manage to get the device at the right angle to avoid reflections.