Samsung Galaxy Core Review
49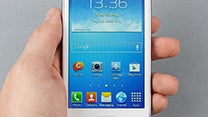 Introduction
The Galaxy Core is one more soldier in the horde of Samsung Android smartphones. As if made out of a single blueprint, all Samsung handsets look alike and this one is no exception. Dressed in that typical Samsung uniform however hides an interesting device: one that marches not in the forefront with top of the line specs, but indeed in the core of Samsung's army - the mid-range.
The
Samsung Galaxy Core
comes in both single and dual SIM versions (named Galaxy Core Duos), and we have the dual SIM one for review. It comes equipped with a 4.3-inch display, a dual-core processor and a 5-megapixel camera in a well-rounded package selling at a very affordable price.
Overall, the Galaxy Core does not shine in any particular area, but it hits all the bases of a decent smartphone. Is that enough to survive in a fiercely competitive dog-eat-dog world of Android devices? Or does it need a little extra flare after all? Let's see.
In the box:
Headphones
microUSB to USB cable
Wall Charger
User Manual
Design
By design, the Galaxy Core is a typical Samsung device, made out of the same general blueprint as a horde of other Android handsets by the Korean company. Is it plastic? Yes. Is it identical to so many other Samsung phones? Yes. But is it practical? Yes, as well.
The Galaxy Core comes in a white and blue versions, and we have the white one for test. The build quality is solid, with no screaking parts. The handset is thin rather than thick at 9mm (0.35"). It is very lightweight, tipping the scales at only 124 grams (4.38 oz). It is also relatively compact and easy to use single-handedly, plus it won't stick out of your pockets like some larger phones. Under the easily removable back cover are a user-replaceable battery, a microSD card slot and the two micro SIM card slots.
The button layout is standard for Samsung. There is a single physical home key on the front, the lock key is on the right side and the volume rocker on the left. You can easily find the buttons in the dark as they protrude a bit. They also have nice travel and pressing them is effortless. The microUSB port is located on the bottom of the device, and up top is a 3.5mm headset jack.
Display
The 4.3-inch LCD display on the Galaxy Core features a middling resolution of 480 x 800 pixels (WVGA). The screen is not razor sharp and you'd notice slight pixelization. Technically, pixel density comes at 217ppi, slightly below average, but we would not count this as a fatal flaw given the price of the handset.
The first thing you notice when you fire up the display is that it is just not bright enough. At a peak brightness of merely 343 nits, everything on it looks dim to the point where it's hard to use the device outdoors. Color accuracy of the display is high and generally we are pleased with the picture. Viewing angles are good and colors do not deteriorate even when viewed from an angle.
Samsung also saved on oleophobic coating and the screen quickly gets covered in greasy smudges, making it hard to read and forcing you to wipe it clean way too often. There is also no light sensor and that means no automatic brightness setting. Samsung had to cut it short somewhere to arrive at the affordable price, but lacking automatic brightness setting is just plain annoying. Luckily, Samsung includes a brightness slider right in the notification dropdown for easy and quick control.
Recommended Stories