Samsung Galaxy A21s review
3
We may earn a commission if you make a purchase from the links on this page.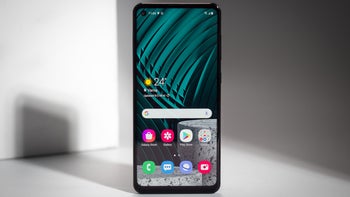 Budget-friendly and mid-range phones are getting better and better, and with the economy all shaken up, they are becoming the more desirable option for a lot of people. Joining the budget-friendly crowd is the
Samsung Galaxy A21s
: а device with a massive battery life and well-performing cameras. Now, we did encounter performance issues, and the LCD screen is not so color accurate, but if you're looking for a good budget-friendly smartphone with solid battery life and a big display, the Galaxy A21s might be a good candidate for you. Read on to see what else we liked and disliked about this smartphone.
Design & Display
Overall, the Galaxy A21s has a simple and unobtrusive design. The smartphone's display is a 6.5-inch LCD panel, surrounded by thin bezels. On the right hand side of the screen there is a small punch-hole, housing the selfie camera. The dark blue color of our unit emits rainbow-like reflections when light hits it at certain angles. Other available colors for this model are white and black, nothing fancy. On the smartphone's plastic back, next to the quad-camera bump, we find the fingerprint sensor.
The A21s' display is bright and vibrant; however, the colors are quite blue-ish and the viewing angles are not perfect, but this is to be expected from a budget phone. The resolution of 1600 by 720 pixels is quite low for a 6.5-inch screen. Given the smartphone's price, we were expecting to see a better screen, but we'd say the current one is passable.
Display measurements and quality
Camera & Audio
The Galaxy A21s comes with a quad-camera system: a 48MP main sensor, an 8MP ultra-wide camera, a 2MP depth sensor and a 2MP macro camera. The latter does not quite manage to take macro shots well, the main sensor succeeding better in this department.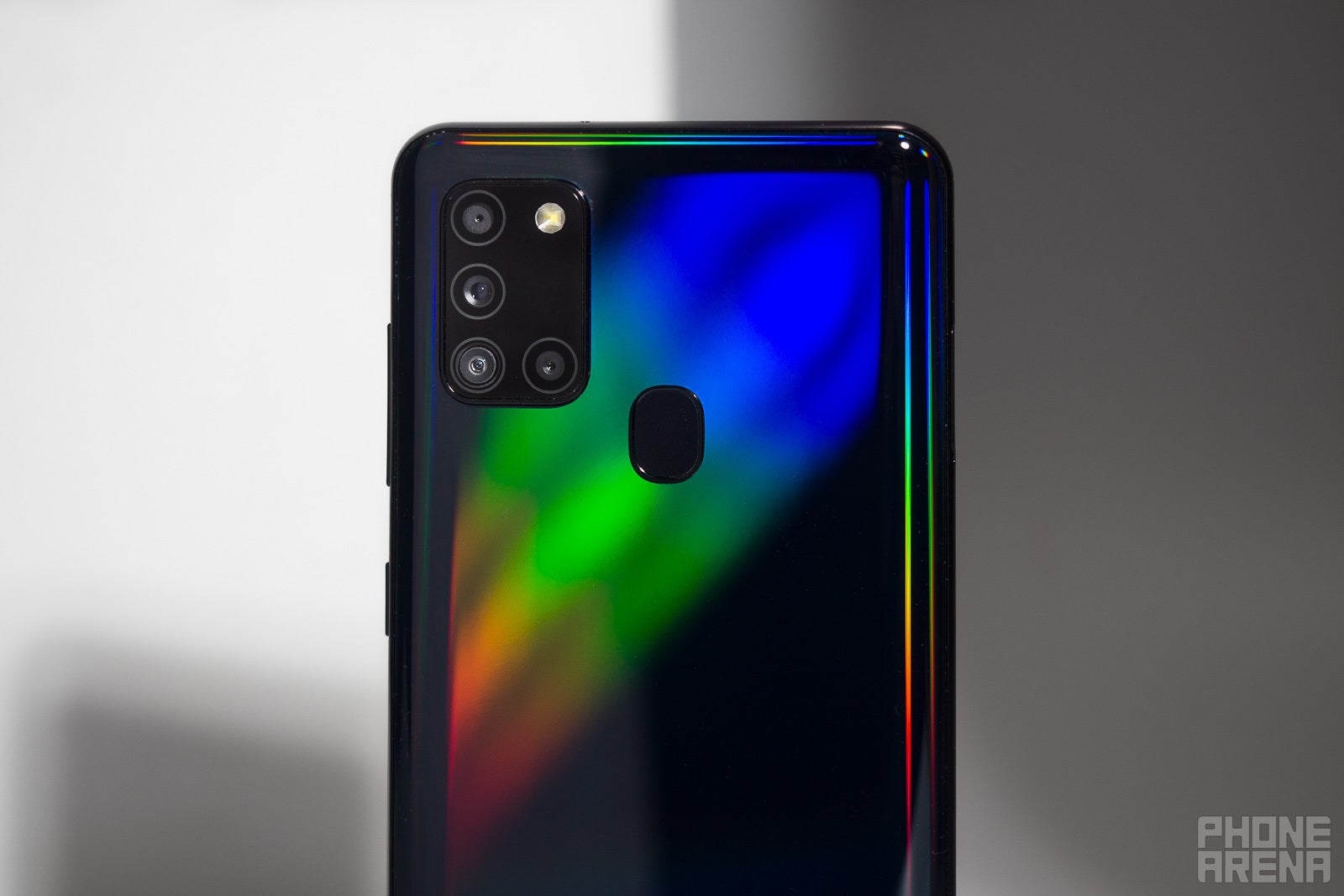 Photos in good lighting conditions turn out great, although colors are a bit more saturated than in real life. We see Samsung's usual image processing present on this device: some people may find the vibrant, cheerful-looking colors good, but they're quite unrealistic.
The phone has a portrait mode which Samsung calls Live Focus mode, and it does an okay job. Sometimes it struggles to determine which part is background and which part is just your subject's hair or shirt, but other times it does great.
The A21s doesn't have a night mode, so don't count on those dark photos for your social media.
Speaking of social media, selfies turn out quite good. The A21s is equipped with a 13MP selfie camera, coupled with Samsung's usual beauty effect which I personally don't mind (even when you turn the beauty filter off, there is some smoothening of the skin, so keep that in mind).
The ultra-wide shots are pretty similar to the ones taken by the main camera ‒ in bright light, colors are vibrant to the point of having a cartoon-ish vibe, but overall, photos are quite good-looking and lively. Dynamics are also good on those.
Video
In the video department, the A21s does a satisfactory job for its price range, although it can only record FHD videos. Colors on videos are fun and vibrant and the autofocus is pretty quick. Unfortunately, there's no fancy 4K recording capabilities here to brag about.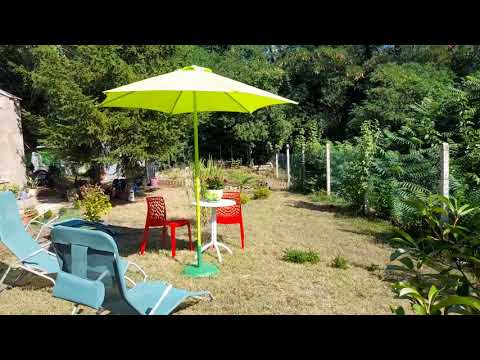 Audio
Well, the Galaxy A21s doesn't offer stereo sound for YouTube videos and music and the loudspeaker is not quite loud for listening to in noisy environments, so don't expect wonders from it. Luckily, the phone has a 3.5 mm headphone jack so you can use your favorite pair of wired headphones.
Software & Performance
The
Samsung
Galaxy A21s comes with Android 10 and Samsung's proprietary One UI 2.1 on top. The software runs okay, although under heavy loads, such as gaming or running demanding apps, the smartphone takes its time to complete its task.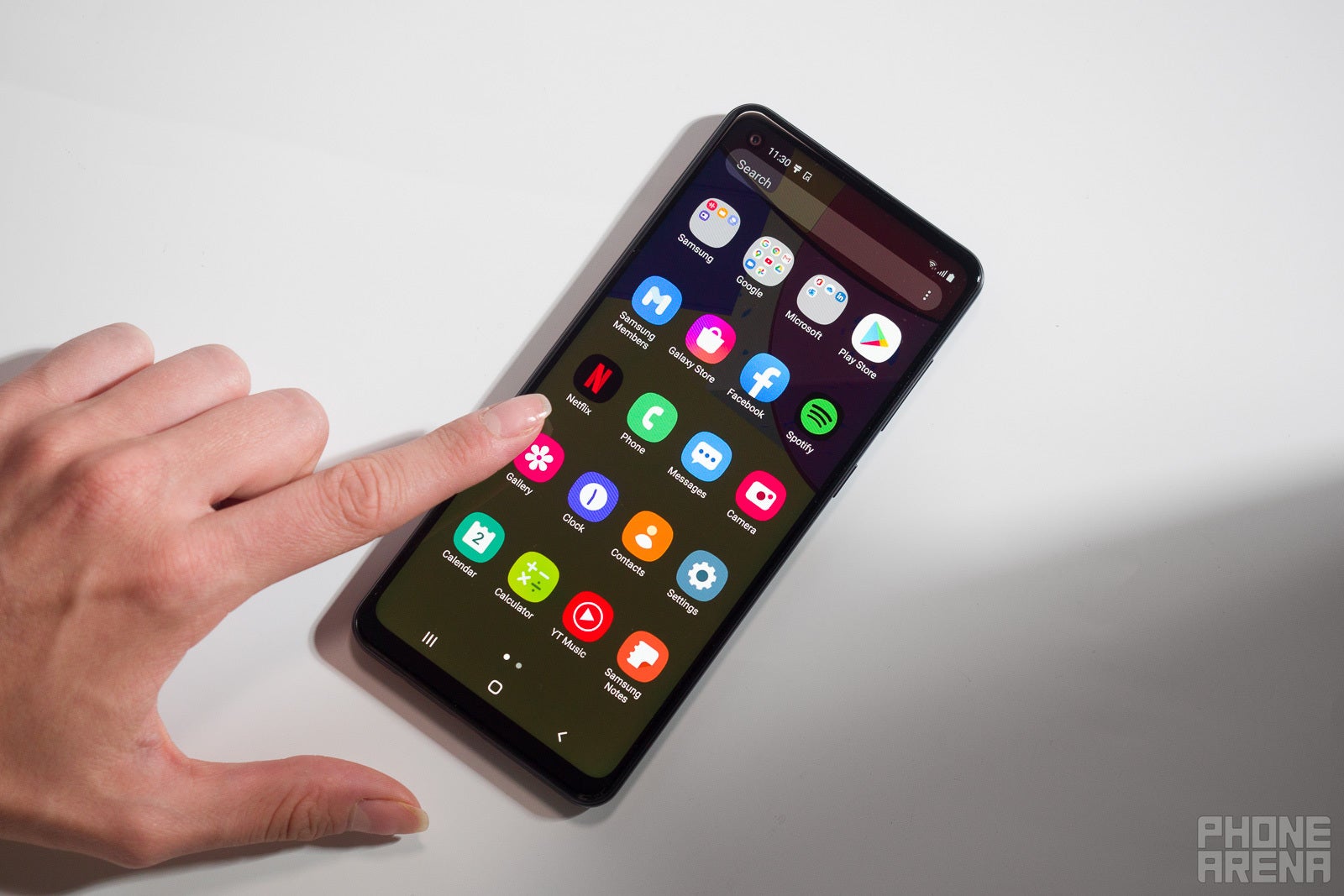 The gaming experience is mediocre; if you're really into mobile gaming, it may be better to go for a more powerful phone, given the fact that the A21s's Exynos 850 processor is really slow in loading bigger games such as PUBG Mobile or Asphalt 9.
Apart from gaming, we generally enjoyed the performance of this smartphone. One very helpful feature that Samsung has here is Focus Mode which helps you block out distractions from apps and helps with productivity. Overall, the phone performs well with web browsing, social media consumption and watching video.
Biometrics and Security
The fingerprint scanner and the face unlock feature on the A21s are both accurate and very fast. We were quite pleased with the experience and did not have any issues with unlocking the phone by either of those methods.
Battery life
Battery life is the A21s' strength. This budget-friendly device comes equipped with an enormous 5,000mAh battery cell which delivers up to two days of battery life for moderate and light users and a day and a half for heavy users. If you really want to get rid of battery anxiety, you will love this smartphone.
Charging, however, takes a while. Unfortunately, the 15W charger that comes in the box takes more than 4 and a half hours to charge the A21s's enormous battery from 0% to 100%. However, if you leave your phone to charge overnight, this won't be an issue for you.
Recommended Stories