Samsung 4G Mobile HotSpot for Verizon Review
5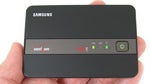 Introduction and Design:
Two years ago we reviewed the
Verizon Novatel MiFi 2200
, which was Verizon's first 3G mobile hotspot. Since then, things have changes, most notably with the addition of 4G LTE to its network. So it comes as no surprise that eventually there would be a hotspot to make use of it. That is exactly what we have here - the
Samsung 4G Mobile HotSpot SCH-LC11
.
The appearance of the Samsung 4G HotSpot looks similar to the MiFi 2200, as it has a black plastic construction, and is relatively thin and compact, measuring just 2.32" H x 3.54" W x 0.45"D, and has a weight of only 2.7 oz. This allows the Samsung 4G HotSpot to be placed almost anywhere…your pocket, car cup holder, back-pack, etc. Included with it in the retail box are a 1500mAh battery, microUSB wall charger, and user guide.
On the
front
of the Samsung 4G HotSpot there are notification LEDs for showing if you are in a 4G or 3G area, which will be green if the signal is strong, or yellow if it is weak, and a Wi-Fi indicator, that will be green while in standby mode, or flashing blue when transmitting data. The power button will also be green while the device is on. Even though we like the LED lights, as they are bright and easy to see from across the room, we wish that there were an LCD display, such as the one on the Novatel 4082 and Sierra Overdrive Pro for Sprint, as that would provide more information, such as battery and signal level.
Along the side of the device is a microUSB charging port, which can only be used for charging, not for tethered data when connected to a PC via the microUSB cable. When the back cover is removed, there is a small WPS connection button, which also acts as a reset button if held, and under the battery is a 4G SIM card slot.
Recommended Stories