OnePlus 11 vs Google Pixel 7 Pro
7
We may earn a commission if you make a purchase from the links on this page.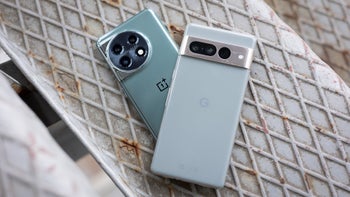 Intro
When speaking about the very best phones, you have the iPhone Pro Maxes and Galaxy Ultras of the world, but those cost an arm and a leg. But what if you don't want to spend all that much?
This is where two names stand tall: OnePlus and Google. The new OnePlus 11, whose international version was just officially unveiled, is the company's 2023 flagship; the cream of the crop, with a top-tier Snapdragon 8 Gen 2 chip on board and all the bells and whistles, but can it match the $900 Google Pixel 7 Pro, a bargain in the flagship space?
We look at the performance, cameras, design and all the other interesting details to see how these devices that are more affordable than mainstream flagships compare between each other.
OnePlus 11 vs Google Pixel 7 Pro in a nutshell:
OnePlus is a bit more compact and lighter than the Pixel
The Snapdragon 8 Gen 2 processor on OnePlus 11 is faster
OnePlus has better haptics
Both have triple rear camera systems
Pixel has longer range (5X) periscope zoom camera
OnePlus has a 2X camera, great for portraits
Both have the same size battery (5000 mAh)
OnePlus has faster charging (80W)
Pixel may get Android updates faster and for longer, although OnePlus has promised 4 years of major Android updates and 5 years of security updates too
OnePlus 11 starts cheaper at $699
Design and Display Quality
Big phones with distinct designs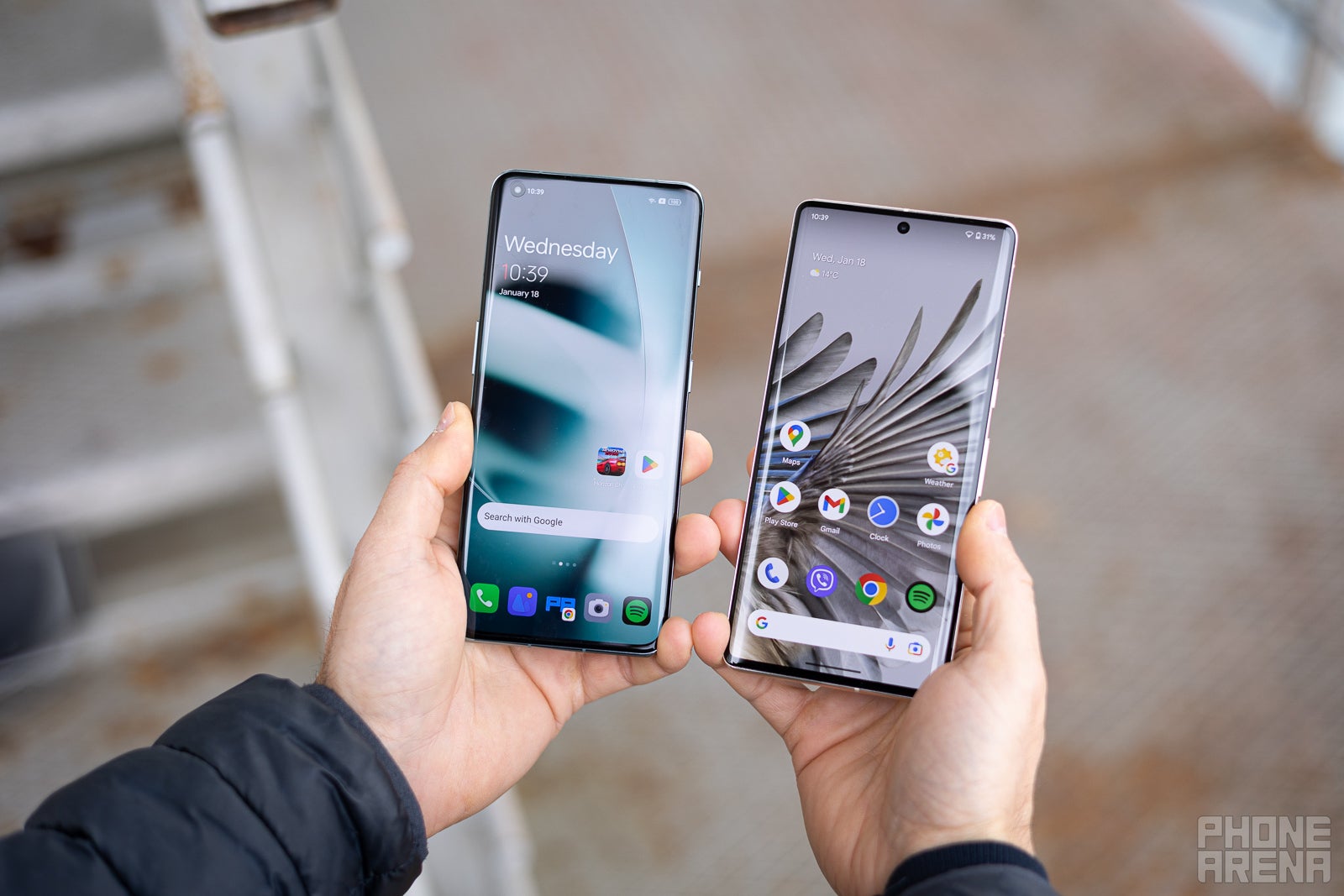 (Image credit - PhoneArena) OnePlus 11 (left) and Google Pixel 7 Pro (right)
Design is a subjective matter, but what is undeniable is that both of these are built to a high, flagship-grade standard with a sturdy aluminum frame and glass on both the front and back.
The OnePlus has a round camera system that stands out in a crowd, but so does that signature Pixel camera bar.
The Pixel has its power and volume keys all on the right side, while the OnePlus has the power key on the right and the volume buttons on the left which makes a bit more sense to us. We also love having the physical Alert Slider (aka the mute switch) on the OnePlus 11, so you can quickly jump between a silent, vibrate-only and sound-on mode.
The OnePlus 11 comes in a shiny new black version that literally glitters at certain angles, and you also have a second model with a traditional glass finish with a green color. The Pixel 7 Pro comes in three colors, a black, white and then this very distinct hazel model, which we like a lot.
When it comes to displays, both have a large 6.7-inch OLED screen, but with slightly different aspect ratio. The OnePlus screen is taller and narrower at 20:9, while the Pixel has a wider screen at 19.5:9. Both feature crispy clean 1440p resolution and both support dynamic refresh rate that can go as high as 120Hz for that buttery smooth scrolling.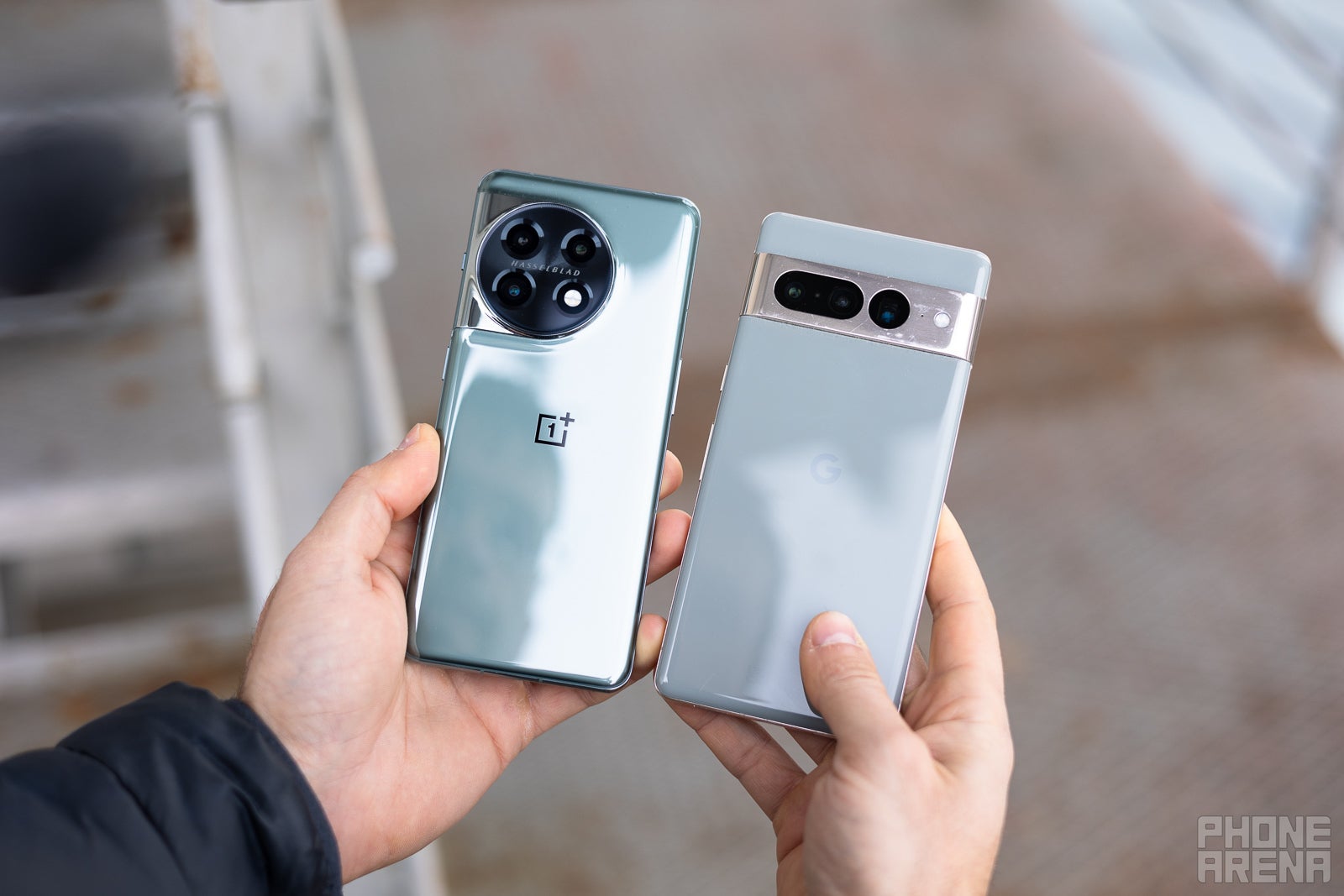 (Image credit - PhoneArena) OnePlus 11 (left) and Google Pixel 7 Pro (right)
Display Measurements:
For biometrics, the OnePlus 11 features an optical under-display fingerprint scanner, which has been super fast and reliable on previous OnePlus, while the Pixel 7 Pro also has an optical fingerprint reader, but for some reason it is still a bit on the slower side. This remains a bit of an annoyance with the Pixel.
Performance and Software
Snapdragon 8 Gen 2 is faster than the Google Tensor G2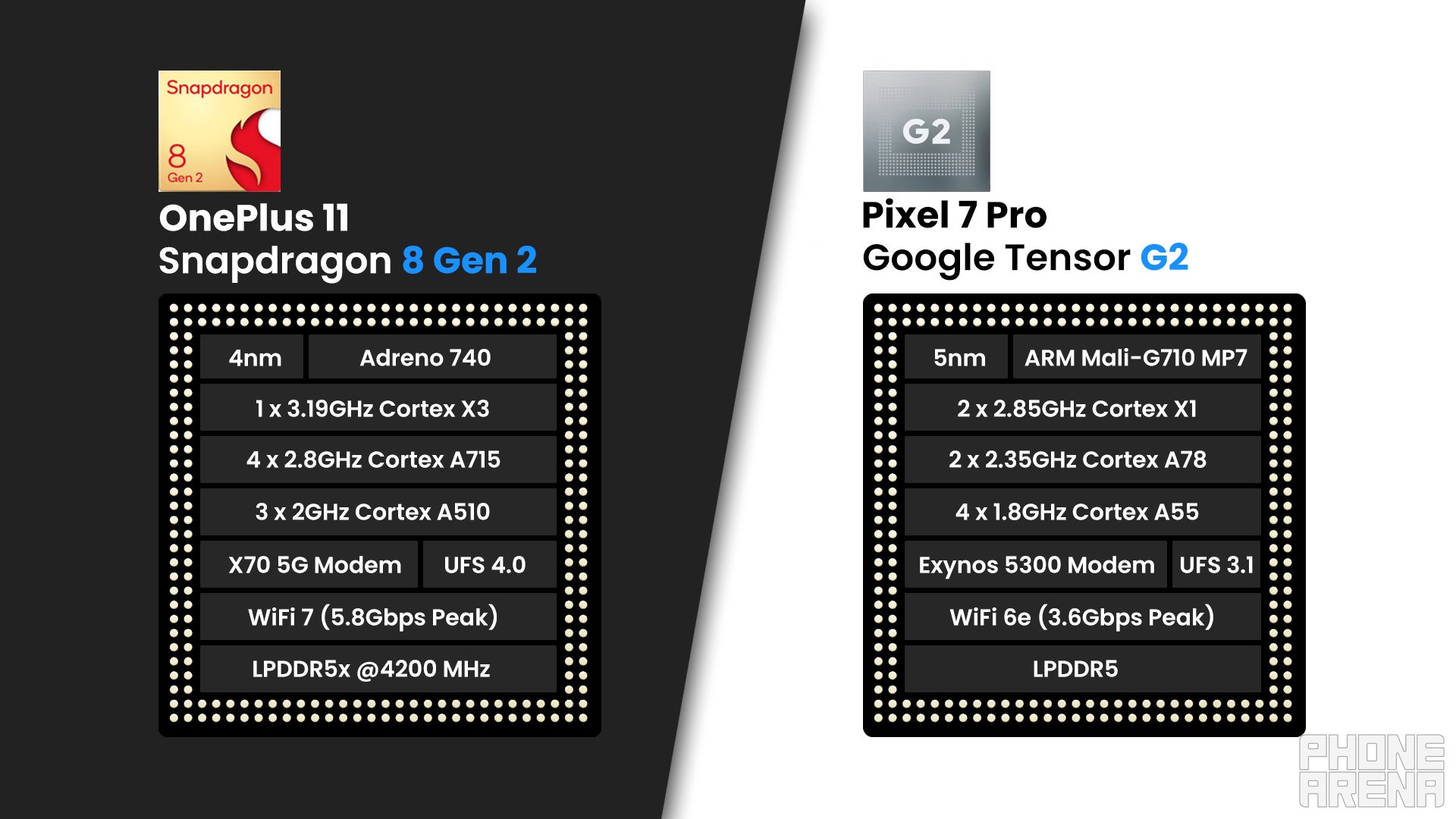 Equipped with the newer Qualcomm Snapdragon 8 Gen 2 chip, the OnePlus 11 has a sizable advantage over the Pixel and its in-house Google Tensor G2 chip when it comes to firepower.

The new Snapdragon 8 Gen 2 shapes up as a beastly performer with good power efficiency.

The base model of the OnePlus 11 comes with 8GB of RAM, less than the 12GB RAM on the Pixel 7 Pro, however, you can also step the OnePlus 11 up to 16GB RAM, and that's an option you don't get with the Pixel. Meanwhile base storage is the same on both models at 128GB.
Performance Benchmarks:
There is also a difference in the software. While technically both phones feature Android 13, the OnePlus has a custom Oxygen OS skin on top, while the Pixel runs its own version of clean, stock Android.
The difference is not just in looks, but also in software updates. The Pixel has the advantage of getting the updates on day one of their release, while the OnePlus takes a couple of extra months to deliver them.
In terms of expected software updates, the Pixel promises 5 years of security updates, and similarly, OnePlus has promised 4 years of major Android updates and 5 years of security updates.
Camera
Can the OnePlus play the Google Pixel's game?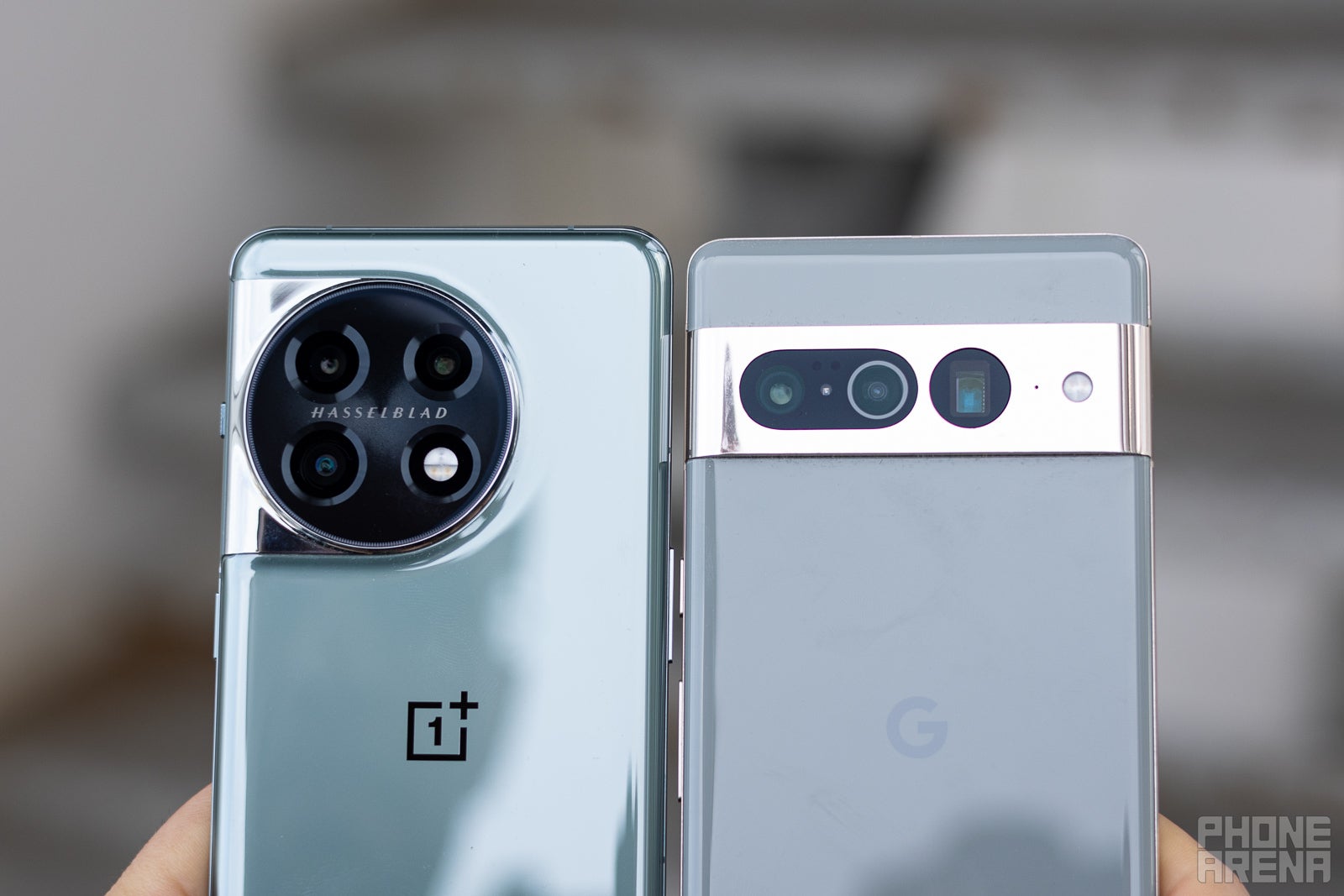 (Image credit - PhoneArena) OnePlus 11 (left) and Google Pixel 7 Pro (right)
While both have imposing looking cameras, we all know that the Pixel has the advantage with its superior processing.
OnePlus has partnered up with Hasselblad once again, but we don't expect miracles.
Looking at the camera hardware, both phones have a triple rear camera system, but the main camera on the Pixel uses a larger sensor, and its zoom camera is an impressive 5X periscope one that gives you excellent zoom range, while the OnePlus only has a 2X zoom camera.
Main Camera - Day
As both phones output 12-megapixel photos, the difference in detail is not all that noticeable, but the difference in the color science is.
The OnePlus 11 goes for these more lively and vibrant colors that are not super realistic, but look good, while the Pixel goes for a more toned down look with a darker exposure.
Main Camera - Night
At night, the two are really close, but we think the Pixel has the upper hand with slightly cleaner-looking photos.
Zoom Quality
The 5X zoom camera on the Pixel helps it get a lot more reach than the OnePlus and it wins this round.
Ultra-wide Camera
We were surprised to see the dynamic range out of the ultra-wide camera of the OnePlus 11 at night, and while during the day there is parity between these two, at night the OnePlus looks better.
Portrait Mode
One area where the OnePlus 11 camera destroys the Pixel is portrait mode. The OnePlus can capture 2X portraits that look great, with a lot more detail and clarity than the Pixel ones. Great showing for OnePlus!
Selfies
The Pixel has a wider selfie camera, which is great if you want to fit more people in the frame, but it also has a contrasty look that not everyone will like. The OnePlus is not perfect either as it sometimes overprocesses selfies (like the second shot here), so we'd just call it a draw.
Video Quality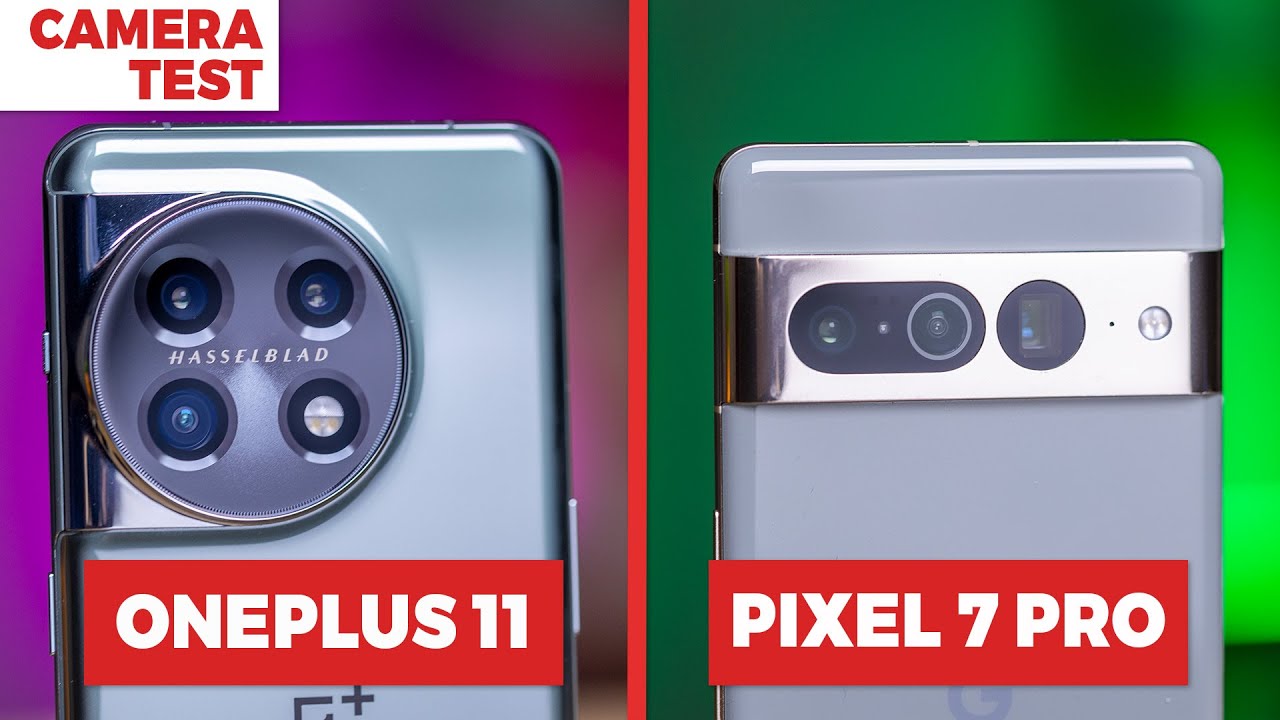 And here is how video quality looks on the OnePlus 11 vs Google's Pixel 7 Pro.
Audio Quality and Haptics
With dual speaker systems that are the norm these days, you have pretty much the same audio hardware on the OnePlus 11 and Pixel 7 Pro with a main, bottom-firing speaker and a helper speaker in the earpiece.
Haptics is another area where Google could learn a lesson or two from OnePlus. The new OnePlus 11 comes with an innovative X-axis linear vibration motor that produces gentle and well pronounced taps that are a great aide while typing and gaming, and for notifications too.
Battery Life and Charging
Can the more power efficient chip on the OnePlus help it get longer battery life?
Both the OnePlus 11 and Pixel 7 Pro come with the same size 5,000 mAh battery inside.
This is a solid size, which has become the norm for flagships, and is a guarantee for a very good battery life.
PhoneArena Battery Test Results:
In our benchmark testing, we found the Pixel 7 Pro outlasted the OnePlus 11 by a slight margin, but consistently in both our web browsing test where we run a script which cycles and scrolls through webpages and in our YouTube video streaming test where we have the same video playlist on all phones.
The big difference between OnePlus and most other mainstream phone makers, however, remains charging and that difference only grows. The OnePlus 11 has 80W charging speeds (and a charger in the box), which means a full charge takes about half an hour, while the Pixel with its 23W charging speeds takes around 1 hour and 40 minutes. A massive difference!
The OnePlus 11, however, does not support wireless charging, while the Pixel does.
Specs Comparison
And here is a quick overview of the specs differences between the two:
Specs
OnePlus 11
Google Pixel 7 Pro
Dimensions and weight
163.1 x 74.1 x 8.53mm
205g (7.2oz)
162.9 x 76.6 x 8.9mm
212g (7.5oz)
Screen
6.7" OLED, 1440p, 20:9
1-120Hz Dynamic refresh rate
6.7" OLED, 1440p, 19.5:9
120Hz Dynamic refresh rate
Processor
Qualcomm Snapdragon 8 Gen 2
Google Tensor G2
RAM + Storage
8GB RAM + 128GB storage
16GB RAM + 256GB
*LPDDR5X RAM, UFS 4.0 storage
12GB RAM + 128GB storage
12GB RAM + 256GB storage
12GB RAM + 512GB storage
Cameras
50MP main camera, Sony IMX890 sensor
48MP ultra-wide, Sony IMX581 sensor
32MP 2X zoom, Sony IMX709 sensor

16MP front cam with 1080p video
50MP main camera, Samsung GN1 sensor (1/1.31")
12MP ultra-wide, Sony IMX581 sensor (1/2.9")
48MP 5X zoom, f/3.5, Samsung GM5 sensor

10.8MP front cam with 4K video
Battery Size
5,000mAh
5,000mAh
Charging Speeds
80W wired
*no wireless charging
23W wired
23W wireless
Price
from $699
from $900
Summary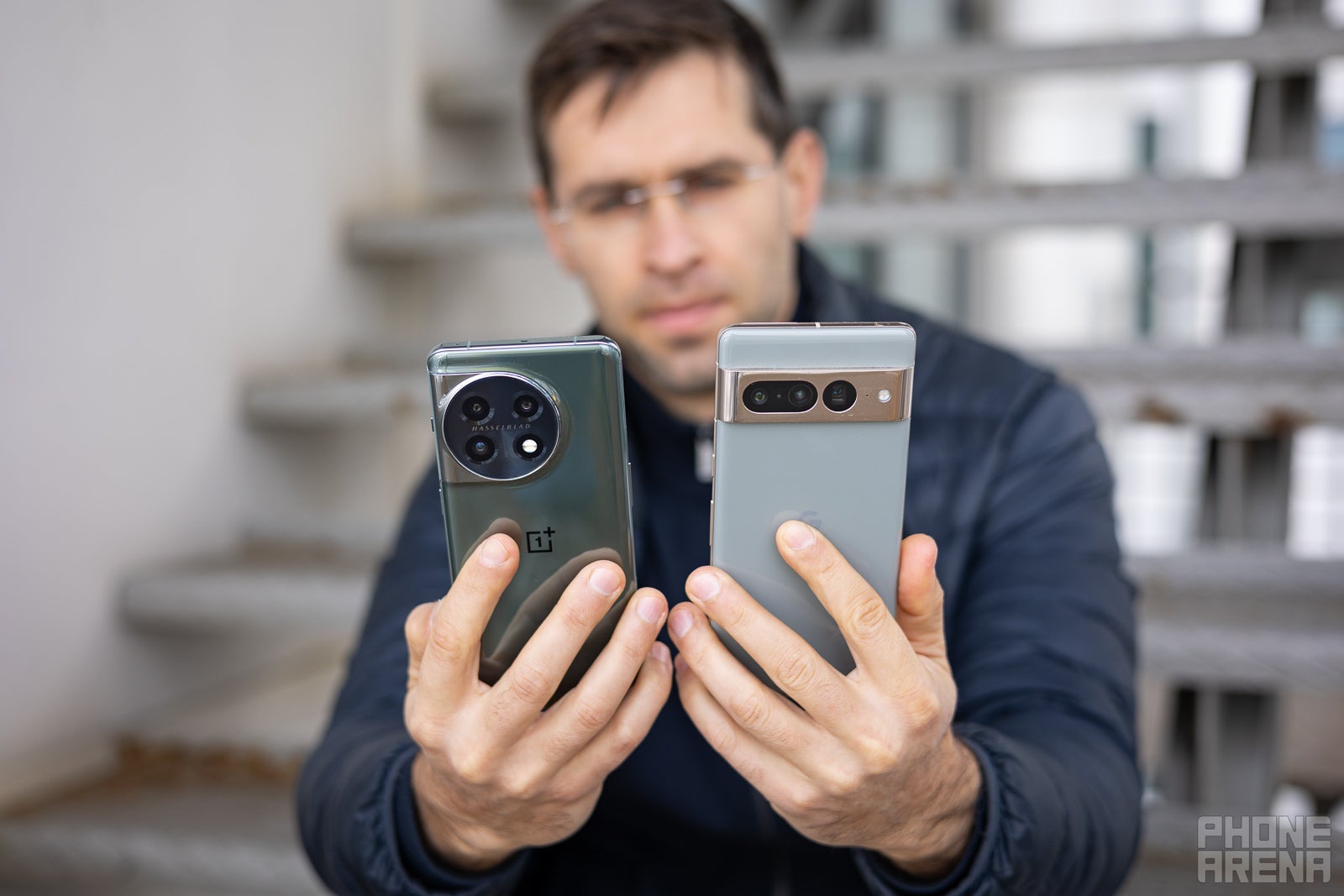 (Image credit - PhoneArena) OnePlus 11 (left) and Google Pixel 7 Pro (right)
So at the end of the day, the OnePlus 11 is reliable and speedy performer with fast charging, excellent screen quality and an improved camera.

While it's not a camera revolution, we were very happy with the camera quality and having that 2X lens for portraits put the OnePlus ahead in that categroy.
The Pixel 7 Pro has got faster updates on its side, it runs a clean and more intuitive version of Android, and overall its camera quality is still a bit better, but it is also more expensive.
It's a really tough choice between these two, especially considering the lower price of the OnePlus, but which one would you go for?
Recommended Stories