Nokia Lumia 928 vs Samsung Galaxy S4
89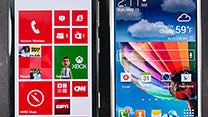 Introduction:
Trying to dethrone a king is a tough task to accomplish, especially when its lineage has been around for what might seem to be ages. Well, that's exactly what we're seeing here in this comparison, as we take the newly minted
Nokia Lumia 928
against the magnitude of star power behind the
Samsung Galaxy S4
. Arguably the two best handsets for their respective platforms, the Lumia 928 might seem insignificant against the imposing presence of Sammy's flagship, but the true test to find a winner is to pit the two head-to-head in each category.
Design:
Looking at the two, it's not surprising that their designs are iterative, but if we have to pick, we'll give it to the Nokia Lumia 928 by just a smidgen. Sure, the Galaxy S4 is thinner and lighter, but it just simply doesn't come off as the more stylish device between the two – even more when it still, you know, looks like the Galaxy S III from afar. In contrast, the Lumia 928 still employs the distinct design characteristics of past Lumia devices, but we appreciate its more solid build quality, so if the two were accidentally dropped, we'd feel more confident that Nokia's prodigy would handle it better. Furthermore, there's just this stylish appeal with its hard lines and tapered design.
Even though the two feature distinctive power buttons and volume controls, the Galaxy S4's set seem to be the more responsive – whereas it's lacking with the Lumia 928. Taking a peek around the bezels of the two smartphones, they're packing all the same ports and buttons. To be specific, they include the standard mic, noise-cancelling mic, 3.5mm headset ports, and microUSB ports. With the latter, though, the Galaxy S4 offers the useful functionality of video-out. And finally, the S4's feature set is strengthened by the addition of an IR blaster, which doubles for a universal remote.
Display:
At the heart of these two titans, they both pack AMOLED panels that showcase all the lovely qualities that we adore about the display tech – like their oversaturated colors, wide viewing angles, and deep black reproduction. However, the higher resolution of the Samsung Galaxy S4's 5-inch 1080 x 1920 Super AMOLED display simply outshines that of the 4.5-inch PureMotion HD+ 768 x 1280 AMOLED panel on the Lumia 928. Frankly, the difference in detail superiority is instantly evident as we take notice of the sharpness associated with the Galaxy S4's display. Indeed, the two are unique amongst other things for their super sensitivity, which allows us to interact with them with glove on, but yet again it's the Galaxy S4 showing its depth with its new capacitive panel that allows us to hover over the display with our finger.