Motorola DEFY+ Review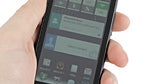 Introduced at the end of last year, the original Motorola DEFY was a fun and compact Android model from the Schaumburg-based company. It managed to stand out from the crowd by being both rugged and well feature-packed. Among its key features, one could find the reinforced Gorilla Glass, dust- and water-proof body, as well as a sizable 3.7-inch touchscreen and the Android 2.2 OS.
Motorola DEFY+
! It's pretty much the same phone, but equipped with a slightly better processor – the
TI OMAP 3620
, clocked at 1GHz, replacing the OMAP 3610 800MHz one found in the original, and an updated OS, in this case – Gingerbread. These improvements sure seem minor, but still, the handset appears to be up-to-date, compared to other mid-range offerings right now. Let's take a closer look and see how it performs!
What we really adore in this handset is how it combines a nicely-sized
3.7" display
with a body that can be considered very compact by today's standards. Indeed, when you compare the Motorola DEFY+ with some other 3.7" phones, there's a staggering difference in terms of overall dimensions. The DEFY+ isn't very thin, but it fits nicely in the hand and is very comfortable to operate.
The device is made of plastic and has a
soft-touch finish to the back side
. The DEFY+ doesn't hide the fact that it's a tough phone. Its styling has
"rugged"
written all over it – from the tight covers of the 3.5mm jack and microUSB port, to the special lock of the back cover.
The 3.7-inch display of the Motorola DEFY+ comes with a resolution of
480x854 pixels
and delivers very good image quality. The resolution is just enough to allow fine details and text to appear crisp, while colors look pretty well-balanced. Unfortunately, visibility under direct sunlight isn't good.
Below the display you have the traditional
four capacitive buttons
for navigation in Android Gingerbread. These are quite close to the
edge
of the display, but we didn't experience many accidental presses. Motorola has done well here. Both the volume rocker and the power key do an audible "click" when pressed, and they are relatively easy to use, but also a bit wobbly, which adds just a bit of a toy-like feel to the Motorola DEFY+. On the back, we find a
5MP camera
, complemented by an LED flash. We'll tell you more about the camera performance in the respective section.
Being an
IP 67-certified
device, the Motorola DEFY+ is fully protected against dust and other particles, but it can also survive a submersion under water up to 1 meter for up to 30 minutes. If you happen to be somewhat careless when handling your cell phone, the DEFY+ may be the perfect solution for you.
Motorola DEFY+ 360-degrees View: