Honor MagicWatch 2 Review
8
We may earn a commission if you make a purchase from the links on this page.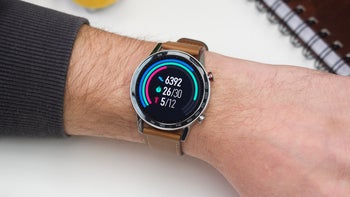 Summary
The Honor MagicWatch 2 is understated, yet elegant — you won't be embarrassed to be seen with it out in public. It lacks the variety of features and options of competing smartwatches, but it makes up for that with incredibly long battery life and deep health tracking options.
It runs a custom operating system and needs the Huawei Health app to pair with your Android device or iPhone. Its UI performance is a bit sluggish, but its screen is strikingly pretty. For about $220 — if you can get your hands on one — it can definitely be worth getting.
Design and display
The Honor MagicWatch2 gets its looks straight from the Huawei Watch GT2. It does a great job at looking like a classic watch, with a tachymeter bezel and a body that's not bulky.
In terms of size, it comes in two options — a 42 mm and 46 mm one. The former is extra slimmed down as its the feminine model. The latter makes use of the extra space by adding an internal microphone as well as more battery.
The 326 PPI OLED display is sharp, vibrant, and bright. The 46 mm version we have has a 1.39-inch panel, which feels large enough to be visible in any scenario.
The watchfaces are… an acquired taste. There aren't many to choose from and we didn't find ourselves liking most of what's on there. A few of them offer minor customization, but nothing to wow.
It's also worth noting that the Always On screen of the watch does not match your watchfaces. You've got a choice between digital and analog for the Always On display and that's it. Not a big deal, it just feels a bit jarring when you lift your MagicWatch 2 only to see the screen change into a totally different style of watchface.
You don't have many options for bands when purchasing, but you will be happy to know that the MagicWatch 2 accepts your standard pin straps — 22 mm for the large variant and 20 mm for the smaller one.
We have the silver 46 mm version with a leather strap. It fits nicely on a medium-sized wrist and feels comfortable even when attached snug to get those heart sensor readouts right.
There are two buttons on the side — the top one acts as a home / power key. The bottom one is customizable and is set to "start workout" by default. We noticed that the buttons can spin, but were disappointed to find out that they don't act like digital crowns in any part of the software.
Software
The Honor MagicWatch 2 runs on a custom operating system, called LiteOS. In order to pair it to your smartphone, you need to download the Huawei Health app. This will work for both Android and iPhone, but you will miss out on a few features if you are on iOS.
It's also worth noting that we had real trouble pairing it to a Samsung Galaxy Note 10+, but that could be Samsung's fault as well — its interfaces have always been notoriously picky when it comes to Bluetooth accessories. When we picked up a ROG Phone II, the MagicWatch 2 paired up with it instantly.
LiteOS has a steady selection of base features — 15 fitness tracking modes that include the most popular sports, as well as a special "Running courses" menu that'll help you start running with guided workouts. There's also a comprehensive sleep tracker that kicks in automatically when you go to bed, a music control (doesn't work for iOS), continuous heart rate and stress measurements, as well as Bluetooth phone calling (works on both Android and iOS). The latter is only available on the 46 mm model, which features the built-in microphone.
The Huawei Health app will collect all of the data from the MagicWatch 2 and give you some impressively detailed charts and readouts. The app itself is really simple to understand and follow, yet you can go really deep with the stats for each individual workout. It also syncs up to Google Fit, but it doesn't retroactively feed it data — it only starts doing so from the point you link the two apps onwards.
You've got about 2 GB of space to fill up with your favorite songs so you can leave your phone or mp3 player at home when jogging. Sadly, you can't sync it with your downloaded playlist from services like Spotify. You need to manually fill it with mp3 files — like in caveman times.
Outside of these base features, there's not much to do with the MagicWatch 2 — you can't download external apps for it through any dedicated app store.
Performance and battery life
The MagicWatch 2 won't strike you as a performer. On the contrary — it has noticeable input lag and low framerate. However, these are constant — they aren't annoying stutters or unpredictable crashes. It just feels like the watch has been throttled to run in low performance mode so that it can deliver its amazing battery life.
On to that — Honor claims up to 14 days of use on a single charge. We were feeling a bit adventurous, though, so we cranked all the settings up. With an always-on-display active, constant heart-rate monitoring and automatic stress monitoring active, the watch would only drop about 10% per day. That's an amazing feat.
OK, if you throw in a workout session with GPS tracking in there, you'd certainly lose a bit more, but rest assured that you will never feel "battery phobia" with this watch as long as you remember to charge it once every few days.
Recommended Stories