Fossil Gen 5 Carlyle HR Review
4
We may earn a commission if you make a purchase from the links on this page.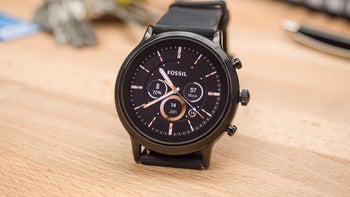 Summary
With a sleek and stealthy look, the Carlyle is both understated and stylish. It has a selection of watchfaces on board that fit the looks just right, too.
It's a vanilla Fossil Gen 5 watch, which means it runs on Google's Wear OS, has a battery that can last for a day, and a built-in speaker that you can use for actual phone calls. Yes, even if your watch is paired to an iPhone.
For $295, is it worth a buy? Eh... maybe if you catch a discount.

Design and Display
The Fossil Carlyle would be a good choice for those that like their watches to be non-flashy. Especially the black variant that we have here, which manages to stay low and stealthy.
In terms of size, its 44 mm body fits quite well on medium wrists and can look ok on smaller ones, too. If you are looking for something bold and bulky a-la Galaxy Watch, this isn't it.
A lot of the built-in watchfaces fit the minimalist aesthetic, but there are also some abstract, colorful choices to go through. And, if you don't like any of them, there's a watchface customizer, which will help you hit the sweet spot you are looking for.
Our unit came with the silicone strap, which is quite soft and comfy, but a dust and lint magnet, as you can imagine. On purchase, you can go for a leather or metal strap at no increase of cost. Or just get your favorite strap, since these are a 22 mm standard.
Software and performance
The Gen 5 watches are powered by Qualcomm's Snapdragon Wear 3100 chip and have 1 GB of RAM plus 8 GB of storage. From our experience, the Carlyle runs just fine, with no hiccups, lags, or noticeable delays.
The software is as vanilla as can be — the only thing added on top is a Fossil app, which is basically the library where you save your custom watchfaces, and a Nike Run Club app, which... you know, helps you track your runs.
Automatic workout detection? Well, we didn't get any. But, when activating your tracking manually, you've got a ton of sports to pick from — even skateboarding, which for some reason is often omitted.
The watch has a GPS of its own, but it will use the phone's assistance for location tracking whenever it's paired. The wearable can mostly track a workout route without much issues. But it can also be wonky some times — we had a scenario where it didn't track half a hike or teleported us a street away. So yeah, don't trust it to be 100% on point.
Battery life
Battery life gave us mixed results. In general, we would trust the Carlyle to take us through a day on a single charge, though in some odd moments the battery drain was way more than it should be. Using Wear OS' battery profiles will help you extend the duration to possibly two days, but that'd require minimum usage and a fair dose of optimism.
Recommended Stories