Woot has Amazon's popular Fire 7 and Fire HD 8 on sale at ultra-low prices (refurbished)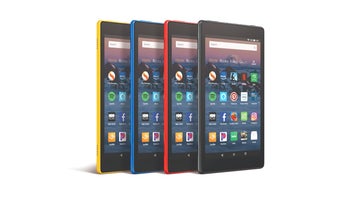 While it's definitely hard to argue with the value proposition of
Amazon's latest ultra-affordable 7-inch Fire tablets
, there's actually a way for you to get an even cheaper 7 or 8-inch model right now.
Woot is selling a 2017-released Fire 7 with 16GB internal storage at $34.99, whereas 2018's Fire HD 8 can be purchased for as little as $59.99 in a 32 gig configuration. Both slates are available in refurbished condition at these super-attractive price points, but don't worry, as Amazon daughter company Woot vouches for their fully functional state, throwing in a 90-day limited warranty at no extra cost.
Furthermore, your orders will be fulfilled by Amazon itself, so this experience is going to be exactly like shopping through the popular e-commerce platform. That's right, you'll even get free shipping if you're a Prime member.
Check out the Fire HD 8 deal here
As for the deals themselves, the one on the Fire HD 8 looks pretty awesome. After all, this is
the 8-incher's newest edition
, and it typically fetches a significantly higher $109.99 in brand-new condition on Amazon. For 60 bucks, you get a reasonably sharp 1280 x 800 display, a respectable quad-core processor paired with 1.5GB RAM, dual stereo speakers, and up to an impressive 10 hours of battery life in "mixed" use. By the way, the unused Amazon Fire HD 8 (2018) ships with the same 90-day warranty as these refurbished units. And you can even choose from a full range of paint jobs at $59.99, including black, red, blue, and yellow.
Meanwhile, the $34.99 Fire 7 (2017) is only available in black and, although incredibly affordable, it doesn't quite seem like a must-buy at that reduced price. That's because the newer edition costs $15 extra in brand-new condition with the same 16GB storage count. Still, if you want to maximize your savings, Woot is definitely the way to go.
Keep in mind that both deals are technically set to expire on June 7 at 12 AM CT, although something tells us supplies won't last that long.
Check out the Fire 7 deal here