Ultimate Ears Boom 3 and Megaboom 3 Bluetooth speakers can 'magically' access your playlists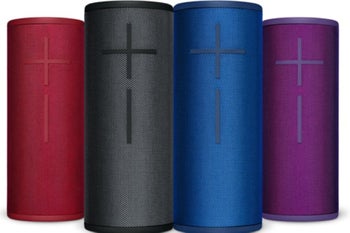 It's not easy to stand out in today's "dumb" speaker market, but even though the newly unveiled Ultimate Ears Boom 3 and Megaboom 3 come without any sort of voice assistant integration, these are definitely stylish, durable, and powerful enough to warrant the attention of budget-conscious audiophiles.
Following in the footsteps of the wildly successful
UE Boom
, Boom 2, and Megaboom (for some reason, we never got a Megaboom 2), the $149.99 Boom 3 and $199.99 Megaboom 3 both offer "carefully balanced" audio and 360-degree sound letting you hear every note "just as the artist intended."

Obviously, there are pricier, louder, higher-quality Bluetooth speakers on the market right now, but these two bad boys will certainly turn a few heads in your living room, around the pool, or during your travels with a snazzy two-toned, high performance fabric design.

Available in Night, Sunset, Lagoon, and Ultraviolet color options, aka black, red, blue, and purple, the Ultimate Ears Boom 3 and Megaboom 3 share IP67 water and dust resistance, as well as protection against (light) drops, making them "ready for any adventure." They'll even float to avoid the risk of losing them at the bottom of a lake or river.

But the pièce de résistance in terms of added features compared to previous Boom and Megaboom generations is undoubtedly a so-called "Magic Button." That allows you to control your tunes on the actual speakers, playing, pausing and skipping tracks without needing to locate your phone first. Even better, iOS users can access their favorite Apple Music playlists directly from their Magic Button (after pairing the Bluetooth speakers with a redesigned Boom & Megaboom by Ultimate Ears mobile app), while Android phones can sync Deezer Premium content to the Boom 3 and Megaboom 3 for Magic Button navigation.
As for what sets the Megaboom 3 apart from its little brother, distinguishing features include "deeper bass and improved clarity." A repositioned USB port lets you actually use the speakers while charging them in the old fashioned way, with a Power Up dock capable of adding
wireless charging
functionality in the mix at an extra cost of $39.99. Availability begins in the US and "select" countries in Europe and Asia next month.