uNu to release the Ultrapak – portable batteries that charge very fast
3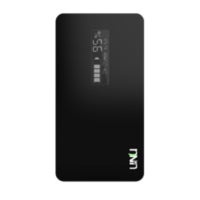 Smartphone accessory maker uNu Electronics, known for its portable batteries and
charging cases
, is about to release a new line of products, called the Ultrapak. The new solutions will have the same qualities of durability and portability as the manufacturer's older models, with the added benefit of charging up their rather large batteries for very short amounts of time.
Employing the company's ULTRA-X technology, which combines a premium battery that can take a beating and an IC chip, which manages the process so that cells charge in parallel, instead of in series, the Ultrapak is able to charge up to 70% of its capacity in 15 minutes. The device features a smart LED display that shows you its load percentage and time remaining until it is at maximum. From then, transferring the charge to your smartphone is a matter of connecting it via the good old USB data cable. Designed for people on the go, it also features an integrated flashlight and a durable case.
There are two devices in the Ultrapak line – the Ultrapak Go, with a 3,000 mAh battery and a single USB output providing 5 V at 2.1 A, and the Ultrapak Tour, with the impressive 10,000 mAh battery and two outputs providing 5 V at 1 A and 5 V at 2.1 A. Priced at $59.99 and $99.99 respectively, uNu will start shipping the new products on the 25th of August.
source:
uNu Electronics
via
Mashable