T-Mobile's next big round of freebies and perks is both food and movie-themed
1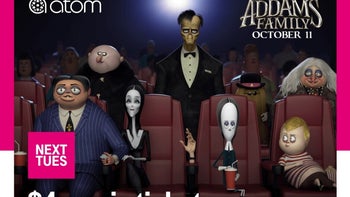 It looks like T-Mobile will continue to
put delicious things on your plate
while trying to
clear various hurdles
delaying its
long-in-the-works Sprint takeover
, as well as the "Un-carrier's"
5G network expansion
. Next Tuesday's slate of freebies, perks, and discounts is not all about food, though, and in fact the advertised list on
Magenta's dedicated webpage
is headlined by a different special offer.
We're talking about an oldie but a goodie, making its return ahead of the October 11 release of the new "Addams Family" movie. As long as you don't forget to claim your Atom Tickets promo code in the T-Mobile Tuesdays app on October 8, you'll be able to check out the 3D computer-animated comedy horror film in a theatre near you for a measly $4. While the reviews are not in yet, the latest adaptation of the classic comics first printed way back in the 1930s looks pretty attractive for hardcore fans of the franchise, with an all-star voice cast featuring Oscar Isaac, Charlize Theron, Chloe Grace Moretz, Nick Kroll, and Snoop Dogg among others.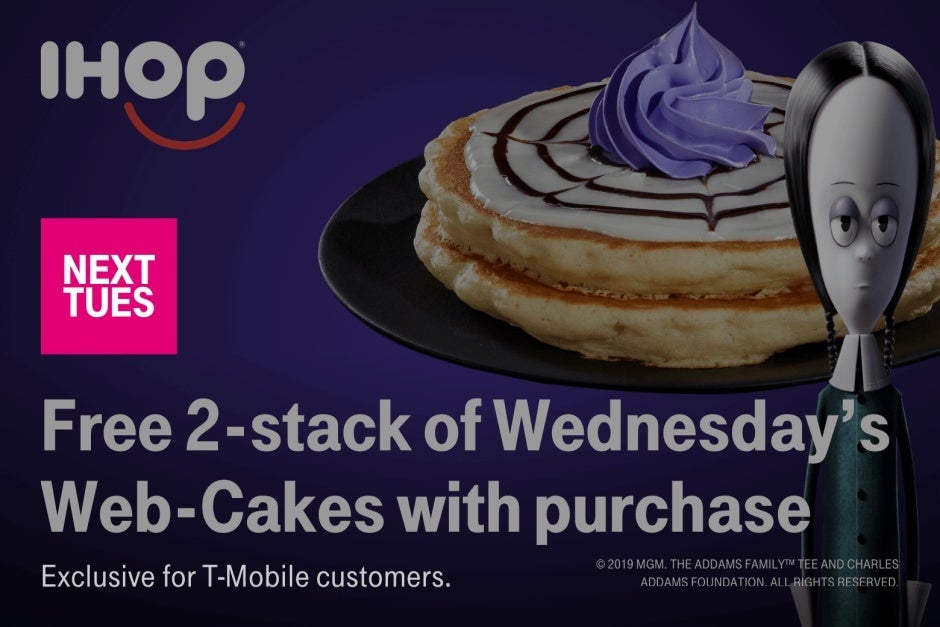 Said hardcore fans of The Addams Family properties and characters might also be interested in scoring a free 2-stack of Wednesday's web-cakes with purchase at IHOP. These "web-cakes" are
described on the official website
of the popular pancake house restaurant chain as "fluffy, signature Buttermilk pancakes topped with cupcake icing, webbed with Hershey's Chocolate syrup and topped with violet whipped topping."
Now try not to drool all over your keyboards and screens until next Tuesday, when you'll be able to claim this complimentary special Addams Family menu item created in honor of the character voiced by Chloe Grace Moretz free of charge (with a different purchase). If you're feeling hungry for even more killer deals on popular food items, a small drink + pretzel combo for $1 will await at Auntie Anne's, not to mention that recurrent Taco Bell freebie of your choice, which is set to remain valid every week through October 14.
Other returning deals include reserved tickets for select Live Nation shows, $0.10 off per gallon of gas at Shell, and up to 40 percent discounts on Booking.com hotel reservations.