Deal: Sony Xperia XZ2 for $390, open-box at Best Buy
4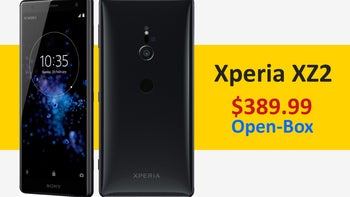 If you've been looking to pick up a Sony Xperia XZ2, now may be a perfect chance to take advantage of Best Buy's new deal on the phone.
Released in April this year, the Xperia XZ 2 marked a new chapter in Sony smartphone design. It features a glass-and-metal construction with curved back and rounded edges, complemented by an ever so trendy 18:9 LCD display. Above and below the display, a pair of quality speakers offer quite a bit of punch and stereo sound. On the back, a 19MP Motion Eye camera capable of shooting video at 960 fps and, for the first time ever on a smartphone, 4K HDR video. To top it all off, Snapdragon 845 under the hood.
The Xperia XZ 2 is usually $699.99 at Best Buy, but if you're willing to settle for an open box, you can get an XZ 2 in excellent condition for just $389.99. The listing is for the Black version of the Xperia XZ 2, and considering the tech inside, it's quite a bargain (if you're alright with an open box, that is). If you're interested in this deal, visit the link below and click on "Open-Box" to check availability.
OTHER GREAT DEALS: