Deal: Brand-new Samsung Gear S3 for just $189.99 at Costco
1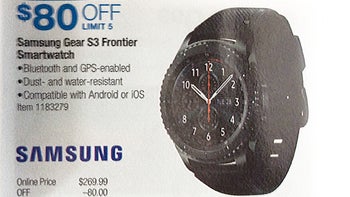 Costco Holiday Savings flyer spills the beans on the upcoming deal
With Black Friday just around the corner, we are about to get flooded with great deals. And if you're in the market for an affordable smartwatch, the first wave of such deals from Costco is about to hit real soon.
If you're looking for a new smartwatch, but are not prepared to drop the money on a new Galaxy Watch or an Apple Watch Series 4, then you may want to consider this Samsung Gear S3 Costco deal that will reduce the price of the wearable with $80, down to $189.99. Yes, that's for a brand-new Gear S3, not a refurb.
The listing for this deal was
spotted
in a Costco Holiday Savings flyer and is expected to come into effect on November 16 and end on November 26. It is going to be available only to Costco members through the company's website, so you might want to
bookmark the webpage
and check it on Friday, November 16, to see if you'll be able to snag a brand-new Samsung Gear S3 for the low price of $189.99.
If you want to learn more about the Samsung Gear S3, check out our
full review
of the smartwatch.