Sony Xperia XZ2 Review
89
UPDATE:

You can now read our Sony Xperia XZ3 Review!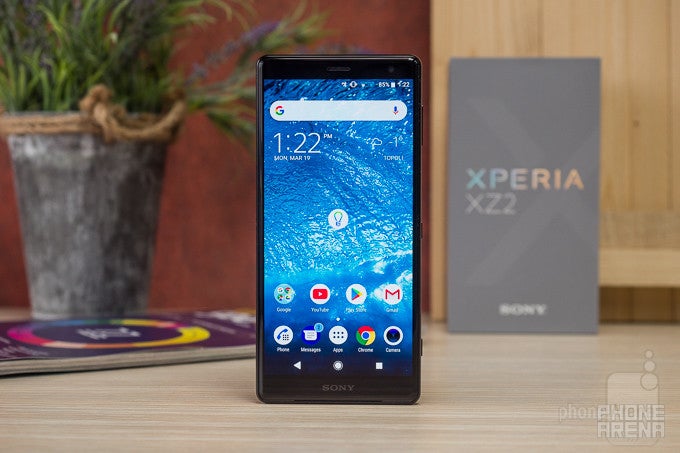 Sony has a new flagship phone, and this time it shows. It's called the
Sony Xperia XZ2
, and it marks a stark shift in the company's design philosophy, abandoning the flat, boxy appearance of its predecessors in favor of curved shapes and uninterrupted lines.
And the XZ2 isn't just about looks. It's also a multimedia powerhouse equipped with an 18:9 HDR display, front-facing stereo speakers, and a 19MP camera unique with its ability to shoot HDR video. Qualcomm's fastest chip to date, the Snapdragon 845, completes this undoubtedly premium package.
But ultimately, is the Sony Xperia XZ2 as great of a phone as it seems on paper? I spent a week with it to find out.
Design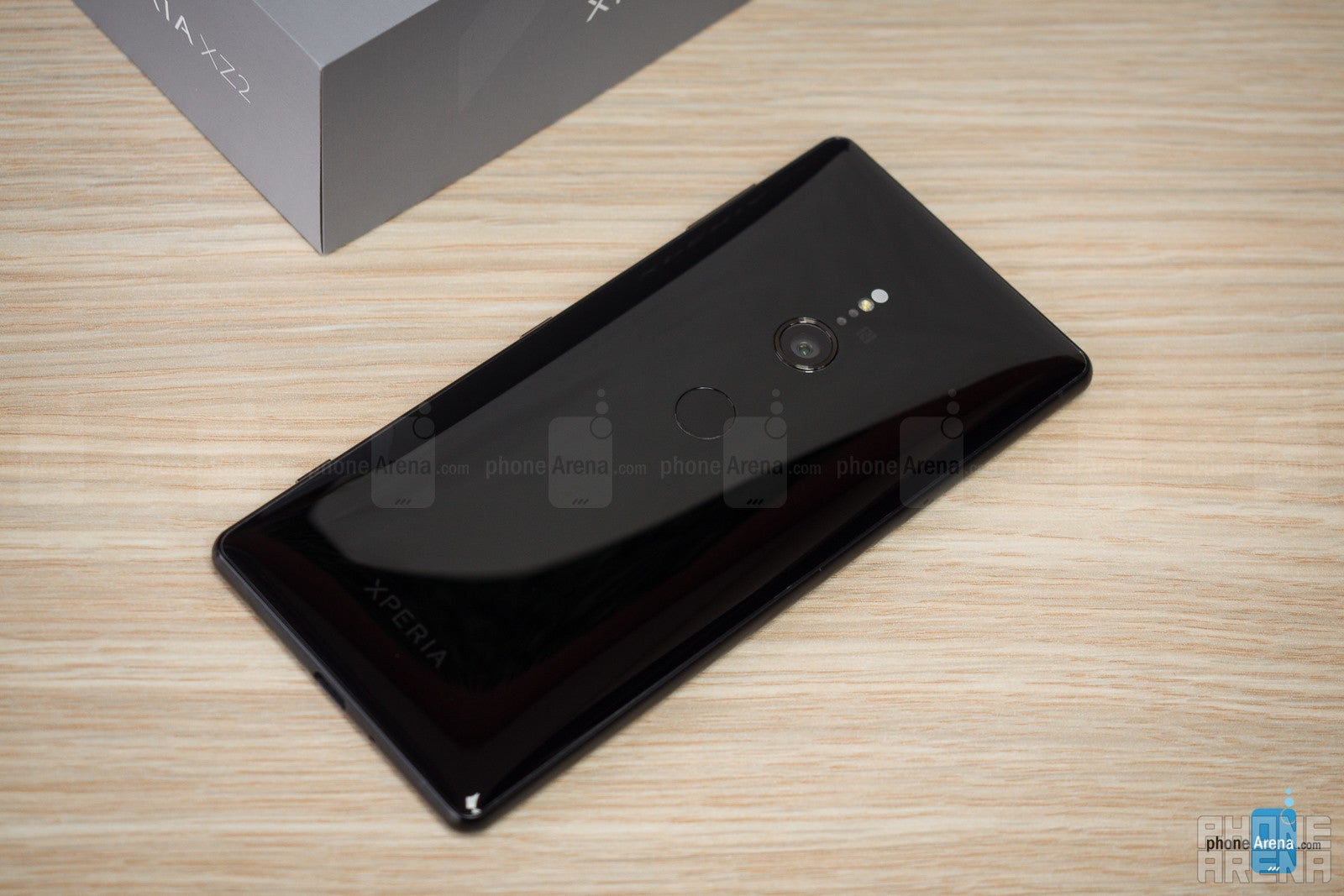 Some phones look better in person than they do in photos, and the Sony Xperia XZ2 is one of them. While previous Xperia models had a distinctive old-fashioned appearance, the company's latest flagship has a fresh, modern design without being overly flashy.
You won't find any plastic components in use on the XZ2. Light bounces off beautifully from its curved glass back, while a solid metal frame holds it all together. Fingerprints do stick easily to its surface, but they're of little concern, as they seem to be quickly wiped off by the insides of my pocket. Despite the redesign, the phone is still water-resistant, just like its predecessor and many other phones in its class.
But as with any other phone, there are things that Sony could have executed better. For instance, even though the bezels have been trimmed down considerably, even last year's
Galaxy S8
and
LG G6
could fit an equally large screen within a smaller footprint. In other words, the Xperia XZ2 isn't the most compact 5.7-inch phone one can get.
It isn't the slimmest or lightest phone in its class either. Normally, this wouldn't have been much of a big deal, and a solid construction makes a phone more resistant to bends and twists. However, the combination of sloping curves and considerable weight make for one unusually slippery phone. I've dropped our review unit once – on a thick carpet, fortunately – and it has been close to slipping off from my hands on multiple occasions.
One neat little extra you'll find on the Xperia XZ2 and on none of its competitors is the dedicated camera button on the side. One thing you won't – a 3.5mm headphone jack.
Fingerprint scanner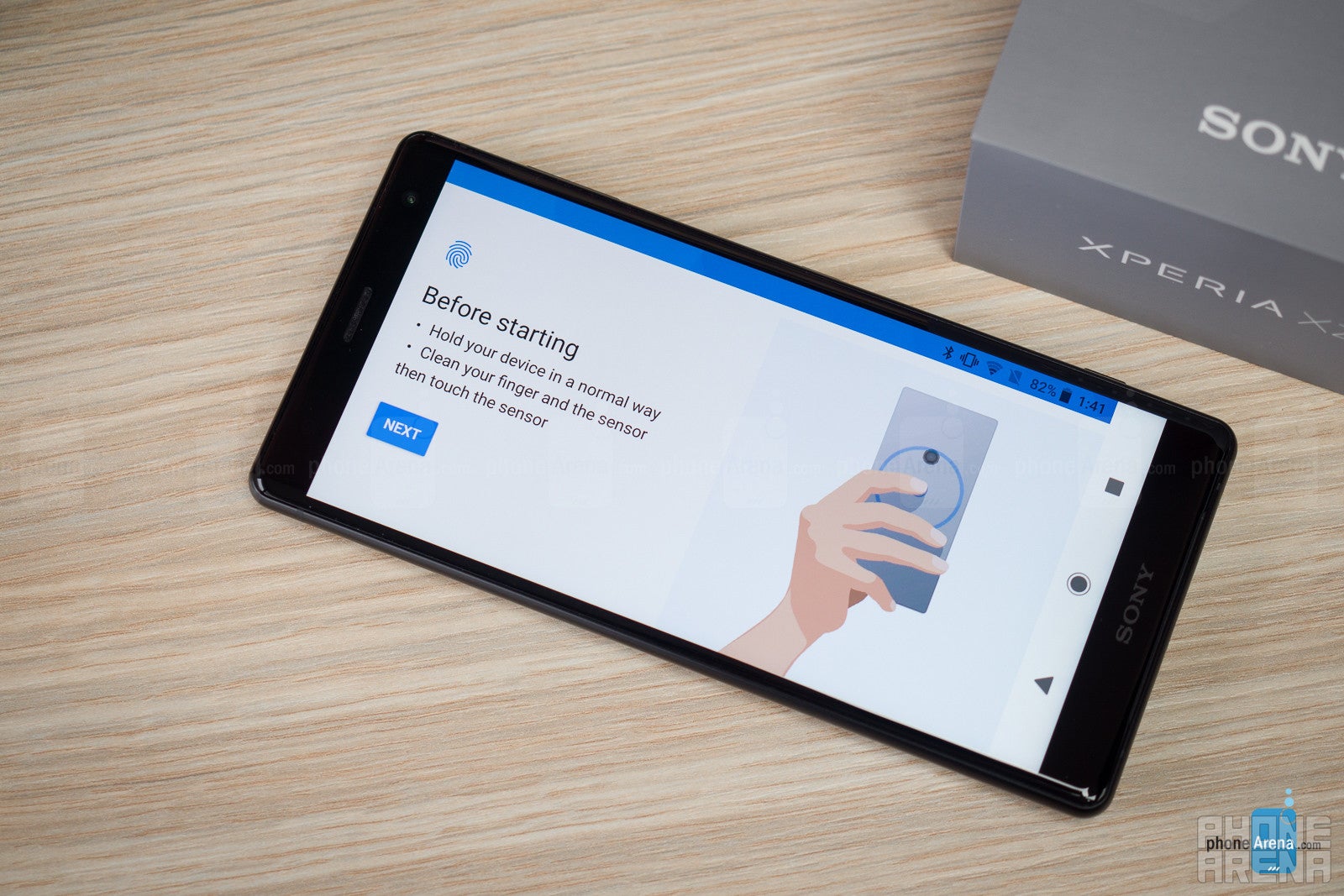 First, the good news: the Sony Xperia XZ2 comes with a fingerprint scanner – located at the back, below the camera – and yes, it will work even on the units sold in the US. The scanner itself is fast, fails rarely, and unlocks the device without the need for its screen to be lit. But it is also far from the most convenient I've ever used.
When holding the phone, my index finger naturally lands about two centimeters higher than it should, right on top of the camera lens. At the same time, the scanner is nearly flush with the back side, meaning that locating it simply by touch may require some blind hunting. I gave the phone to ten of my colleagues and asked for their opinion on the scanner's placement. Nine of them shared my impressions.
Display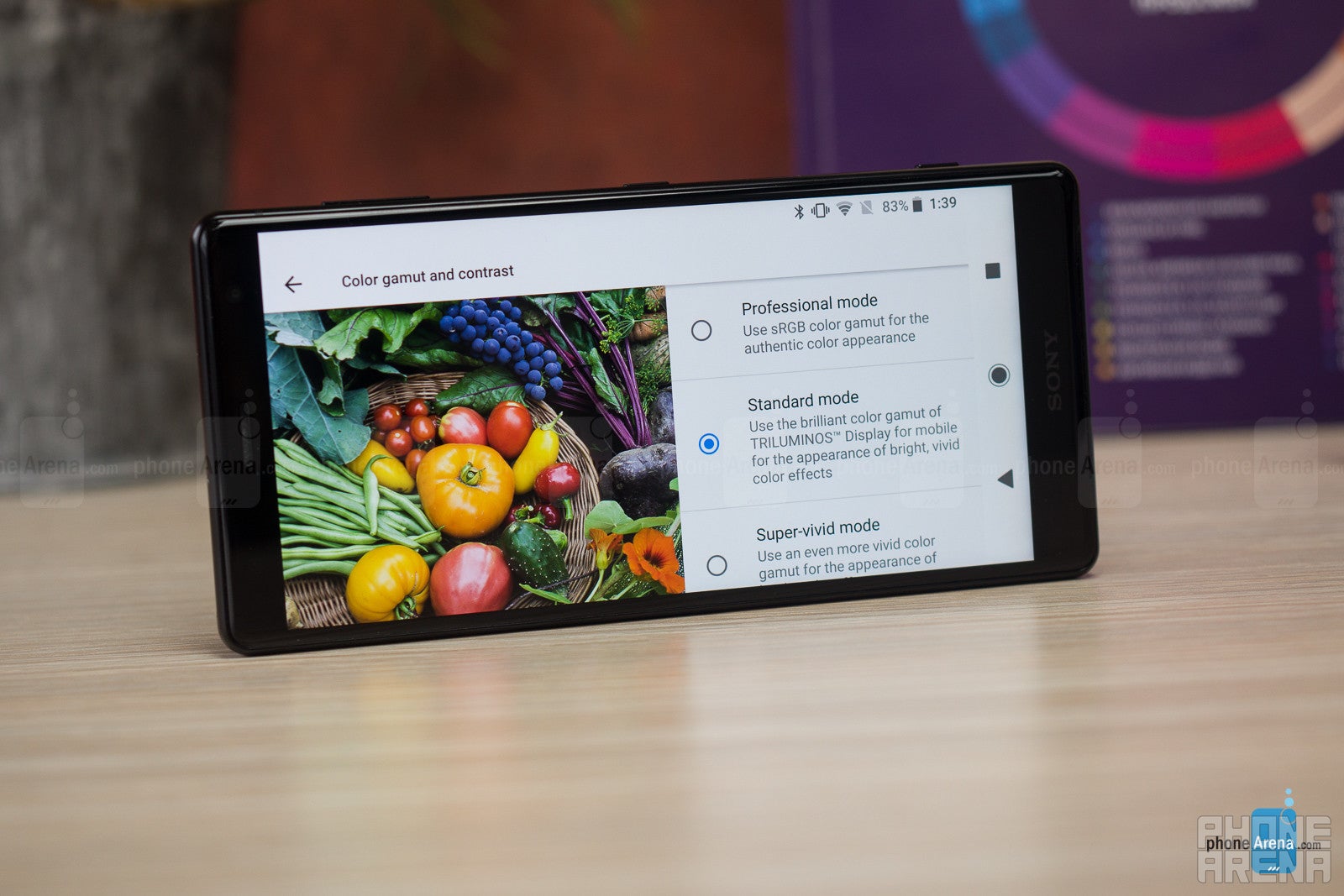 18:9 displays are gradually becoming the norm among smartphones, and Sony is the latest to join the club. What this means is that the screen on the Xperia XZ2 is slightly taller than what was typical for a phone until about a year ago. More importantly, we have a 5.7-inch display on a phone that's as big as the 5.2-inch Xperia XZ1.
The screen itself is of the LCD variety and has a resolution of 1080 by 2160, producing sharp, clear visuals. Colors are vibrant, but not overly so, while display modes and tweaks let you fine-tune color reproduction in case you want to reduce the slight blueish tint. Outdoor visibility hasn't been an issue during our testing.
Since this is an HDR display, you can enjoy HDR video with brighter and more saturated colors. Both HDR videos from YouTube's library and the ones you record can be played back without issues on the Xperia XZ2.
Display measurements and quality
Software and functionality
Out of the box, the Sony Xperia XZ2 comes with Android 8.0 Oreo, and on top of it we have Sony's familiar set of modifications. To a great extent, the phone feels identical to previous Xperias and has a "stock" feel overall.
One thing that's new is that lifting the phone will automatically display the time and date in a minimalist fashion, as well as pending notifications if you have any. Unlocking the phone from here is an act accompanied by a subtle, yet neat animation before you're taken to your home screen.
Since the 5.7-inch Xperia XZ2 can be tricky to handle, Sony has added a one-handed mode, which is accessed by swiping horizontally across the navigation bar. What Sony could have also added are fingerprint scanner gestures, such as swiping down to bring down your notifications panel. Swiping down on the home screen doesn't do that either. Instead, this gesture displays a search bar for apps which is mostly useless.
Dynamic Vibration
Instead of a traditional vibration motor, the Sony Xperia XZ2 uses a much larger component with a very distinct vibe to it, not unlike that of an iPhone's Taptic Engine. As a result, the phone is easier to feel when it is vibrating in your pocket. But that's far from all.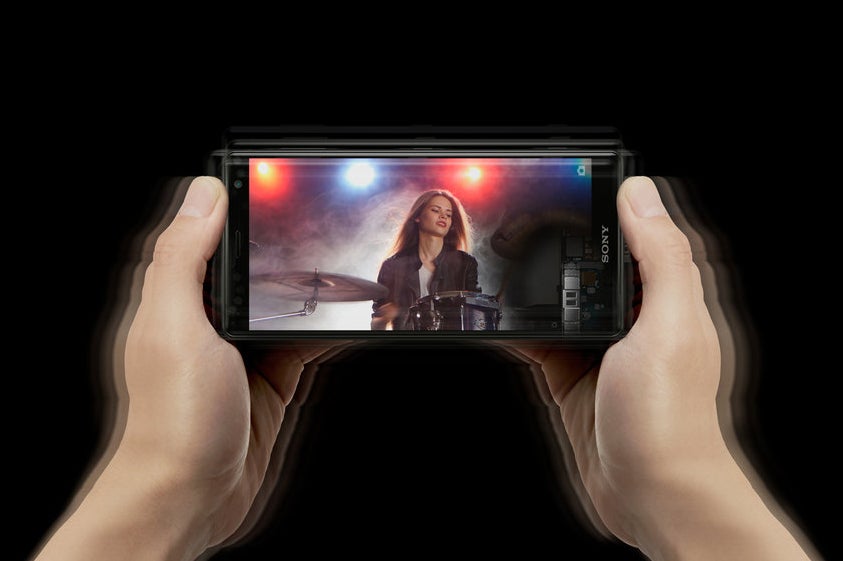 When I opened a game for the first time, the Xperia XZ2 invited me to try out this new feature called Dynamic Vibration. Basically, the phone shakes with its fancy new vibration motor, providing additional feedback when, let's say, your hero is taking damage or your car bumps into an opponent driver.
Overall, enabling Dynamic Vibration for games makes sense. It can be also turned on while listening to music, but we wouldn't recommend this, as it doesn't do a good job at complementing the beat of the song playing.
Processor and memory
Processing power is one thing the Sony Xperia XZ2 has plenty of. Equipped with the latest Snapdragon 845 chip, the phone is fast and responsive with every-day tasks. When it comes to multitasking, however, it is a bit more aggressive when it clears apps occupying its 4GB of RAM, but it doesn't get to the point of being annoying. Basically, returning to a recently used app would cause it to reload from scratch more often than it would on other recent high-ends.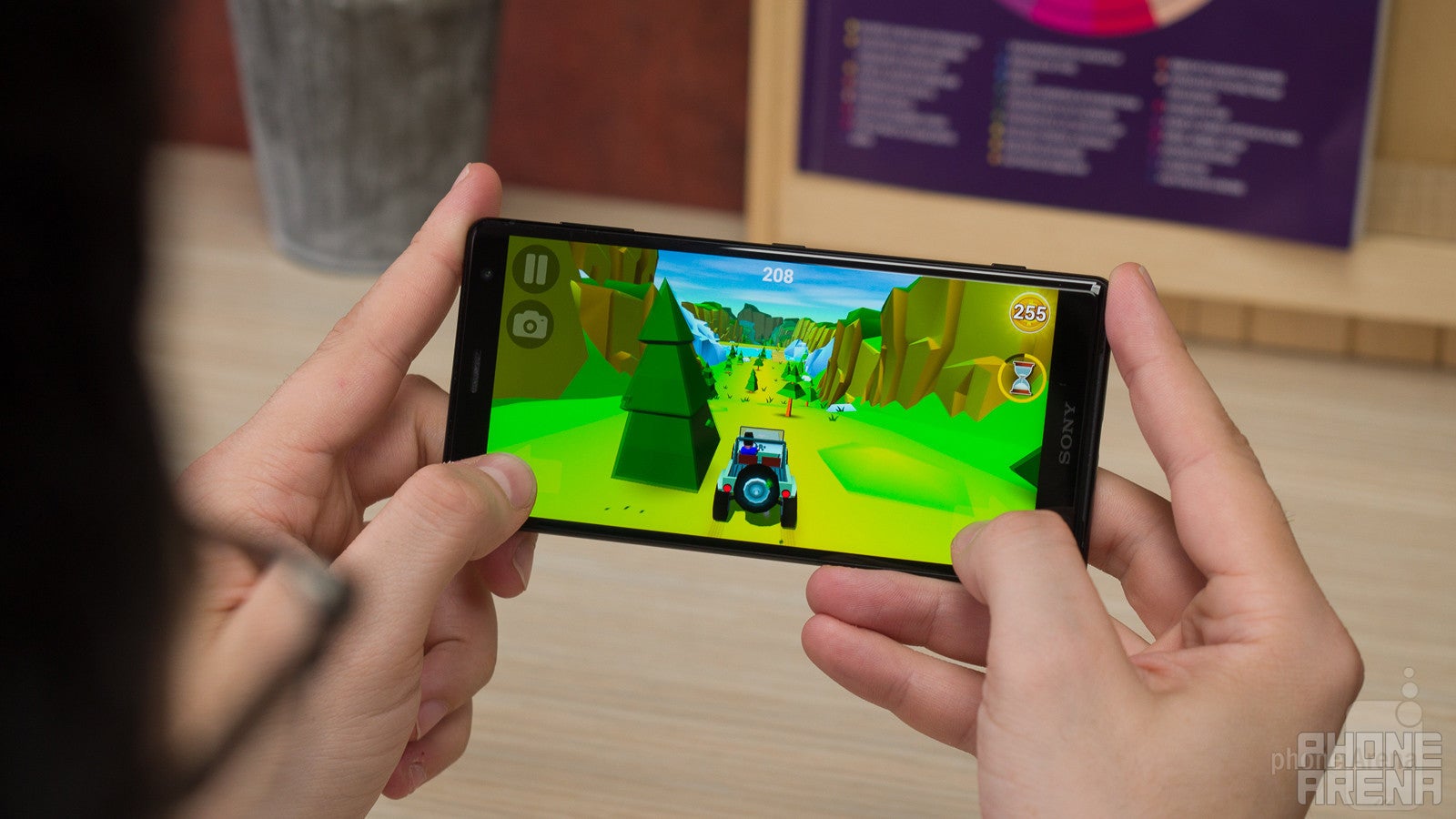 Heavy games run without any issues on the Xperia XZ2. Titan Quest – one of the most demanding 3D titles that I know, and one that gave the Snapdragon 835 a pretty hard time during intense battles – is handled really well by Qualcomm's newest chip.
With 64GB of native storage, the XZ2 can hold plenty of photos and video until it runs out of space, though we really wish that the operating system didn't occupy a whopping 14GB of that. Adding extra gigs is possible using a microSD card.
Camera
HDR Video – without question, this is the most exciting camera feature Sony is launching with the Xperia XZ2. Such videos promise greater dynamics range, meaning that shadows won't turn out overly dark, while highlights won't appear washed out. In addition to that, Sony is adding a new Super Slow-motion option allowing us to shoot at 1080p resolution instead of 720p, albeit for a shorter duration.
These new features aside, we're looking at the same 19MP Motion Eye camera we had in the Xperia XZ1 from last year, with a 1/2.3-inch sensor and F2.0 aperture. OIS is still missing, as the camera relies solely on electronic algorithms for stabilization. The camera app hasn't changed much either. It is still full of modes and settings to explore, including Predictive Capture, which we know from previous Xperia high-ends. But the app as a whole tends to lag with its operation – both when it launches and in between shots.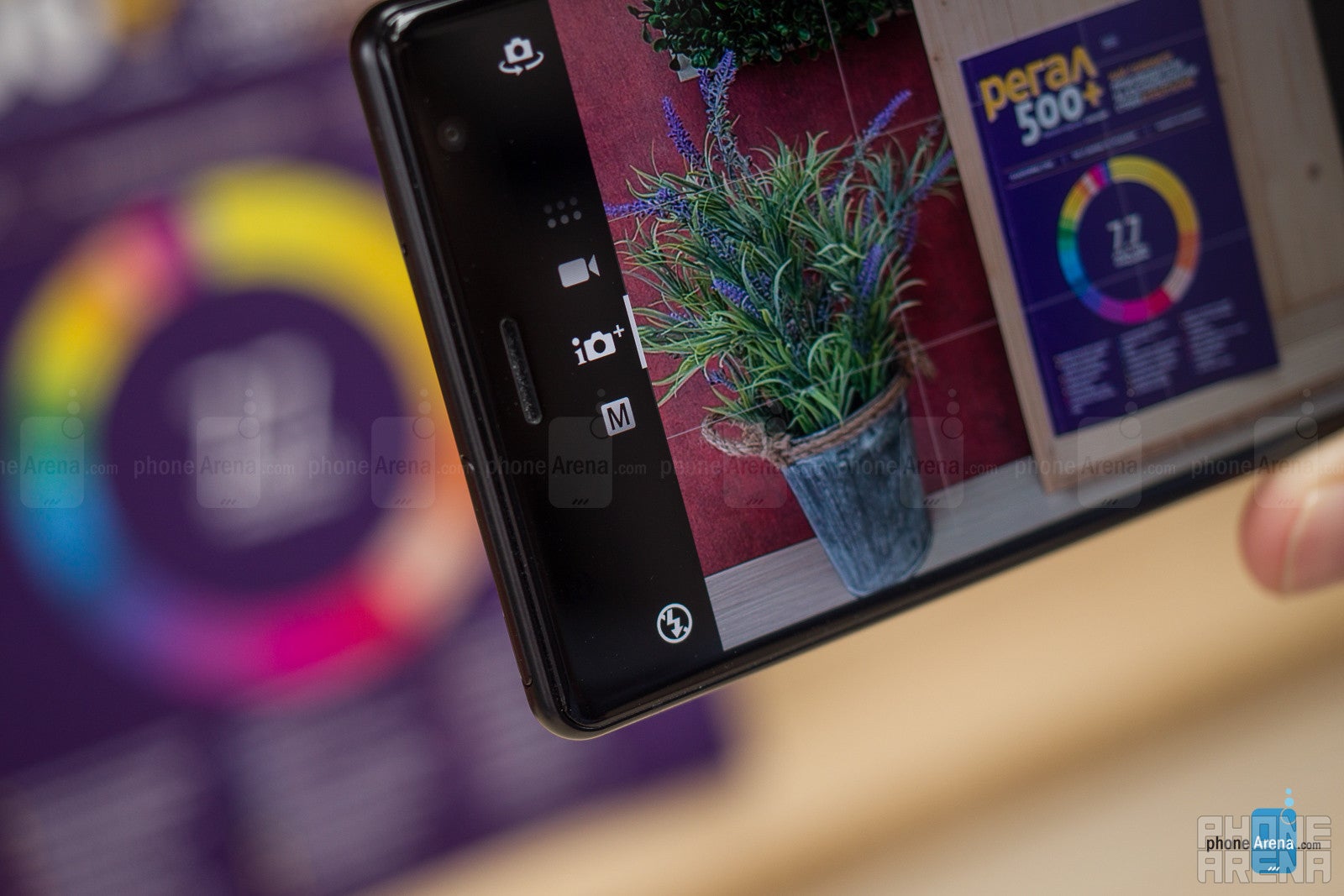 One thing to note is that the rear camera is placed much further from the angles of the phone. I found this approach practical, as it reduces the chance of my finger blocking the view by accident. Another perk I don't mind is the physical 2-stage camera button, allowing me to launch the camera app instantly with a long press, without even looking.
Image quality
As expected, the Sony Xperia XZ2 can take good shots in well-lit situations. Images look more than acceptable, with faithful colors and sufficient details. But while there are no immediate issues to point at, a closer look reveals that there's still room for improvement. For instance, noise is more prevalent than it is in photos from Sony's competitors, while the 19MP sensor does not necessarily capture more detail than the 12MP cameras on the iPhone X or the Galaxy S9.
Low-light images out of the Xperia XZ2 are also more than satisfactory, and a closer inspection shows improvement over the XZ1's performance, primarily in the form of less grain and more clarity. But again, a quick comparison against a Galaxy Note 8 revealed that Samsung's phone captures clearer, more detailed low-light shots, likely thanks to its optical stabilization.
We also noticed that Sony is still using a lens that's slightly wider than what's usual for a phone, which is great for fitting large parties and expansive sceneries, though it does introduce some visible distortion in the corners.
Video quality
Excited about the XZ2's HDR video recording capabilities, I took a bunch of HDR videos, hoping that I could later show them off to you. Alas, I later stumbled upon compatibility issues. More specifically, YouTube can only display these videos properly on an HDR-compatible device. Otherwise, colors are dull and contrast is reduced, likely due to improper processing on YouTube's side. Facebook does make the uploaded HDR videos appear okay on non-HDR devices, but the HDR effect isn't there.
As for the actual quality of the footage, I can't say that I'm fully sold yet, but I believe there's great potential in the prospect. Right now, the effect makes a considerable difference in certain situations – a short clip I took at sunset looked particularly impressive. But the benefit of HDR is less prominent in other cases and could be even harmful in low-light scenarios with its tendency for grain and noise. That's probably why Sony added an on/off toggle in the camera app. In any case, HDR video is best appreciated when the phone's display is set to the maximum.
Of course, the Sony Xperia XZ2 can record regular, non-HDR video. 4K footage looks great and is electronically stabilized, but only 1080p videos can be shot using Sony's more advanced, Intelligent Active image stabilization. Sound is loud and clear, but no wind noise reduction seems to be available.
Sony introduced 960fps Super Slow-Motion Video with the Xperia XZs and XZ Premium. The feature is now expanded with the XZ2 – super slow-motion clips can be shot at up to 1080p resolution. However, the duration of the super slow-motion video is cut in half. This makes it even harder to capture those special moments, as your timing has to be near-perfect. Though well-timed videos do look impressive.
HDR Videos will play properly ONLY on HDR-capable devices
Selfies
There's not a whole lot to say about the Xperia XZ2's front-facing camera. It's a pretty ordinary 5MP shooter, and it takes decent selfies in good lighting. Low-light photos lack clarity, as expected, though the screen does help to some extent by lighting up and acting as a flash. Disappointingly, the XZ2's selfies look inferior to those from the XZ1, especially in low light. Videos, on the other hand, do look pretty good and are well kept steady by Sony's Intelligent Active software stabilization.
3D Creator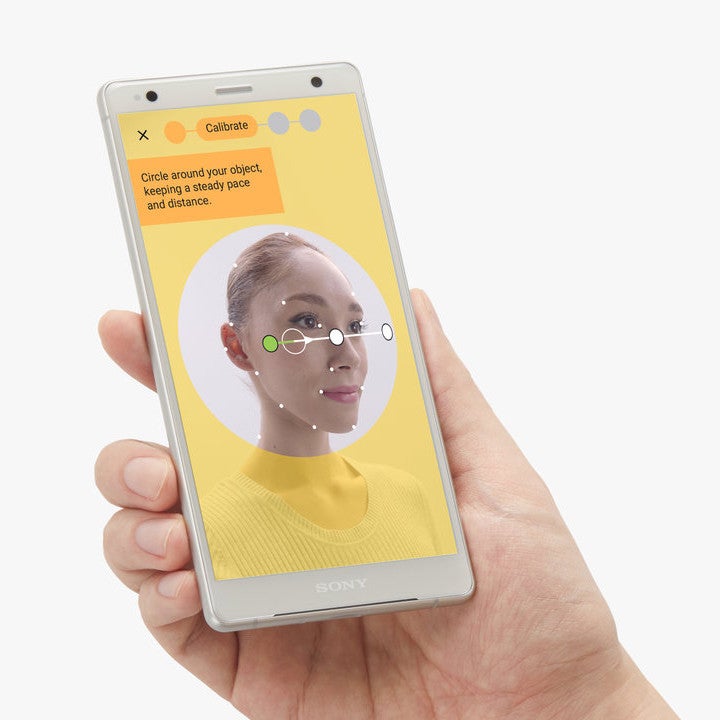 Sony's 3D Scanner feature allows you to create 3D models of yourself and of real-world objects. These can be later 3D-printed or shared online via Facebook, which now displays the scan properly in the feed. Cool!
What's new here with the Xperia XZ2 is that you can use the front-facing camera to make a scan of yourself, though doing so is quite the ritual. While scanning myself, I had to both sit still and move the phone around, connecting virtual dots as they appeared on screen. How was I supposed to do this without looking at the screen? All in all, the 3D Scanner feature is still little more beyond a cool tech demo.
Multimedia
Sony has chosen to keep the stereo speaker setup for the Xperia XZ2. Both drivers are front-firing, meaning that the sound is well balanced, and your hands don't cover any of them when the phone is held horizontally. But while these are the loudest speakers on an Xperia phone yet, the sound could have been fuller. Phones like the Galaxy S9 and the iPhone X may lack the XZ2's balanced sound, but produce a lot more bass.
The 3.5mm headphone jack, on the other hand, is gone on the Xperia XZ2. This, Sony says, was to "create the beautiful seamless design" of the phone, though we're not sure we're buying this excuse. At least Sony has added a USB-C adapter in the box.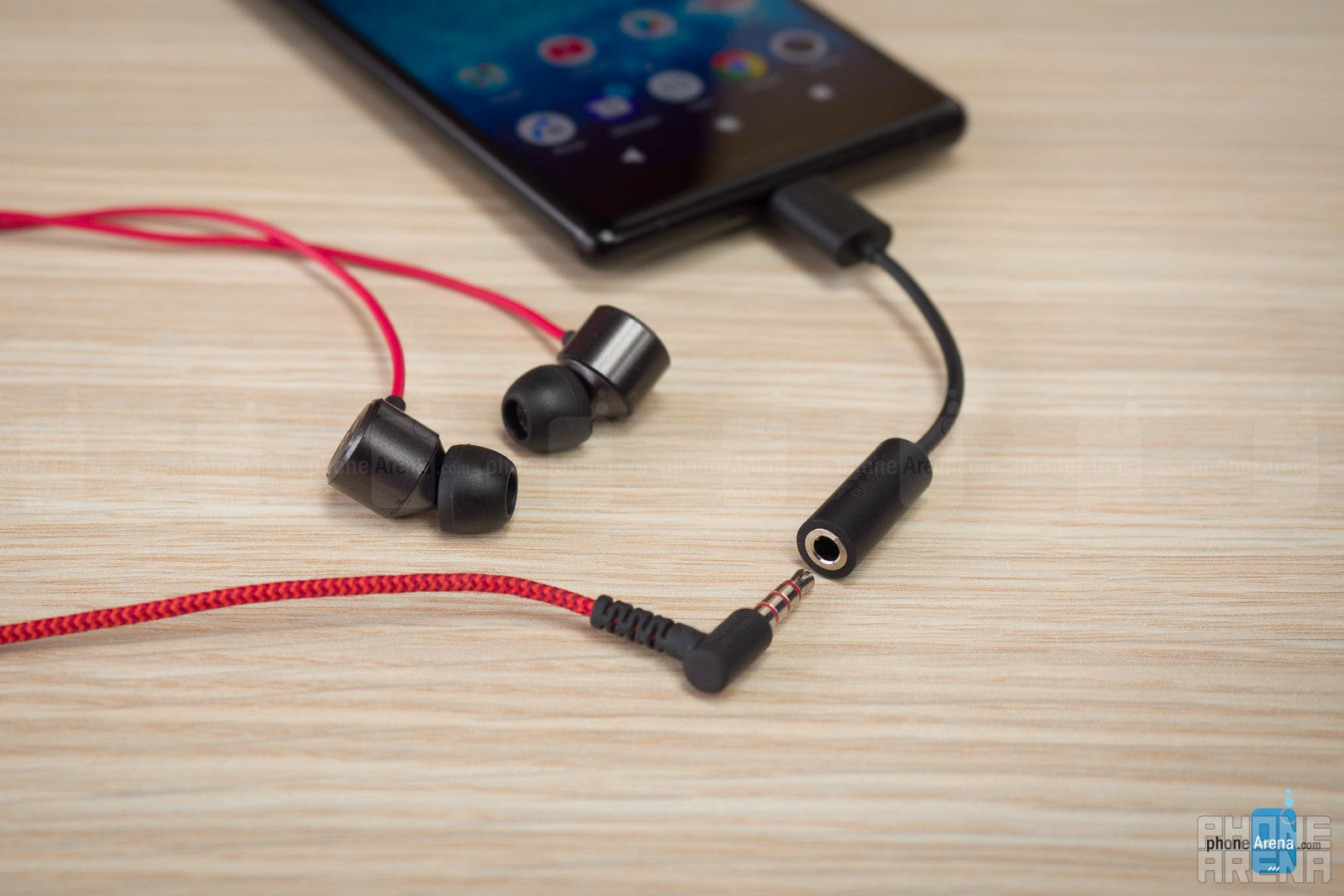 As mentioned earlier, the Sony Xperia XZ2 has an HDR-capable display. This lets you enjoy both your own HDR videos and HDR content streamed online. YouTube, for instance, will display HDR videos in their full glory. Netflix, however, didn't feel like streaming in HDR on the XZ2, though we're expecting support to be added sooner than later.
Call quality
In the odd occasion when I had to make an actual phone call, the Xperia XZ2 didn't disappoint. Its loudspeaker gets loud and sounds clear even at high volume setting. There have been no complaints regarding call quality on the other side of the line.
Battery Life
It has been over 24 hours since my Xperia XZ2 and its 3180mAh battery got its last full charge, and I still have 57% of juice left. Throughout my testing, battery life has been solid with this one, and I've never had to resort to using its Stamina Mode power-saving feature to make it through the day.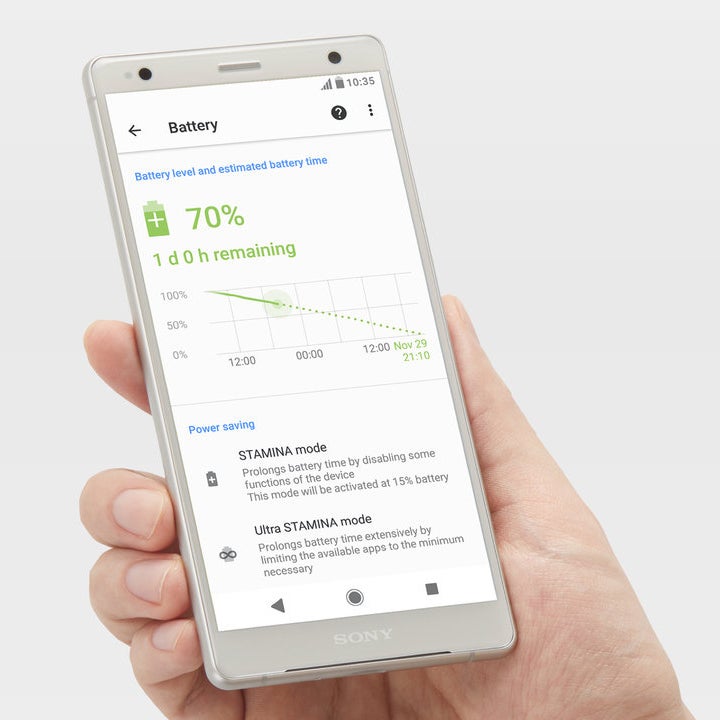 In all likeliness, the XZ2's great battery life has a lot to do with its stand-by efficiency. Overnight, it loses no more than 4% of charge, which is really good for an Android phone. In addition, the Snapdragon 845 is said to be more efficient than its predecessor, the 835, though I can't quite confirm this as an hour of heavy gaming at medium brightness drains about 30% of charge, in my experience.
Recharge times are short, but only during the first half of the recharging process. When hooked up to the provided quick charger, the XZ2 took 23 minutes to go from zero to 30% and 43 minutes to reach the 60% mark, but a full charge took well over 2 hours. This isn't necessarily a bad thing. While other high-ends do charge faster than the XZ2, faster charging does shorten the battery's lifespan.
Speaking of which, Sony still offers its Battery Care feature in the battery settings menu. In a nutshell, it aims to extend the battery cell's lifespan by pausing the charging process at 90% during overnight charges, then resuming it at the right time so that you have a full battery when your alarm rings.
Wireless charging is available on the Sony Xperia XZ2. Adopting the widespread Qi wireless charging standard, the phone can be conveniently charged from a compatible charging pad, though wireless charging isn't as quick as using a wired charger.
Conclusion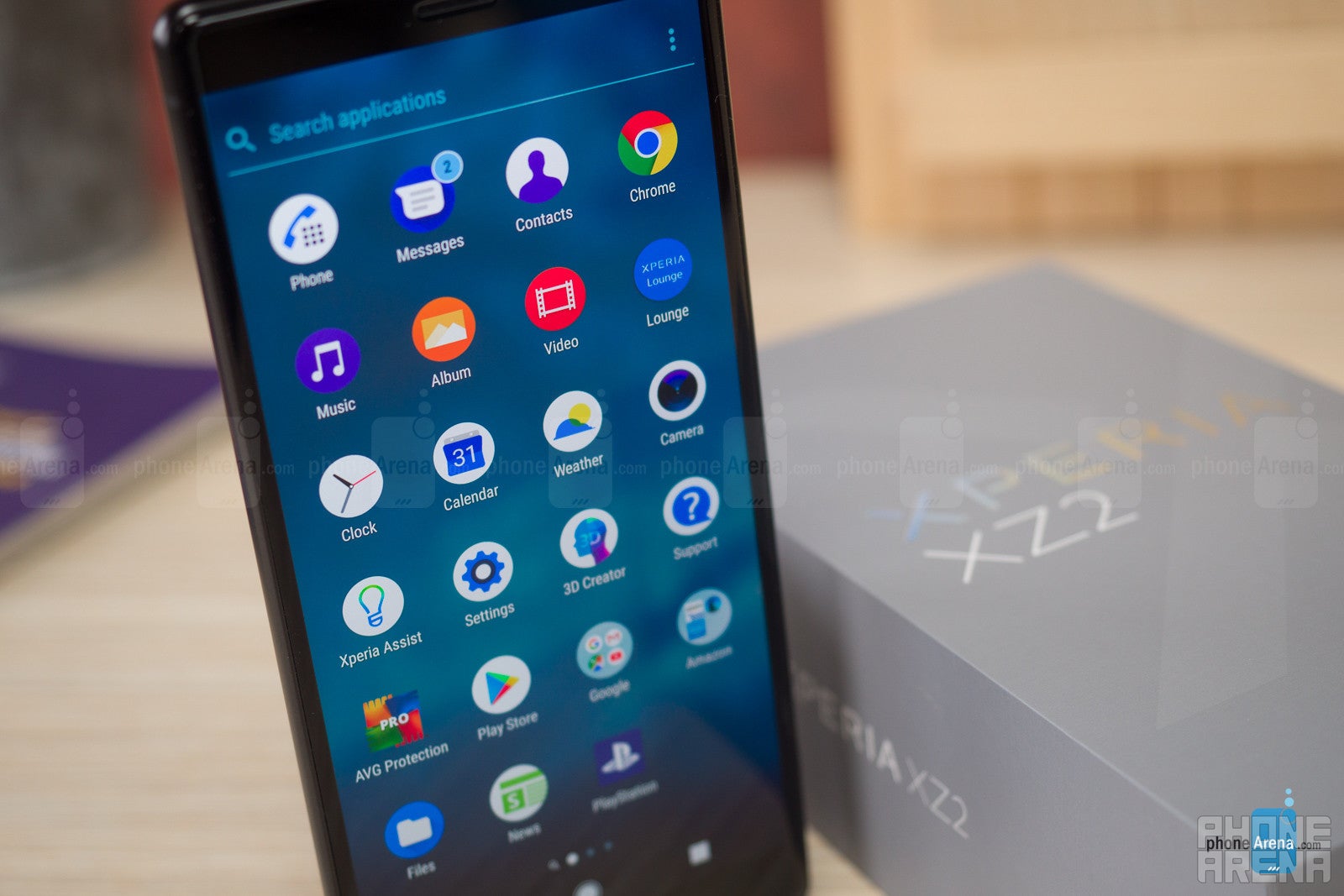 I've been using the
Sony Xperia XZ2
for a week now, and I can easily point out a number of things about it that I like. The list includes its bright, vivid display and the solid battery life, as well as the way its shiny back reflects light and the ease with which that Snapdragon 845 handles even heavy games. No less importantly, I see HDR Video as a feature with great potential, and I hope Sony does its best to improve it in future iterations.
But at the same time, there are many things Sony could have put more focus on, especially when it is pricing the Xperia XZ2 to compete with the
Galaxy S9
. Most notably, still image quality leaves room for improvement, and so do its stereo speaker performance. And while its new design has a modern look, the Xperia XZ2 doesn't feel particularly practical with its weight, size, and awkwardly placed fingerprint reader.
I really wanted this phone to be a true, worthy alternative to the hugely prevalent iPhones and Galaxy S-series phones. Perhaps it would have been, had Sony priced it lower than it did, but as it is, the Xperia XZ2 stands a step behind its rivals. Still, if you like it, then go ahead and get one! Just keep in mind that for the same amount of cash, there are several alternatives that could ultimately provide you with more bang for your buck.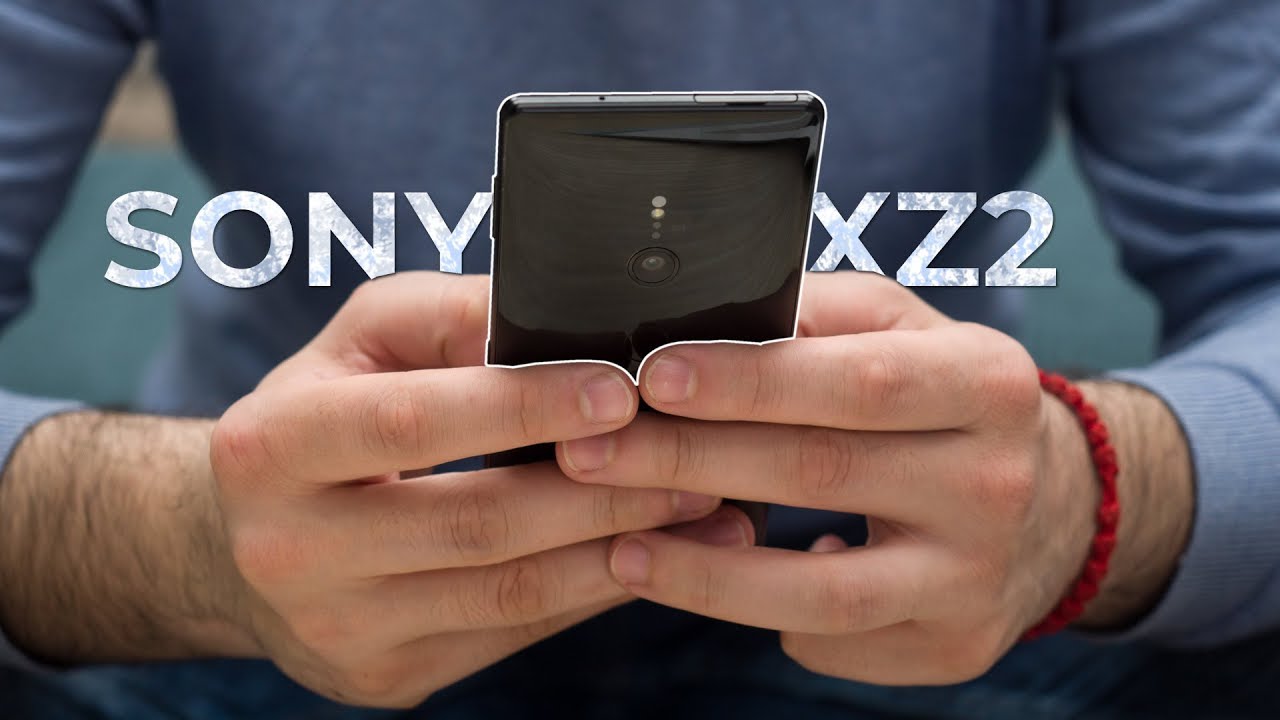 UPDATE:

You can now read our Sony Xperia XZ3 Review!
Recommended Stories