Qualcomm brings high-end features to more affordable phones with the Snapdragon 710 Mobile Platform
22
Late Wednesday, Qualcomm introduced the Snapdragon 710 Mobile Platform. The first chipset in the Snapdragon 700 tier, the SoC is built using the 10nm process and includes a multi-core AI engine and neural network processing. The Snapdragon 710 allows more affordable handsets to offer features that up to now, were seen only on pricey flagship phones. Compared to the Snapdragon 660 chipset, the new chip provides twice the improvement in AI applications.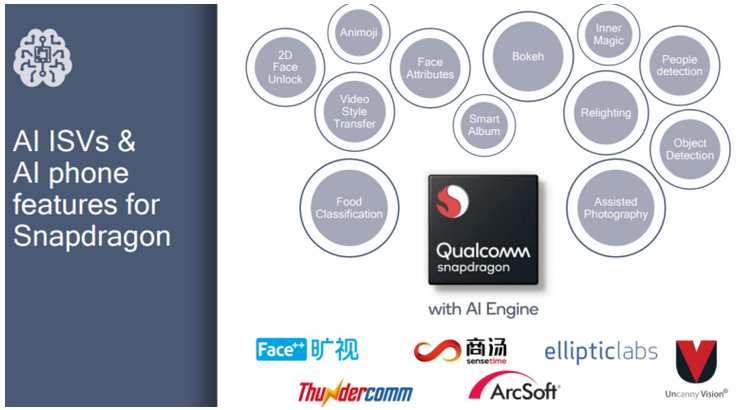 The new Snapdragon 710 mobile platform includes a multi-core AI engine
The octa-core CPU is made up of two high performance custom Kryo 360 cores running at 2.2GHz to do the heavy lifting. The remaining six Kryo 360 cores have a 1.7GHz clock speed and are employed for general housekeeping. Crunching graphics is the Adreno 616 GPU. The Kryo 360 architecture, which is based on ARM Cortex technology, is optimized to provide a 20% hike in performance and 25% faster browsing; it also opens apps 15% faster. The Snapdragon 710 Mobile Platform's architectures are said to run on-device AI applications quickly and efficiently. Speaking of efficient, a device powered by the Snapdragon 710 Mobile Platform will use 40% less power for gaming and 4K HDR video playback. Streaming video consumes 20% less power. When it is time to replenish the battery, Quick Charge 4+ charges the cell to as much as 50% in just 15-minutes.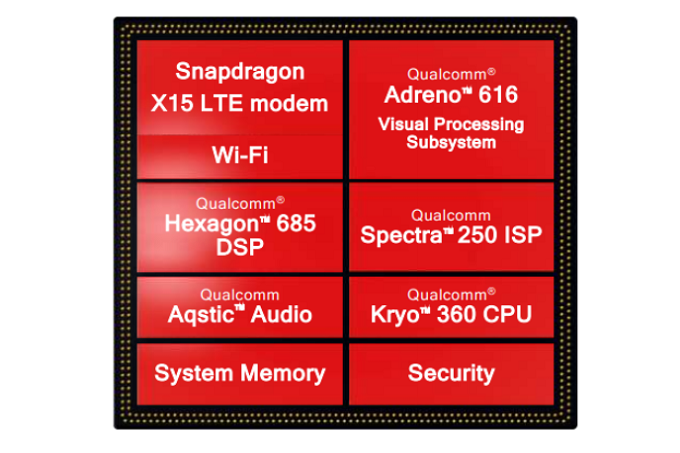 The Snapdragon 710 mobile platform brings premium features to more affordable phones
The Snapdragon X15 LTE Modem is included and supports Cat 15 LTE (800Mbps) speeds. The chip supports the latest 4G LTE connectivity improvements including 4x4 MIMO which allows for 70% faster download speeds in areas with a weak signal. Qualcomm states that the new SoC will come with "cutting edge Wi-Fi features and enhanced Bluetooth 5 multicast audio with support for ultra-low power wireless earbuds."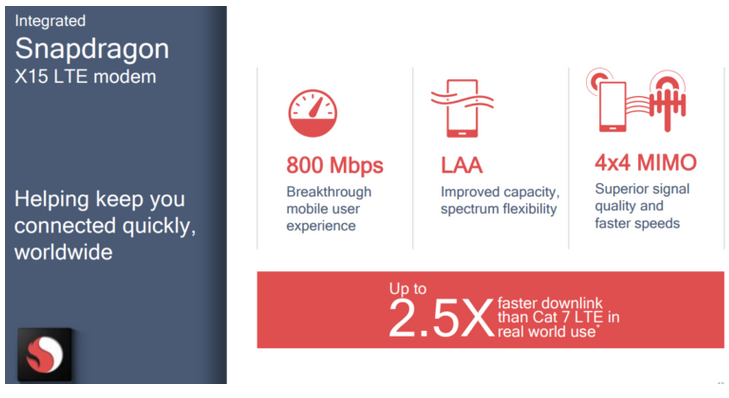 The new Snapdragon 710 Mobile Platform features the Snapdragon X15 LTE modem
Qualcomm's new SoC is equipped with the new Qualcomm Spectra 250 ISP which captures professional looking photos and videos. In low-light conditions, it helps provide superior images. It also supports "noise reduction, fast autofocus, image stabilization, smooth zoom and real-time bokeh effects."
"The Snapdragon 710 Mobile Platform is the first in the newly defined and highly significant 700-tier, offering technologies and features previously only available in our premium-tier mobile platforms. By incorporating key AI capabilities and performance advancements, the Snapdragon 710 is designed to transform our customers products into the ultimate personal assistant, enhancing critical everyday consumer experiences, such as high-end camera features that will benefit from on-device high-speed AI processing, without sacrificing battery life."-Kedar Kondap, vice president, product management, Qualcomm Technologies,
Inc.
The Qualcomm Snapdragon 710 Mobile Platform is available to mobile device manufacturers today and you should find them powering new phones starting in the current quarter.