Samsung Galaxy Buds will be available in a blinding color, to be 'Tuned by AKG'
21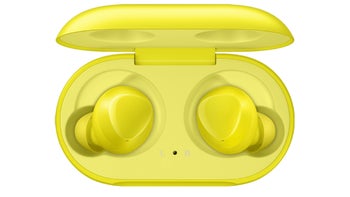 One of the most interesting (and polarizing) new color options for the Galaxy S10 lineup is called
Canary Yellow
. It's reserved for the more affordable Galaxy S10e, which is likely going to come in a handful of lively hues, and has been a divisive topic due to its shocking appearance. Samsung's Canary Yellow, you see—or at least what we've seen in renders so far—is not like a 'regular' yellow, but a more garish shade that really seems to 'pop'.
Newly leaked press images of Samsung's upcoming wireless earbuds—aptly named the Galaxy Buds—seem to confirm that the accessory will also be available in Canary Yellow. The images, published by
Winfuture.de
, show the Galaxy Buds neatly tucked inside their protective wireless charge case. Both the earbuds and the case itself are colored in the aforementioned blinding shade of yellow.
What's even more interesting, though, is that the leaked images also confirm that the Galaxy Buds will be 'Tuned by AKG.' This hardly comes as a surprise following
Samsung's 2016 acquisition of Harman-Kardon
. This gave Samsung access to the JBL, Harman Kardon, Mark Levinson, AKG, Lexicon, Infinity, and Revel brands. Since the purchase, Samsung has been bundling earphones with its flagship devices carrying the AKG brand. The upcoming Galaxy Buds will seemingly continue the tradition.
There's no official word on when the Galaxy Buds are going to launch, but we wouldn't be surprised to see them go on sale around the same time the Galaxy S10 hits the market.