The Galaxy S10e's new color leaks in high-quality images. You'll need your sun goggles for this one
41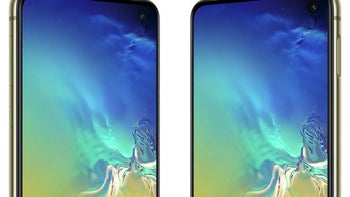 Hot new phones, hot new colors — it's always exciting to see what a manufacturer has in store for us with its new product. Smartphones have become such a lifestyle accessory that we are often drawn to pick models based on favorite colors or unique-looking finishes. Which is why we are all foaming at the mouth, waiting to see the Galaxy S10's new clothes.
Tech site MySmartPrice has gotten a hold of what are allegedly official renders of a new color that the
Galaxy S10e
will launch with. While it is believed that it will come in the good old Green, Prism White, and Prism Black that we saw
about 10 days ago
, this new leak also has us thinking that it might come in a set of super-vibrant paint jobs as well. This is Canary Yellow:
Update:
Leakster Roland Quandt has managed to dig up high-res images of the new S10e in Canary Yellow. These have been added to the gallery
Since the Galaxy S10e is positioned as a direct
iPhone XR
competitor, we would hope it gets some more bright and vibrant color options. After all, one of the iPhone XR's selling points (aside from being the only 2019 iPhone with a digestible price-tag) is the choice of cool-looking colors.
So hey, Samsung, here's a request — give us
Burgundy Red
already!
It is kind of unfortunate that the more expensive Galaxy S10 and Galaxy S10+ models will not get the vibrant color(s). But hey, at least they get the extra-refined Ceramic Black and Ceramic White, for an extra-classy look.